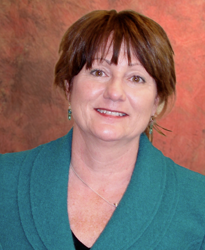 Glenda Hathaway-Cotner
Glenda Toneff-Cotner is not new to the Curriculum & Foundations Department at Cleveland State University. Prior to her recent appointment to the department as a College Lecturer, she has been both a PhD student and part-time instructor at Cleveland State University. In the spring term of 2012, she was selected by her students as one of the Top 50 Engaging Instructors at Cleveland State University. She has extensive experience in K-12 education, serving as a Teacher, School Counselor, Principal, Curriculum Director and Assistant Superintendent. Her experience has been primarily in large urban districts, serving as Curriculum Director of Toledo Public Schools, and more recently as Deputy Chief of Curriculum and Instruction at Cleveland Schools. Under her leadership of the curriculum area, Toledo Public Schools was the first urban district in Ohio to achieve the ranking of "Continuous Improvement" on their state report card, a distinction that was maintained for three consecutive years prior to her departure to Cleveland. She then lead the curriculum initiatives for Cleveland Schools during the year in which they received the ranking of "Continuous Improvement" for the first time, while at the same time achieving the highest academic gains in a single year in the history of the district.

Glenda Toneff-Cotner earned her bachelor degree at Bowling Green State University and her master degree at the University of Toledo. She was selected as a member of the first Urban Leadership Development Program, which included a scholarship to the University of Toledo in School Administration and Supervision. Upon completion of this program, she earned her Education Specialist degree. She is currently a PhD candidate in the Urban Education program at Cleveland State University.

In 2007, Ms. Toneff-Cotner participated in the Harvard Business School Executive Leadership for Educators program. In 2011, she was included as a member of the Cleveland State University China Delegation, traveling to both Shanghai and Beijing. Ms. Toneff-Ctoner's research focus is on educational policy with a specific interest in the impact of school closure on students. She also advocates for early childhood education and currently is serving as an educational consultant to Toledo Head Start. Finally, Ms. Toneff-Cotner is a member of PDK, ASCD, and AERA and has extensive experience in grant writing that includes assisting a variety of foundations and organizations in securing alternative funding sources for innovative educational programming.

On a personal note, Glenda enjoys traveling and is an avid reader, both for pleasure and for learning. She rides her bike whenever possible and is preparing for the "Bike to the Bay" in 2013. She and her husband believe in giving back to the community and do so through a variety of service projects. They spend time together as volunteers at local animal shelters and have themselves rescued four dogs over the last five years. They are also part of a team that supports a newly developed urban garden in Cleveland funded through the Reimagining Cleveland project. Another highlight for Glenda was serving as the driver to Joan Southgate, founder of Restore Cleveland Hope. Ms. Southgate's mission was to retrace the steps taken by those who followed the Underground Railroad to freedom. Glenda followed Ms. Southgate by car, making sure she was hydrated and fed as she walked across two states.

Ms. Toneff-Cotner is honored to have been selected as a new faculty member in the Levin College of Public Affairs and Education is excited about using her vast experience in both K-12 and higher education to prepare highly effective teachers.
 
---