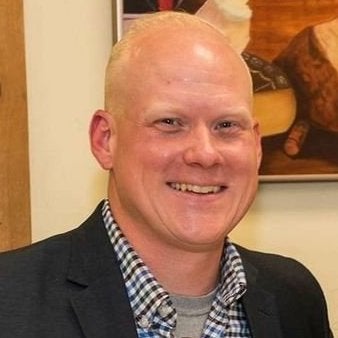 Name: Donnald Heckelmoser
Title/Organization: CEO/President of LSC Service Corporation, Lakewood Senior Citizens Inc., Barton Center Memorial Foundation, and Barton Senior Center, Inc.
Tell us a little about yourself.
I have spent the last three years as President and CEO of LSC Service Corporation, Barton Center Inc, Lakewood Senior Citizens Inc., and Barton Center Memorial Foundation. These organizations collectively own, create, and manage Affordable Housing for older adults and older adult activity centers. Previously, I served as the Executive Director of the Western Reserve Community Development Corporation (WRCDC) whose mission was to provide affordable and transitional housing while administering low-income housing repair programs. Prior to that, I served in various program management roles with the City of Cleveland, Department of Community Development, helping to manage the home weatherization assistance and lead abatement programs.
I started my career at Old Brooklyn Community Development Corporation as an intern and eventually worked my way up to a program manager where I managed low-income home repair and energy efficiency programs. As a resident of Lakewood, Ohio, I received my bachelor's degree from Bowling Green State University and Master of Public Administration from Cleveland State University, and currently serve on the Board of Directors for the Lakewood Chamber of Commerce and Brodies Good Vibe Tribe. I am also married with a 12-year-old boy and am active with my son's Rugby and Travel Baseball teams. 
Walk us through your "typical" day.
So, at 6 a.m., the alarm rings. And 75% of the time I actually get up! I let the dog out and head down to my office to check emails and clean my inbox the best I can prior to waking my son up at 7 a.m. I help my son get ready for school and then my wife and I see him off and head to the office ourselves to begin our work day. 
Given the complexity of what we do and the number of employees I manage, my work day can vary widely but typically involves 30% of my time dealing with Human Resource-related items, 30% dealing with financial/accounting related items, 20% with active development projects, and 20% dealing with business development related topics. 
What drew you to your current field?
I always aspired to work in the public sector, so I had always gone that route from an educational standpoint. However, it was during my time at CSU where I received an internship working for a Community Development Corporation where I learned about Affordable Housing. That is where my passion stemmed from.
What issues are you passionate about?
I am extremely passionate affordable housing, local small businesses, and economic/community development.
How has your career path evolved over the years?
To begin, I interned at Old Brooklyn CDC back when I was in graduate school and soon got promoted to program manager. I was then recruited to the City of Cleveland Department of Community Development and parlayed that job into my first Executive Director position at Western Reserve CDC and worked there for 3 years. However, due to the long commute, I started to look for a new job closer to home. It was at that time I was hired to be the CEO of LSC Service Corporation.
What's been the biggest challenge in your career? How did you overcome it?
When I worked at WRCDC, it was a small (5 person) nonprofit. At the time I was hired, it was struggling to make payroll and pay the bills. It was a very stressful time because this was a difficult ship to ride not knowing every other week if we would be able to make payroll. 
Do you volunteer? If so, where, and what do you do?
I do! I am on the board of the Lakewood Chamber of Commerce, the housing committee for Lakewood Alive, as well as on the board for a non-profit called Brodies Good Vibe Tribe.  I also coach grades 5-6 rugby for the West Park Shamrock Rugby Club. 
Are you involved in any professional organizations?
Leading Age Ohio and the National Development Council.
Did you have a mentor? If so, how did he/she/they help contribute to your future?
I would consider my mentor to be Louise Jackson, my boss when I worked at the City of Cleveland.  She taught me so much about how to be a professional, how to make decisions and how to navigate certain bureaucracies among many other things. 
Share your favorite Levin College mentoring moment.
This is my first year as a Levin mentor, so I think it would be just meeting my mentee. Seeing how well the Center staff was able to pair mentors/mentees was impressive!
What is one thing you wish someone would have told you when you were a student?
I would take this all the way back to middle and high school. I believe we should start teaching our students/children basic accounting skills for life. Too many people send their kids off to college with almost no knowledge of personal finances and accounting. 
What's your go-to restaurant you'd recommend in the Greater Cleveland area?
I live in the City of Lakewood, so I am overwhelmed with wonderful restaurants. I would have to say that Immigrant Son Brewery is really new and really fantastic.  Also, Book House Brewing on Madison Ave. in Lakewood just opened a kitchen and has great food! 
A great fancy restaurant is Dante in Tremont! I recommend sitting at the chef's table. Prepare to be amazed!
Is there anything else you would like to share?
Thank you to CSU for keeping alumni engaged and active. It has been a great experience being a student and an alumnus.