Posted on September 17, 2020 at 6:08 PM, updated November 23, 2022 at 1:46 AM Print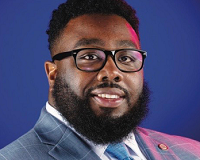 ​​​​​​​
Edwin Hubbard Jr. is a 2013 graduate of Maxine Goodman Levin School of Urban Affairs' Bachelor of Arts program in Nonprofit Administration.
At Levin, I learned that my degree not only could support me financially, but allow me to make a significant impact in my community. An Urban Affairs degree prepares students to take on the challenge of advocating for those who are underserved and underrepresented. My degree has allowed me to truly understand what advocacy and inclusiveness means without compromising my own earning potential to help others. I am now able to support my family while being a change agent and voice in my community.