Posted on November 29, 2022 at 3:10 PM, updated November 29, 2022 at 3:15 PM Print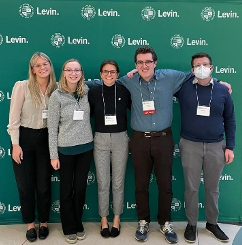 When Campus Facilities needed help planning the "Euclid Mall Lawn" ⎯ the area on CSU campus between E. 18th and E. 21st, in front of the Music and Communications College and the Law College, they turned to the Levin School's chapter of the American Planning Association (APA), a student organization of urban affairs students that networks with peers and professionals to gain firsthand experience in the urban planning field. 
CSU recently acquired a new in-house food truck, The Longship, which will be the anchor for the new park. The APA Board was tasked with creating a vision for an outdoor dining experience centered around the food truck. The APA chapter board committed to engaging the Cleveland State community in reactivating a passive greenspace on campus.  
The project included collecting community feedback through an online survey, in-person events to talk about the park's design, and a week of tabling in the Student Center. The survey garnered 386 responses and significant feedback was additionally given in person. Using the campus community's vision for the park as the guiding force, the CSU APA Board created a master plan concept for the green space. The group's recommendations went beyond just outdoor dining, adding a stage for the adjacent music students to perform, improved wayfinding, workable spaces for students to meet, and an eye-catching landmark that benefits the city and the campus. 
While these are ultimately recommendations, CSU Facilities has demonstrated an openness to incorporating elements of the proposal into the final design. At the APA Cleveland Planning & Zoning workshop, hosted by the Levin College on October 11, 2022, three members from the APA student board presented in a session focused on campus planning initiatives with CSU CFO David Jewell, who shared updates about the CSU Master Plan, and Jenn McMillin, Director of Sustainability, who talked about sustainability programs on campus.