Posted on February 21, 2020 at 8:02 PM, updated June 14, 2022 at 10:08 AM Print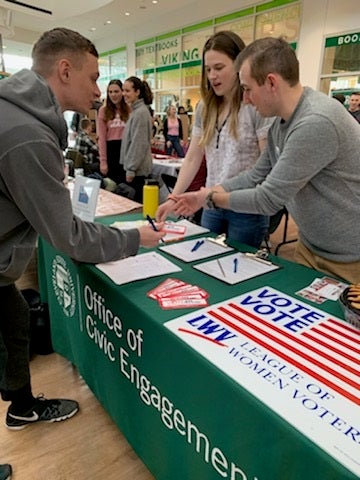 Cleveland State University's Office of Civic Engagement (OCE), is launching two unique initiatives that will further institutionalize voter engagement on campus. OCE is partnering with the League of Women Voters and CSU's First Year Experience (FYE) Introduction to University Life courses in order to inform, educate and institutionalize civic engagement among CSU students. 
As part of the effort, OCE has established a student chapter of the League of Women Voters, in partnership with the Greater Cleveland chapter. The League is a nonpartisan political organization that encourages citizens to be civically active and informed in order to hold government bodies accountable through observation, education, and participation. 
"We are excited to partner with the OCE to form a student chapter of the LWVGC at Cleveland State University," says Catherine LaCroix, co-president of the LWV's Greater Cleveland chapter. "Young voters are the future, and we are thrilled to begin this collaboration with Anita Ruf-Young and a dynamic group of students in the heart of Cleveland."
OCE has also developed a "Vikes Vote" curriculum which will be formally rolled out to over 50 Introduction to University Life sections in fall of 2020. The initiative is designed to educate CSU students on the importance of voting, how to vote and how to be a civically engaged citizen. Upon completion of the curriculum, all ASC101 students will be given the opportunity to register to vote or update their registration.
"Introduction to University Life is a part of the University's General Education curriculum and a component of our efforts to empower students to act as responsible members of our society," adds FYE Manager Sarah Pankratz. "This partnership is a great opportunity for our first-year students to learn what it means to be a civically engaged citizen, understand the importance of that role and how they can be engaged now while in college."
"These strategic initiatives are imperative to ensure students are fully engaged as we enter a critical election year," says Anita Ruf-Young, Program Coordinator with the OCE, "They will also further enhance our mission to foster lifelong community involvement among CSU students." 
OCE also partners with Northeast Ohio Voter Advocates to offer multiple opportunities for CSU students to register to vote on campus. To learn more, visit https://urban.csuohio.edu/oce/oce-news-get-registered-to-vote-vikes.