Posted on December 14, 2022 at 3:40 AM, updated December 16, 2022 at 3:38 PM Print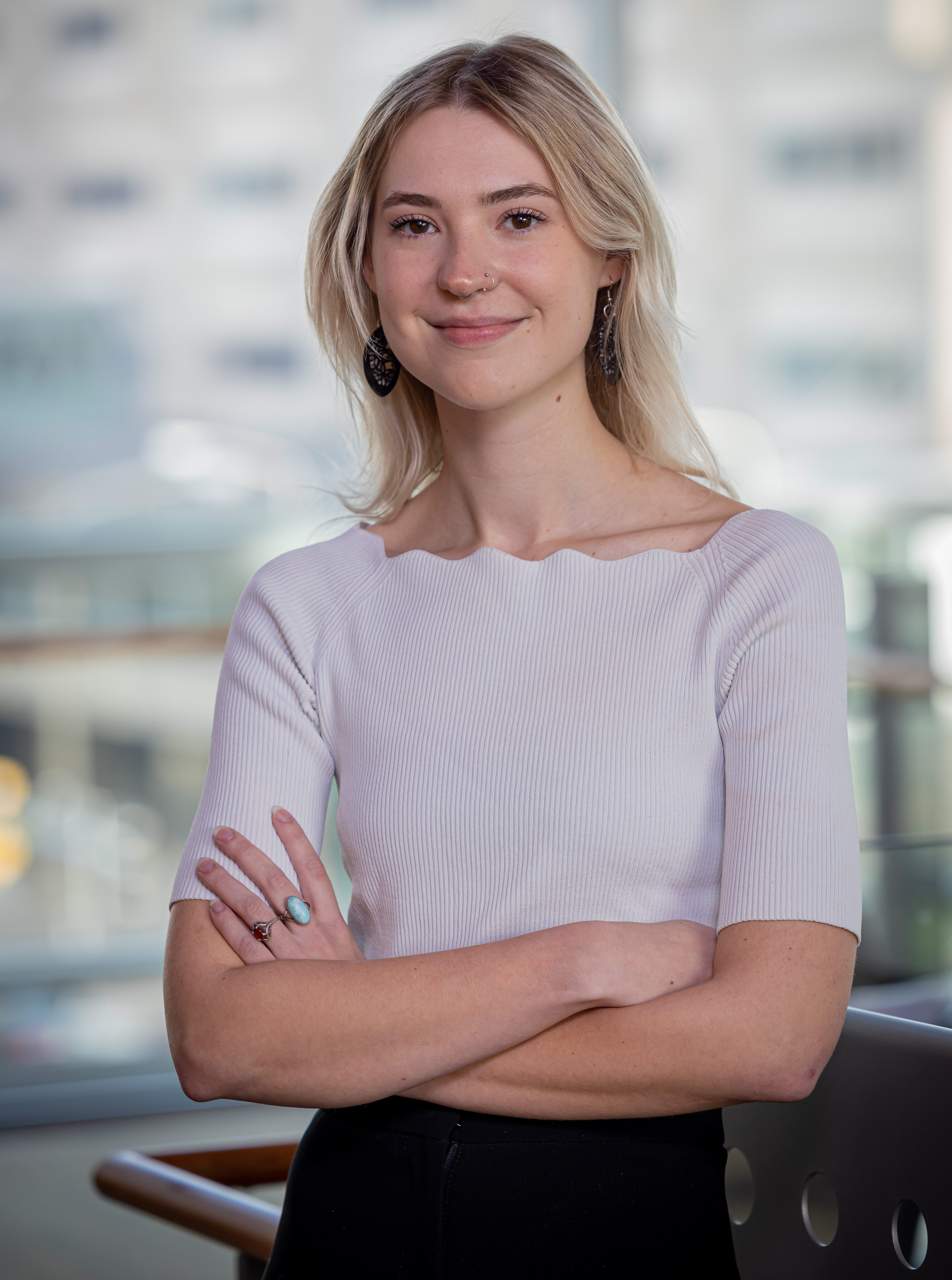 Department of Criminology and Sociology student, Veronika Stropko-Jorgensen, will be honored as Cleveland State University's Fall 2022 Valedictorian during the December 18 Commencement ceremonies. She will also be the first college valedictorian nominated by the newly named Levin College of Public Affairs and Education. Graduating Summa Cum Laude, with a double major in Sociology and Psychology and a minor in Philosophy, Veronika will also be honored as Salutatorian for the College of Arts and Sciences. 
As early as high school, Veronika developed a deep interest in the study of psychology. Cleveland State University provided the opportunity to transform her interests into a launching pad for an exciting career. While at CSU, Veronika enrolled in sociology courses which she found helpful in connecting her academic studies with the social issues she cared about. She soon decided that a double major in psychology and sociology would better prepare her to make a difference in her future career.  
Veronika immersed herself in various research projects at CSU that deepened her experience. Under the direction of Dr. Elizabeth Goncy, Veronika pursued a Psychology Honors Thesis and completed an impactful research project on interpersonal trauma and the parent child relationship. She also participated in the Undergraduate Summer Research Award Program for the THRiVE research collaborative, where she studied perceived school-based sex education for LGBTQ+ youth. Veronika presented her research at an international conference known as Resilience Con and in CSU's Undergraduate Research Showcase.  
Veronika's academic career was enriched through many hands-on, real-world learning opportunities. She served as a psychology and biology tutor in the Tutoring & Academic Success Center, became a Greater Cleveland College Now mentee (and scholarship recipient), and volunteered at Fairview Hospital, where she helped to discharge patients and perform lab work. More recently, Veronika volunteered through Shared Vision, a nonprofit organization that promotes and provides opportunities for personal growth, healing, spirituality, and education in a safe and supporting environment through nature based experiential work and community building. 
Through her studies, Veronika has grown as a researcher, a student, and most of all as a person. She has appreciated the opportunities afforded to her which helped her diversify her skillset. "As a person, I became more confident than I was when I started. More resilient," she added. Her academic and lived experiences ignited a passion for social issues and international work.  
Through Veronika's Sociology Capstone Project, she connected with returned Peace Corps volunteers, through which she learned more about this service opportunity for motivated changemakers. Inspired by their stories of working side by side with local leaders to tackle pressing challenges, Veronika applied for and was accepted into the prestigious Peace Corps program. She will serve as a Youth Health Educator in Belize, supporting Belizean youth to lead healthy and empowered lives to realize their full potential into adulthood. Veronika looks forward to working closely with the families and the community in which she will be embedded. She will volunteer in local schools, implementing the national health and life skills curriculum designed to address physical education, school-based health, and well-being activities for youth ages 6 to 14.  
Veronika would like to thank Dr. Elizabeth Goncy and Kristi Ninnemann for their mentorship and support as she navigated her way through CSU. She described them as phenomenal human beings who believed in her and treated her as a person. Likewise, she expressed gratitude for the support of her family and her dog, Rube.  
---
Hear more from Veronika on her Levin College experience: 
What piece of advice do you have for current Levin students?  
My advice is to use every resource available to you! All your professors, advisors, and faculty want you to succeed. Always ask for help and use your community of support. It is extremely valuable to talk to your peers and professors about things both related and unrelated to the classroom. Make time for events, do some networking, and listen to people's stories. 

What was the most valuable lesson you learned during your time at CSU?  
The most valuable lesson I learned is to challenge myself and do things outside of my comfort zone. I learned the most when I took a class I thought was going to be more difficult or when I pursued something I was unfamiliar with. It always pays off, even if you do not "succeed" or get the A, because at least you tried and learned things along the way. 

What issues are you passionate about/what inspires you?  
I am passionate about working with children, which impacted my career as well as my education. I am also passionate about creative writing, and I was fortunate enough to take some creative writing classes at CSU that changed me as a writer. My other passion is research. I was able to conduct undergraduate research under my mentor, Dr. Elizabeth Goncy. I developed and executed a qualitative project surrounding interpersonal trauma and the parent child relationship. This sparked a passion for trauma prevention research and the entire research process in general. 
In your opinion, what's Northeast Ohio's best kept secret?  
The best kept secret in Northeast Ohio is the Metroparks and Ohio's beautiful nature/scenery. Every time I travel out of state and come back, the Metroparks is the first place I go. I have spent countless hours there studying, hiking with my dog, and simply relaxing in nature. It is especially beautiful in the fall.