Posted on October 17, 2023 at 7:14 AM, updated October 17, 2023 at 7:24 AM Print
This annual event features a broader group of faculty for first time.
CSU's Levin College of Public Affairs and Education was recently featured at the ultimate in networking event as part of a private, invite-only research showcase. The goal? To deepen the culture of research, improve the visibility of work, and help faculty identify potential new collaborations.
According to Associate Dean for Faculty Affairs for the Levin College of Public Affairs and Education Joanna Ganning, that was just the tip of the iceberg.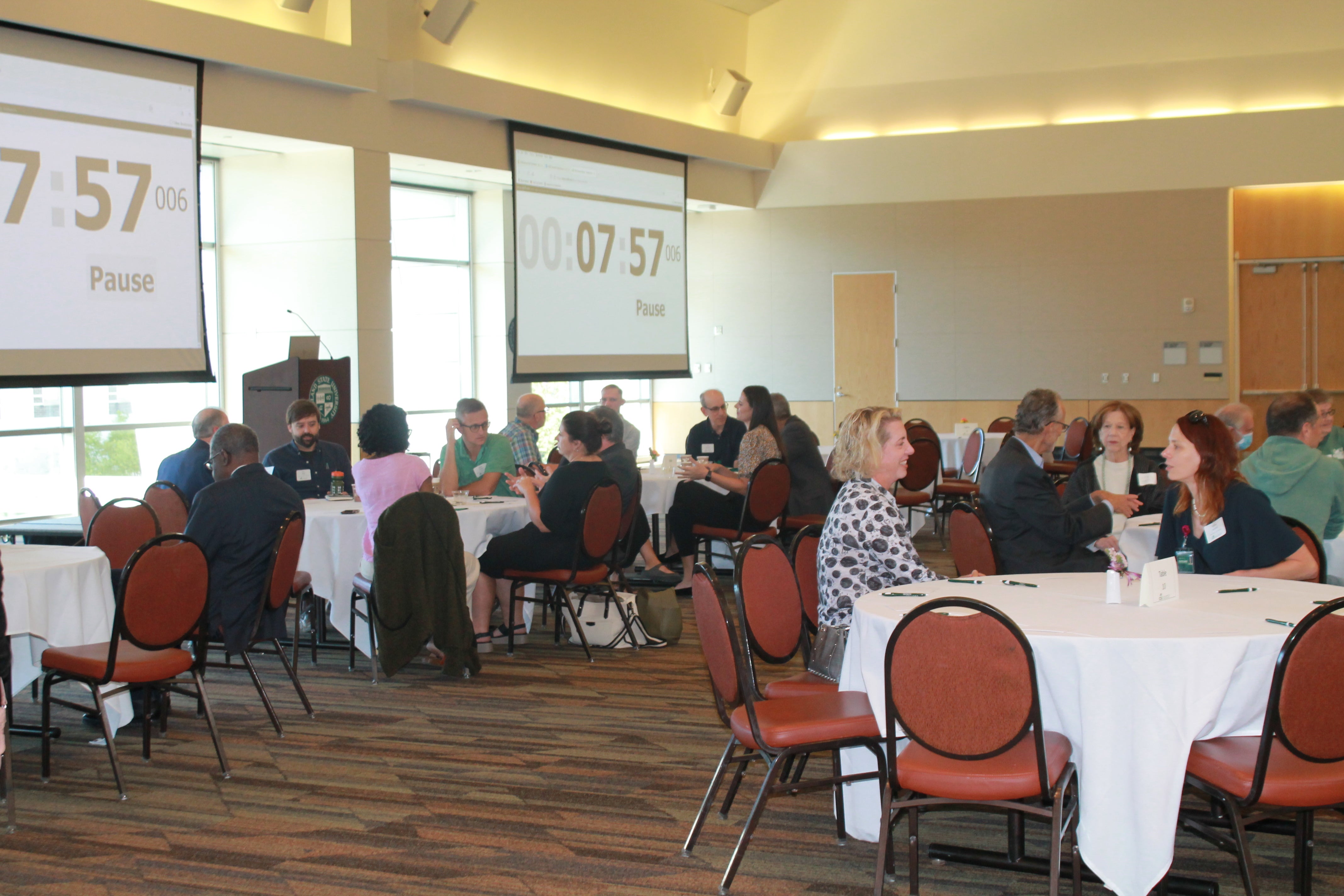 "This year's event centered on fostering interdisciplinary connections between members of our college," she said. "Our event took on special significance this year through the participation of the Levin family [who] was introduced by President Laura Bloomberg [where] Mort Levin provided remarks along with members of the family connected with faculty members from across the college during a structured networking activity."
The magnitude of the relationship between the Levin family and CSU cannot be understated. Officially christened last November thanks to a transformational generous donation, it built upon the unprecedented reputation and legacy of the Maxine Goodman Levin College, named in honor of Mort's aunt. 
"We appreciated the opportunity to meet the faculty of the combined disciplines and to learn directly from the faculty how they are interacting and collaborating with each other," said Mort Levin. "We left very energized and enthusiastic about the future of the Levin College of Public Affairs and Education."
Coordinated in partnership with an interdisciplinary advisory committee, this year's version featured plenty of energy and inspirational dialogue, all designed with putting CSU in the national spotlight.   
"The idea for a research-oriented networking event emerged from faculty input at a research development event I held earlier this year," said Ganning. "The networking-focused approach felt so critical because we are a new college; we are two schools, and four departments that form a new community of scholars and teachers [who] recognize the importance of developing our new shared culture, and that necessitates getting to know each other."
Coordinated as a "speed networking" event, pairs of participants took turns discussing their research interests and further exploring potential overlap areas before moving on to a new partner. That simple yet effective approach paid dividends almost immediately, with a faculty member inviting a colleague to appear as a guest speaker in an upcoming class.
"From my perspective, continuing to engage the Levin family as active partners in our college's story has incredible potential to shape our future," said Ganning. "Their commitment to developing relationships with our colleagues and understanding the important work of our college is quite remarkable."
According to President Bloomberg, this event is just another example of how bringing the colleges together is a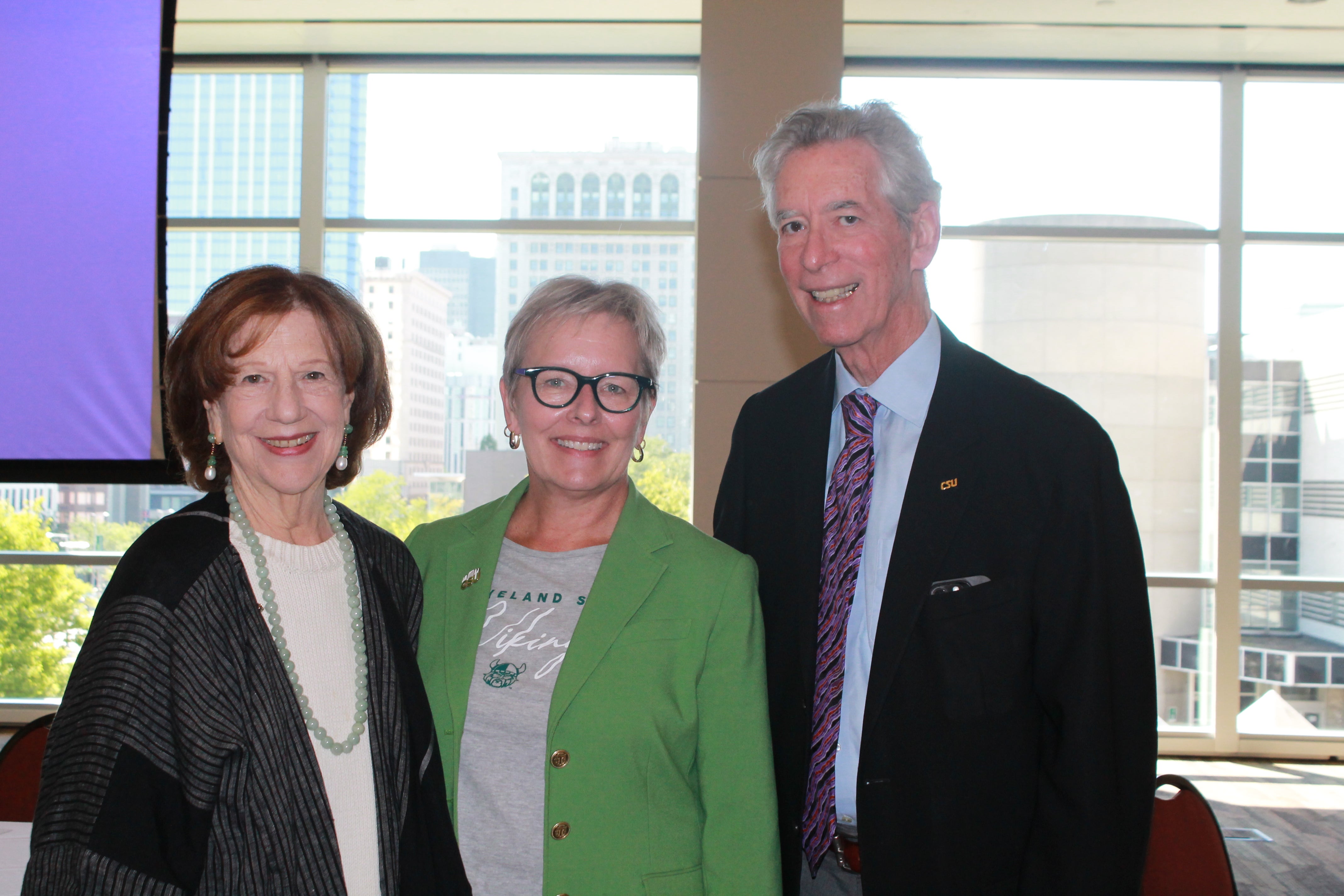 lready paying big dividends for the present and immediate future.
"Our students and faculty are the real winners in this," she said. "The innovative work that comes from a new academic alignment and, in particular, events like this are a driving factor in separating CSU from the rest of the pack when it comes to innovation and being on the cutting edge of higher education curriculum."
As Ganning looks to the future, she is excited about future collaborations that can only enhance the reputation of the Levin College of Public Affairs and Education.
"While an interdisciplinary research approach has become a critical component of the mission and view of our new college, this was the first time the Research Showcase was presented as a research-oriented networking event," said Ganning. "Faculty voiced an interest in holding similar events in the future, and I am happy to support that interest!"