Posted on May 2, 2023 at 3:51 PM, updated May 12, 2023 at 2:21 AM Print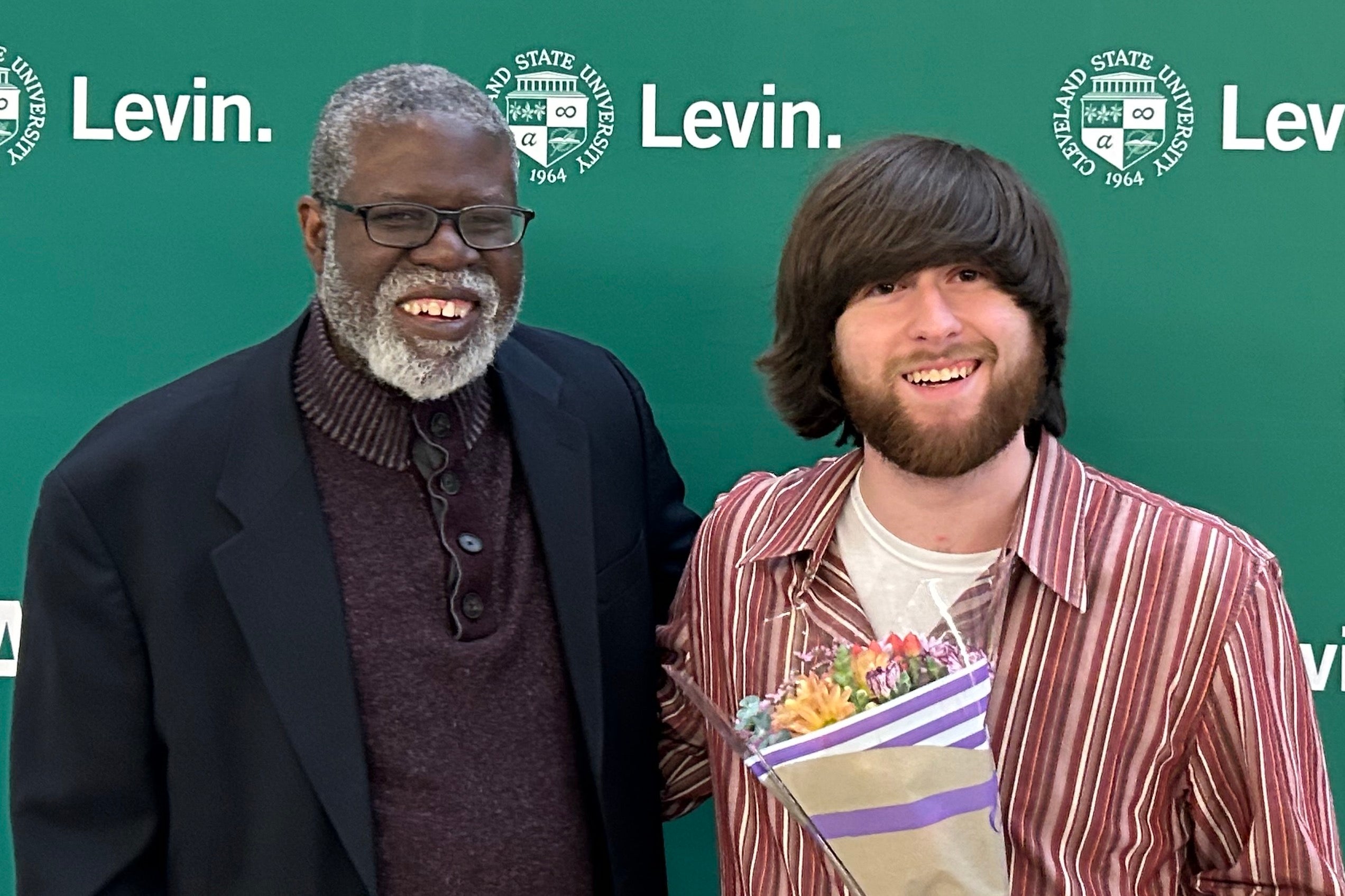 Benjamin Noren began his career at Cleveland State University (CSU) in the fall of 2019 as an honors student majoring in Urban Studies. A Bay Village native, he developed a love for the creeks, parks, and beaches offered by the Cleveland Metroparks. He is drawn to the environmental aspects of urban issues, particularly "the impact that man-made infrastructure, including roads, sewers, and lights, has on the natural resources and services provided by local tree canopies, watersheds, and ecosystems, which all play an essential role in the function of the so called 'Earth System.'" 
As Levin College of Public Affairs and Education's spring 2023 valedictorian, Benjamin will graduate with a double major in Urban Studies and Environmental Science, and minors in Economics and Sustainable Urban Development. With a 4.0 GPA, Benjamin has been recognized on the President's List every semester he has attended CSU. He was also inducted into Upsilon Sigma, an honors society for urban studies. "I am still struck by the vibrance of the city of Cleveland and the opportunities it provides," Benjamin shared. I look forward to seeing what the future holds for this city and its people, and I am glad to be a part of its continual growth." 
Benjamin's time at CSU has afforded him ample opportunities to hone his leadership skills. Starting as a CSU resident assistant in fall 2020, at the height of the COVID-19 pandemic, he identified an urgent need to address the mental health effects of isolation. Hosting weekly events on Zoom allowed his residents to interact and stay as social as possible while navigating the in-person restrictions that arose due to public health concerns. As restrictions were lifted, Benjamin expanded his repertoire of weekly community-building events such as game nights, ice cream making, and movie nights. Each opportunity was designed to support the social-emotional health of his residents while creating space for diverse students to get to know each other and build community. 
As a member of the Sigma Phi Epsilon fraternity, Benjamin further developed his passion for community outreach and development. Through the fraternity, Benjamin regularly volunteered at GiGi's Playhouse, a support center for children with Down Syndrome in Lakewood, Ohio. Additionally, he organized a fraternity-wide program detailing the importance of urban planning, zoning, and the history of discrimination in city design. The program allowed him to engage with the material he uniquely learned in class while having a conversation with fraternity members about the relevance of civic involvement in planning their future careers and lives.  
Experiential learning is a critical component of the student experience at the Maxine Goodman Levin School of Urban Affairs. For Benjamin, this included a planning internship with the City of Shaker Heights, where he assisted in managing public meetings for the Lee Road Action Plan, a visionary reinvestment plan which aims to comprehensively transform the area south of Van Aken Boulevard into a thriving corridor and commercial district. The internship helped him to better understand the challenges facing municipalities when designing cities. 
In spring 2023, Benjamin collaborated on his senior capstone project with Dr. Van Stan, Associate Professor of Biological, Geological, and Environmental Sciences at CSU where they examined the impact of stemflow in tree canopies, and particularly the effects it may have on tree and soil health. Upon graduation, Benjamin will continue this research in pursuit of a Master of Science in Environmental Science at CSU and pursue a doctorate in ecology studying urban ecosystems. Reflecting on his next steps, Benjamin shares, "I have decided to continue my education at CSU in particular because of the rewarding education I received as an undergraduate, its significant role in urban research, and the faculty members who have helped me define my career goals. In time, I hope to use the skills I gain from a graduate degree to further explore the interface of human society and nature as a researcher."