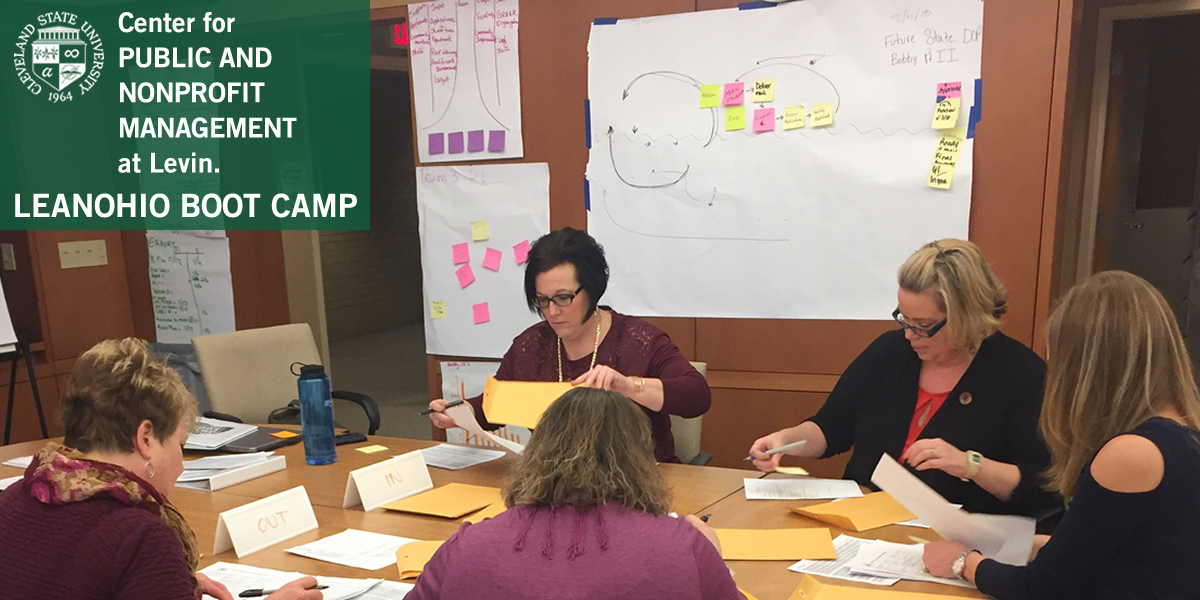 View images from past sessions of LeanOhio Boot Camp.
WORKSHOP OVERVIEW
Session Date(s): TBD
Location: Maxine Goodman Levin School of Urban Affairs, 1717 Euclid Ave Cleveland, Ohio 44115 (and other locations TBD)
Course Fee: $1,395 per person or $1,000 per person if 5 or more persons attend (from the same organization)
Payment Methods: Major credit cards, corporate checks, and staff development funds welcome. Read more. »
TO ENROLL FOR THIS WORKSHOP PLEASE DO THE FOLLOWING:
Registration for this workshop is not currently available.
Complete the LeanOhio Boot Camp Participant Portfolio form.
When this workshop has been scheduled registration will be available via CSU's Learning Stream website.
---
LeanOhio Boot Camp is an intensive 4 day training workshop that gets people learning and using Lean methods and tools. The entire program is tailored to the public-sector workplace and public-sector processes. Lean Ohio is practical training aimed at generating results. Participants will be able to use their new knowledge and skills immediately -- to make government simpler, faster, better, and less costly. The training is filled with government examples and exercises. Included is an in-depth simulation involving a prototypical agency, so participants build their toolkits by way of a real-world situation.
When LeanOhio Boot Camp participants complete their week of training, they are newly equipped to:
Scope an improvement project
Be an effective improvement team member
Apply Lean tools and methodologies to make their organization more effective and efficient
Improve the quality and consistency of work products
Decrease the complexity of processes and eliminate unneeded steps
Participants will receive:
LeanOhio Boot Camp Training  Manual
LeanOhio Toolkit
Certificate of participation
Access to the Lean Ohio network
 
Audience
This training is useful for people who work in government in an Ohio city, township, county, school district, or other governmental agency or organization.
 
Course Fee AND REGISTRATION
The standard workshop fee is $1,395 per person. A group rate discount is available for 5 or more persons (from the same organization) for $1,000 per person. Accepted forms of payment are: credit cards, checks, or CSU staff development funds.
Notes:



​

Meals and Parking
 
REFUND Policy
Refund to original payment is made at 100% when a registrant cancels attendance at least two business-days prior to the start of the first class. Alternatively, the registrant can choose to transfer paid tuition to a later, equivalent course of their choosing within the same college or school at no additional cost when giving a two business-day cancellation notice. Requests must be submitted to Nina Antonik (n.antonik@csuohio.edu). Click here for more information about Cleveland State Univerisity's refund policy.

Cancellation Policy 
Cleveland State University reserves the right to cancel a workshop and refund the workshop fee in the event that there are an insufficient number of registrants. 
Questions
If you have general questions about this workshop please contact Rob Ziol (r.ziol@csuohio.edu). For questions about workshop registration and payment contact Nina Antonik (n.antonik@csuohio.edu). 

Professional Development
The Maxine Goodman Levin School of Urban Affairs offers a wide range of custom designed courses, workshops, and seminars. See the Professional Development Course Listing for this semester's schedule.