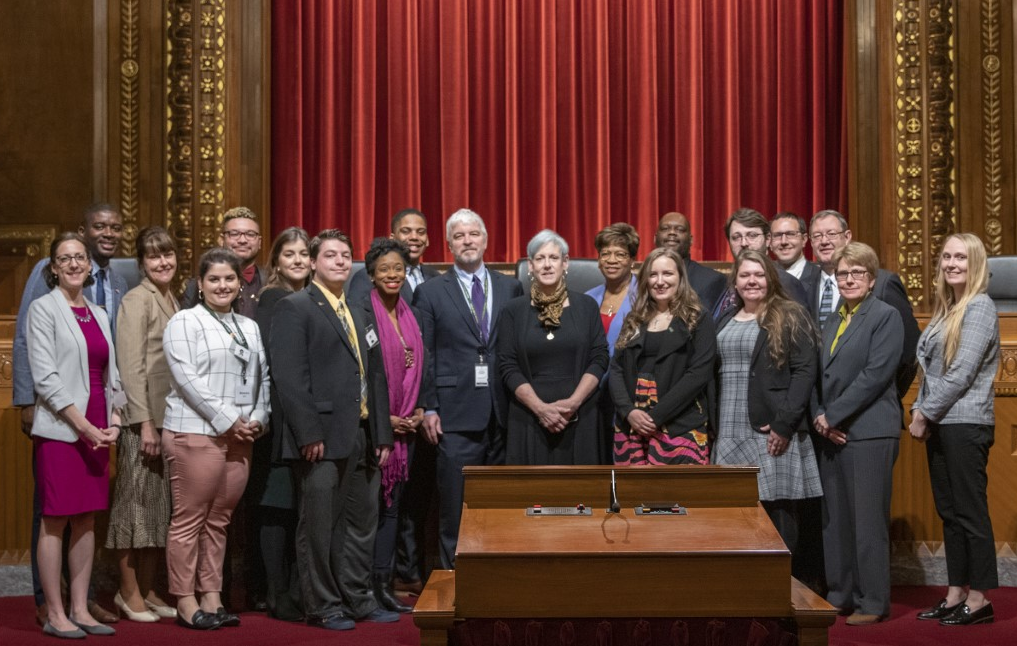 Columbus Seminar | Application | FAQ | Flyer | Photos 
Thanks for your interest in the Columbus Seminar. We are no long accepting applications for the Spring 2023 session.
This seminar gives students direct experience with the institutions and leaders of Ohio's state government. Students will meet senior officials drawn from all three branches of government, an independent agency, the media, and non-governmental organizations. Students will also meet legislative leaders. Agency visits and briefings by cabinet officers are included in the Columbus field experience. Examples of typical sessions/visits include the Department of Higher Education, the Governor's Office, Senator Nickie Antonio (a seminar alumna), the Ohio Supreme Court, Ohio Statehouse News Bureau, American Civil Liberties Union, the Buckeye Institute, the Coalition on Homelessness and Housing, and the Public Utilities Commission of Ohio.
To prepare for the Columbus trip, students will meet in Cleveland to engage in a curriculum focused on U.S. federalism, state and local politics and policymaking, and inter-governmental relations.
Seminar meets in Columbus during Spring Break.
5 CSU class meetings are held during the Spring semester on Fridays from 4-6pm at the Maxine Goodman Levin School of Urban Affairs.
Students earn 4 hours graduate or undergraduate credit hours (UST 473/ UST 573).
Participation is accepted by application only! Enrollment is limited to juniors, seniors, graduate students and law students in good academic standing.
Blackboard participation is required during the course.
Students are responsible for regular tuition, plus an additional $500 course fee, parking/transportation, meals, and other incidental expenses. A limited number of scholarships are available for the $500 course fee. Please note in your application whether you would like to be considered for a scholarship.