The Cleveland Alliance for Education Research (CAER) is a research-practice partnership (RPP) between the Center for Urban Education at Cleveland State University (CSU), the Cleveland Metropolitan School District (CMSD), and the American Institutes for Research (AIR). CAER was established in 2016 with the mission of improving outcomes for K-12 students in Cleveland. To accomplish this, CAER conducts and shares high quality research on behalf and at the direction of the CMSD community to inform policy and practice, including identifying what matters for student success and wellness and evaluating whether and how policies, programs, and practices are working.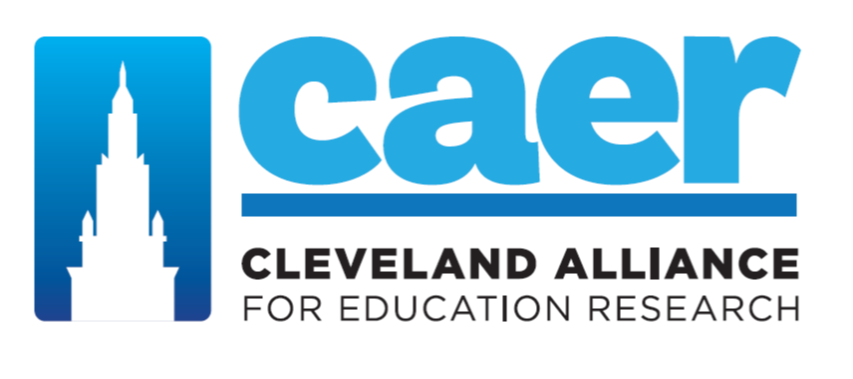 RPPs like CAER are long-term collaborations between research institutions and education agencies that seek to strengthen education systems. The RPP model has been promoted by the U.S. Department of Education, the Spencer Foundation, and the William T. Grant Foundation. CAER became a formal member of the National Network of Education Research-Practice Partnerships (NNERPP) in 2017. 
CAER is guided by a steering committee that meets annually to examine district priorities and set the research agenda for the district over the next three to five years. Steering committee members include:
Molly Buckley-Maradus, Assistant Professor of Teacher Education, CSU
Christine Fowler-Mack, Chief Portfolio Officer, CMSD
Rachel Garrett, Senior Researcher, AIR
David Osher, Senior Vice President and Institutional Fellow, AIR
William Stencil, Executive Director of Humanware, CMSD
Karen Thompson, Cheif of Staff, CMSD
Sajit Zachariah, Dean of the College of Education and Human Services, CSU
Several projects coordinated through CAER are noted below.
| | | |
| --- | --- | --- |
| Project | Description | Staff |
| Cleveland Alliance for School Climate Research | The Cleveland Alliance for School Climate Research (CASCR) is funded by the U.S. Department of Education, Institute of Education Sciences to help Cleveland Metropolitan School District (CMSD) gain new knowledge about the climate of its secondary schools, specifically how secondary school climate is associated with student education outcomes and how students of different subgroups experience school climate differently; to help district staff develop capacity to understand and use research to inform programming; and to build a long-term research partnership between CMSD, the Center for Urban Education at Cleveland State University, and the American Institutes for Research (AIR). The project began in July, 2017. | Adam Voight (PI); William Stencil (Co-PI, CMSD); Matthew Linick (Co-PI, CMSD); David Osher (Co-PI, AIR); Nicholas D'Amico (Co-I, CMSD); Elisabeth Davis (Co-I, AIR) |
| Cleveland Metropolitan School District Policy Research Fellowship | This project places one Cleveland State University (CSU) student in the Urban Education doctoral program as a Policy Research Fellow in the Cleveland Metropolitan School District (CMSD) to train with evaluation researchers in the district and assist with policy research and evaluation. The project is funded jointly by CMSD and the Department of Curriculum and Foundations and the Center for Urban Education at CSU. | Matthew Linick (PD, CMSD); Adam Voight; Laura Fogarty |
| Cleveland Partnership for English Learner Success  | The Cleveland Partnership for English Learner Success (CLE-PELS) is funded by the U.S. Department of Education, Institute of Education Sciences. The two primary purposes of CLE-PELS are to understand how English learner (EL) high school students in the Cleveland Metropolitan School District (CMSD) fare in terms of postsecondary readiness and to increase the district's capacity to access, conduct, and interpret research about its EL students. The project began in July, 2018. | Elisabeth Davis (PI, AIR); Matthew Linick (Co-PI, CMSD); José González (Co-PI, CMSD); Ryan Eisner (Co-I, AIR) |
| Collaborative Action Research at Campus International School and MC2STEM High School | This project, supported by the Martha Holden Jennings Foundation, matches Cleveland State University faculty with K-12 educators in the Cleveland Metropolitan School District (CMSD) to collaboratively conduct action research projects. The project is currently in its fourth year. The research questions for the action research projects derive from practical problems in educators' schools. K-12 educators present their findings at a poster session in Julka Hall on CSU campus in April. The project is in its fifth year. | Grace Huang (PI); Mary Gove (Co-PI); Diane Corrigan (Co-PI) |
| Student Voice in Urban Education Reform | This research study, funded by the Cleveland State University Office of Research, examines how students in urban high schools can be given voice in school decision making and what the outcomes of student participation in school decision-making for both students and their schools. This study is conducted in partnership with the Cleveland Metropolitan School District (CMSD). This study began in August, 2015, and results have expanded our understanding of how and why urban students' voices matter and inform CMSD's student voice programming. | Adam Voight (PI); Denine Goolsby (CMSD); Regina Giraldo-García; Elizabeth Klancher |
| Youth Participatory Action Research in the Secondary Curriculum | This development and innovation study, funded by the U.S. Department of Education, Institute of Education Sciences, involves collaborations with Cleveland Metropolitan School District (CMSD) teachers to imagine ways in which youth participatory action research (YPAR) may be incorporated into classroom teaching. The study will yield various strategies for YPAR integration and assess their feasibility, implementation, and effectiveness in improving student and school outcomes. This study began in July, 2020. | Adam Voight (PI); Molly Buckley-Marudas (Co-PI); Matthew Linick (Co-PI, American Institutes for Research); Joshua Terchek (Co-PI, CMSD); Alexandrea Golden; Sinéad O'Neill Gibson |
Notes: PI = Principal Investigator; Co-PI = Co-Principal Investigator; Co-I = Co-Investigator; PD = Project Director