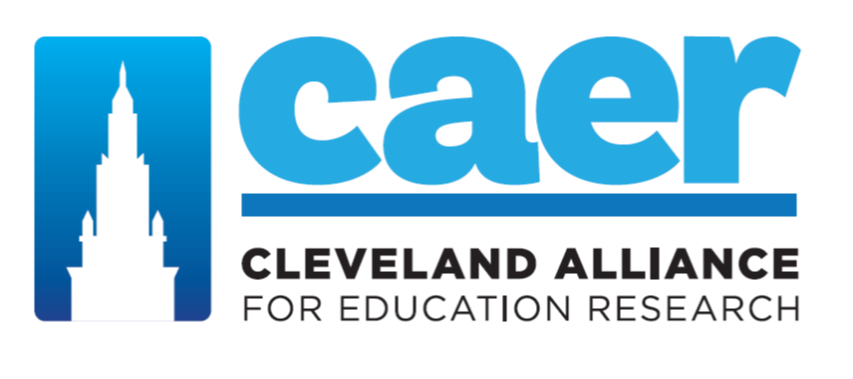 The Cleveland Alliance for Education Research (CAER) is a researcher-practitioner partnership between the Cleveland Metropolitan School District (CMSD), Cleveland State University (CSU), and the American Institutes for Research (AIR). CAER's mission is to improve outcomes for K-12 students in Cleveland, Ohio. To accomplish this, CAER conducts and shares high-quality research on behalf and at the direction of CMSD to inform policy and practice. We have been fortunate to receive funding from several federal and philanthropic entities since 2016. CAER is led by its Executive Committee members from each partner institution: Adam Voight, Director of the Center for Urban Education at CSU, Elisabeth Davis, Principal Researcher at AIR, and Nick D'Amico, Executive Director of School Performance at CMSD. A Steering Committee of leaders from each institution sets the agenda for the partnership research. 
CAER Initiatives
Project HighKEY is a CAER initiative supported by a four-year Institute of Education Sciences (IES) Research Grant to develop a youth participatory action research (YPAR) innovation for high schools. Teachers in four CMSD high schools are working with CSU and AIR to test adaptations of YPAR as a strategy for deeper learning and civic engagement that engages students in identifying issues in their schools, researching them, and using the evidence they create to inform change.  
Project ELEVATE is a CAER initiative supported by a five-year grant from the National Professional Development Program to serve the district's growing English learner (EL) population by increasing the number of TESOL certified teachers and paraprofessionals in CMSD classrooms, empowering staff to help EL students strengthen their academic skills. The grant supports a pre-service Master's degree program focused on primary and early childhood licensure and Ohio TESOL endorsement  and an in-service TESOL certificate program for in-service CMSD teachers and paraprofessionals.  
The Cleveland Alliance for School Climate Research (CASCR) was a CAER initiative supported by a two-year IES Partnership Grant to explore the connections between students' social and emotional experiences and their academic outcomes in CMSD and to provide evidence-based recommendations for how to empower teachers and administrators to improve their practice to be more comprehensive of students' social, civic, and academic development.
The Cleveland Partnership for English Learner Success (CLEPELS) was a CAER initiative supported by a two-year IES Partnership Grant to explore facilitators and barriers to English learners' postsecondary readiness. The project provided several recommendations for improving EL students' learning experience in high school to increase their likelihood of continuing their education beyond high school graduation.
The following CAER initiatives are supported by a grant from the Hewlett Foundation to conduct emergent, short-turnaround research on pressing issues identified by CMSD leadership:
Summer Learning Experience. CMSD implemented the Summer Learning Experience (SLE) as a new structure to address lost learning time from the pandemic. CAER worked with SLE leadership to develop a process evaluation to understand facilitators and barriers of successful implementation, preliminary student outcomes, and staff, parent, and student perceptions of the program.   
Say Yes to Education. Say Yes is a district-wide college readiness initiative that incorporates (1) Collaboration with community partners, (2) data and analytics, (3) scholarship, and (4) supports in order to increase the likelihood that all students will graduate college and career ready and continue their education beyond high school. In spring 2023, Say Yes leadership requested a quick-turnaround analysis of the fourth component of their program model - supports - by examining how effective specialists were at referring students to needed services and the association between referrals and student outcomes.
Whole Human Learning. CAER analysts partnered with the district's Humanware team to develop a whole human learning tool for assessing the implementation of 11 distinct Humanware initiatives across the district aimed at improving students' social, civic, and academic skills and mindsets. Specifically, we developed a series of surveys for three respondent groups: project managers, SEL coordinators, and principals. The purpose of these surveys is to assess the current structure and goals of each initiative and assess behaviors and activities that would be expected when implementing various Humanware initiatives in schools, including importance of student voice, student choice, and class meetings.