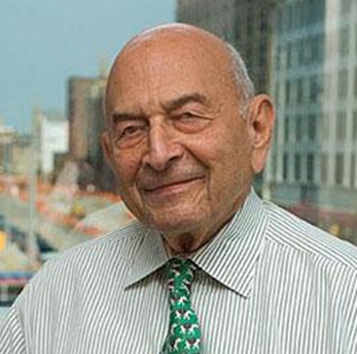 Norman Krumholz, Professor Emeritus
M.C.R.P., Planning, Cornell University, 1965

Norman Krumholz was an Emeritus Professor of Urban Planning at the Maxine Goodman Levin School of Urban Affairs and a widely-respected urban planner and community development leader who earned his planning degree at Cornell. 
Prof. Krumholz left an indelible mark on our city and campus, and his contributions to how we learn and teach neighborhood-building, community development, and city revitalization will impact us and future generations for many years to come.

Prof. Krumholz joined CSU in 1979 as founding Director of the Center for Neighborhood Development (CND) and spent the next 40 years educating multiple generations of urban planners, who are now leaders in the city, the region and beyond. As a teacher, Prof. Krumholz was much beloved by his students, who established the Professor Norman Krumholz Scholarship at the Maxine Goodman Levin School of Urban Affairs in honor of his many years of service to CSU.

In 2016, CSU awarded Professor Krumholz an Honorary Degree of Doctor of Urban Affairs in recognition of his leadership and scholarly work in urban planning and community building. In 2017, we honored Prof. Krumholz's 90th birthday with a celebration that included the City of Cleveland renaming the one-block stretch of East 18th Street from Euclid Avenue to Chester Avenue as Norman Krumholz Way.

His legacy at the Maxine Goodman Levin School of Urban Affairs includes serving as the founding Director of CND from 1979 to 1984. Under his leadership, he and his staff were instrumental in supporting and expanding the network of community development corporations (CDCs) dedicated to neighborhood revitalization. This led to the formation in 1981 of the Cleveland Housing Network (CHN). The CHN became a national model for the rehabilitation of housing for low-income tenants and for helping many of them become homeowners.

Professor Krumholz has published in many professional journals, including the Journal of the American Planning Association, the Journal of Planning Education and Research, and the Journal of Urban Affairs. In addition, he has written chapters for many books. His book (with John Forester) Making Equity Planning Work won the Paul Davidoff book of the year award of the Associated Collegiate Schools of Planning. His most recent book, Revitalizing Urban Neighborhoods (with Dennis Keating), was published by Sage in 1999. His research has been supported by the Cleveland Foundation, the George Gund Foundation, and the Ford Foundation. He served as the President of the American Planning Association (1986-1987), received the APA Award for Distinguished Leadership in 1990, and in 1999 was serving as the President of the American Institute of Certified Planners. He was awarded the Prize of Rome in 1987 by the American Academy in Rome. Professor Norm Krumholz also appointed an AICP fellow, and his Cleveland Policy Plan declared a "Planning Landmark".

Prior to joining the Maxine Goodman Levin School of Urban Affairs, Prof. Krumholz worked as an urban planning practitioner in Ithaca, Pittsburgh, and Cleveland, where he served in the mayoral administrations of Ralph J. Perk, Dennis Kucinich, and Carl Stokes. He also served on President Jimmy Carter's Commission on Neighborhoods, and on many local, regional and national urban planning boards.
Donations in Memory of Norman Krumholz
The Krumholz family asks that any donations in memory of Norman Krumholz be made to the Norman Krumholz Lecture Series and/or the Norman Krumholz Endowed Scholarship. Those who wish to contribute can visit our Donate to the Maxine Goodman Levin School of Urban Affairs webpage, and designate your gift to one of these two options.
Tributes to Norman Krumholz


Testimonials Presentation | Tribute Video | Tribute Photo Gallery
Norm Krumholz and Equity Planning 
By Dennis Keating, Emeritus Professor, Department of Urban Studies, Maxine Goodman Levin School of Urban Affairs, Cleveland State University
Norm's Modesty 
By John Forester
Freeway City by Brad Masi - Comments on Showing at Bottlehouse Brewery 2/18/20 
By Robert N Brown
Norman Krumholz Zeroed in on Cleveland's Inequality 40 Years Ago
By Roldo Baltimore, American Journalist
Rebel with a Plan: Norm Krumholz and "Equity Planning" in Cleveland 
By Robert N. Brown, FAICP
City Planning Consultant and Former Director of City Planning for the City of Cleveland
Remarks 
By Bob Giloth
Remarks on Norm Krumholz 
By Robert N. Brown, FAICP
City Planning Consultant and Former Director of City Planning for the City of Cleveland
A Celebration and Tribute to Norman Krumholz: February, 29, 2020
Revered Cleveland planner Norman Krumholz remembered in Cleveland State University celebration | By Steven Litt, The Plain Dealer »