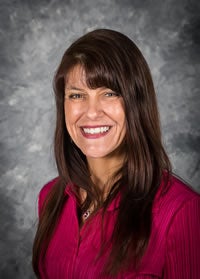 Suzanne Sharpe
Manager, Administrative Operations
Maxine Goodman Levin School of Urban Affairs
Cleveland State University
Office Location: UR307
Phone: 216.687.5263
Email: s.m.sharpe71@csuohio.edu
A graduate of Baldwin-Wallace College (BA) and Cleveland State University (M.Ed.), Suzanne Sharpe has been employed with Cleveland State University for twenty-seven years. Most recently her position involves managing the Urban Studies department and serving as the college's Human Resources Liaison. Working closely with the Department Chair, Mrs. Sharpe especially values budget management tasks, and any data projects which analyze student enrollment.

Ms. Sharpe is a licensed professional counselor in the state of Ohio, and believes she uses her listening ability and solution-focused approach to strengthen student/faculty and faculty/staff relationships every day. She is a member of the Ohio Counseling Association.

Outside of her position with Cleveland State, Ms. Sharpe is an avid distance runner. She is nearing completion of running a marathon or beyond in each of the 50 states.

Mrs. Sharpe and her husband Jack have a combined total of five adult daughters and one granddaughter, and live in a 175-year old home in Medina.