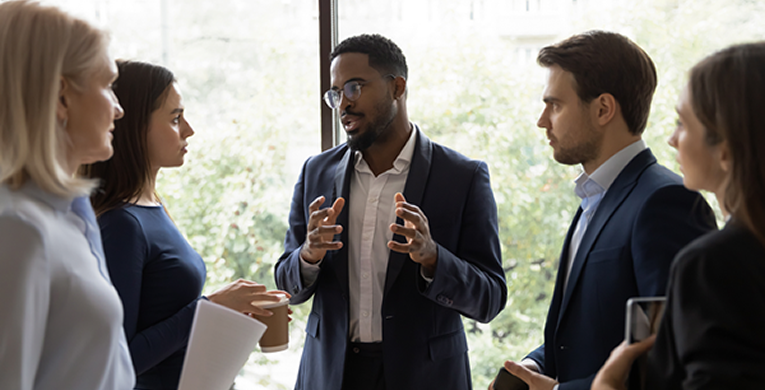 ---
Center / Program: Diversity Institute
Course Credit: 6 CEUs / 60 Contact Hours
Virtual Session Dates/Times: Sessions will be held on Tuesdays, October 3rd, 10th, 17th, and 24, 2023 from 6:00pm - 7:30pm each day.
Location: This workshop will be held online via Zoom.
Course Fee: $849
Payment Methods: Major credit cards, corporate checks, and staff development funds welcome. Read more. »
Registration: Register for this workshop.
Future Workshops: Sign up to receive emails about future workshops from the Diversity Institute.
Overview
Understand the multiple complexities associated with diversity dynamics in the workplace. Create the structures to advance adaptive and transformative organizational culture change. Cultivate a workplace culture that can effectively leverage its diverse talent. Support leaders in becoming sensitive to and skilled in responding to the needs of its multicultural workforce and consumer population.
Each week you will study a self-directed module, then meet with your cohort members and two expert facilitators for a group discussion. Upon completion of all four modules and discussion groups, you receive a Cleveland State University Certificate in Diversity, Equity and Inclusion.
Objectives
Become a Diversity Champion: Four-Week Module Workshop in Diversity, Equity and Inclusion
The certificate in Diversity, Equity and Inclusion is a partnership between the Office of Diversity, Inclusion and University Engagement, the Maxine Goodman Levin School of Urban Affairs, and the Division of Continuing and Extended Education. In this workshop you will:
Review the current and historical complexities of diversity, equity, inclusion, access, and belonging.
Understand how the role of "self" and how "self" operates, both consciously and unconsciously, to use oneself to influence others in the service of DE&I change.
Explore some of the prevalent psychological tendencies that can produce impediments to an inclusive work environment.
Understand the critical, yet often invisible, role that power dynamics play and its direct relationship to diversity, equity, inclusion, access, and belonging.
Learn to effectively provide and cultivate and inclusive workplace environment through an understanding of group dynamics and conflict management skills.
Identify organizational interventions compatible with the culture and level of commitment.
Workshop Outline
Modules:
Week 1 - Foundations: Defining diversity, equity and inclusion
Week 2 - Social Dynamics
Week 3 - Diversity as a Change Initiative
Week 4 - Organizational Interventions & Strategies
Facilitators 
Jejuana C. Brown, M.Ed., CDP
Jejuana C. Brown is an equity and inclusion professional with a passion for leadership development. As the Director of Equity & Inclusion Programs at Greater Cleveland Partnership (GCP), she is responsible for cultivating engaging and forward-thinking programming focused on race equity, inclusion, and workplace culture. Prior to joining GCP, Jejuana managed strategic projects and relationships for several departments at Cleveland State University where she also earned a Master of Education in Adult Learning and Development and a graduate certificate in diversity management. An active community member, Jejuana serves on the boards of the Journey Center for Safety & Healing, the Friends of the Intergenerational Schools and Cleveland SHRM.
Normella Walker, M.A., CDP
Normella Walker is the Executive Director, Diversity, Equity and Inclusion and Interim Exceutive Director, Office of Mediation, Coaching, Ombuds and Support Services (OMCOSS) at Brigham and Women's Hospital. 
Normella has actively managed, facilitated and advised diverse groups for over 20 years, and specializes in business operations, organizational performance and change, leadership development, team building, conflict transformation, and cross-cultural intelligence. She has specific and comprehensive training in diversity competencies and coursework, not just generalized skills applied to diversity issues, and has counseled individuals and groups at all organizational levels. She has a B.A. in Organizational Leadership and an M.A. in Psychology with a Specialization in Diversity Management. She also holds Diversity certificates from the Cornell School of International Labor Relations and the Yale School of Management.

She is a dynamic and authentic person who understands the fears, obstacles, anxieties, and apprehensions that people often encounter as they attempt to navigate difference and change. She can provide clarity and a sense of safety and support as she engages individuals and groups in learning how to break down barriers, challenge perceptions, examine cognitive dissonance and disrupt entrenched patterns of thinking.

Normella is a skilled presenter, communicator, and trainer with success targeting large and small audiences, and an expert in the identification, analysis, and resolution of diverse, organizational behavioral issues. She has also served as an independent coach and consultant and through her work has supported business entities, government agencies, law enforcement, community groups, healthcare organizations, students, schools, and nonprofits. Her operational expertise, coupled with her strategic leadership sensibilities provide her with insight into how to pragmatically integrate, leverage, and rapidly apply the principles associated with diversity, equity, inclusion, access and belonging. 
Course Fee & Payment Methods
Tuition for this workshop is $849. Ten percent

 off discounts are available for CSU alumni discount and groups with three or more registrations from the same organization.
Major credit cards accepted.
If you prefer to receive an invoice and pay via corporate check contact The Diversity Institute (diversityinstitute@csuohio.edu). 
If you are a CSU employee, you may be able to use faculty/staff development funds to pay for this workshop. Continuing Education Staff Development forms can be obtained from the CSU Human Resources Benefits Form page. Please send a copy of the completed form to The Diversity Institute (diversityinstitute@csuohio.edu), and when approved, our team will remove the cost from your LearningStream account.

After that please complete registration using CSU's Learning Stream site. Registration link is at the top of this page.
Refund Policy
Refund to original payment is made at 100% when a registrant cancels attendance at least two business-days prior to the start of the first class. Alternatively, the registrant can choose to transfer paid tuition to a later, equivalent course of their choosing within the same college or school at no additional cost when giving a two business-day cancellation notice. Requests must be submitted to The Diversity Institute (diversityinstitute@csuohio.edu). Click here for more information about Cleveland State Univerisity's refund policy.
Cancellation Policy 
Cleveland State University reserves the right to cancel a workshop and refund the workshop fee in the event that there are an insufficient number of registrants. 
Questions
If you have general questions about this workshop please contact Dr. Ronnie Dunn, Executive Director of the Diversity Institute and Diversity Leadership and Change Management Program, and Associate Professor of Urban Studies (r.dunn@csuohio.edu). For questions about workshop registration and payment contact our administrative office email at diversityinstitute@csuohio.edu.
Professional Development
The School of Urban Affairs offers a wide range of custom designed courses, workshops, and seminars. See the Professional Development Course Listing for this semester's schedule.