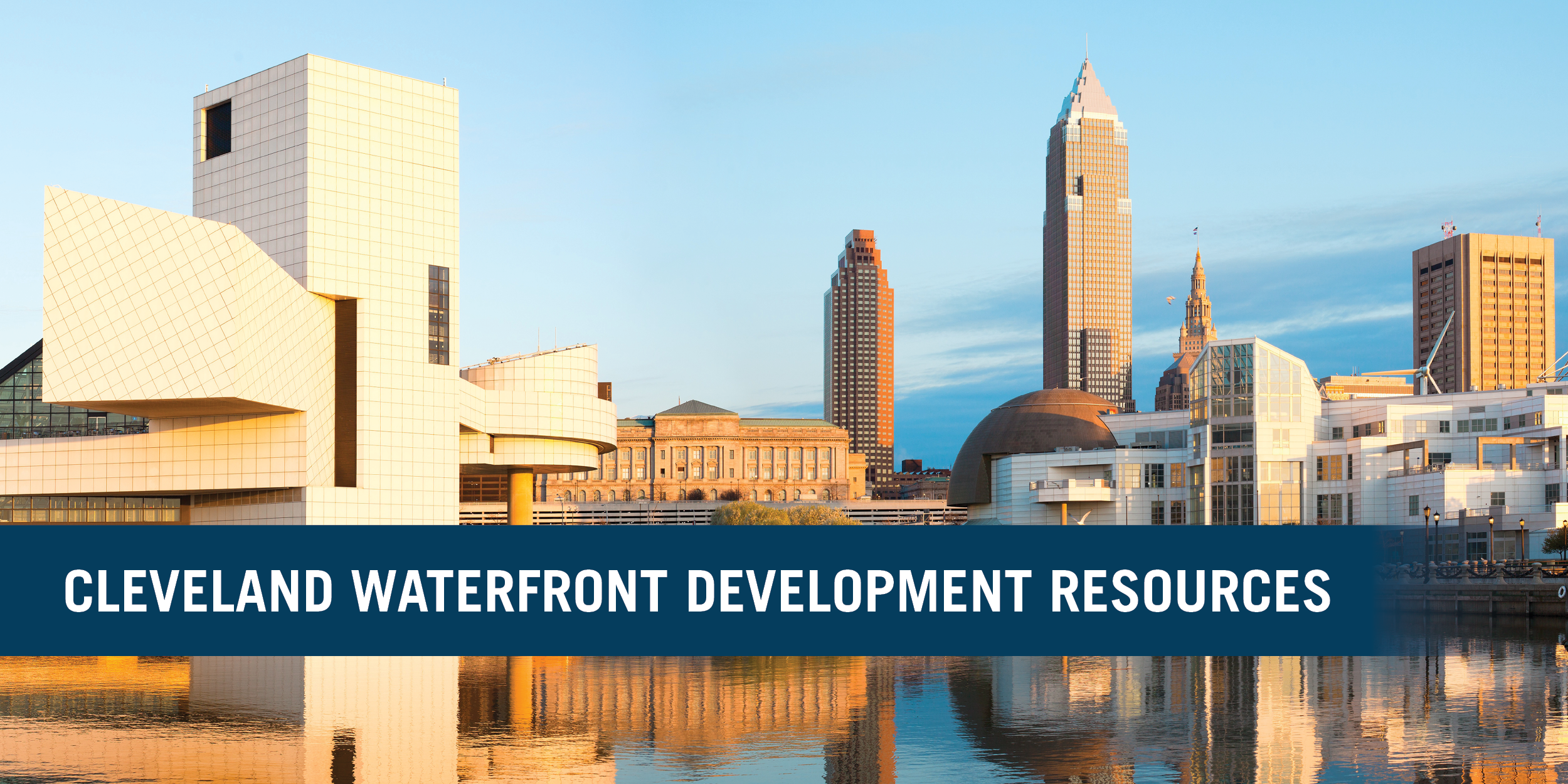 Research | Events | Studio Projects | Other Resources
Through extensive research and active engagement, the Levin College of Public Affairs and Education has made impactful contributions towards the dynamic development of Northeast Ohio's waterfront.
The College's commitment to the region's waterways is evident in their two-year Northeast Ohio's Waterways forum series, focusing on a holistic vision for the entire area. From insightful educational forums addressing climate change and shoreline concerns to meticulous analyses of housing and utilities, the College has provided invaluable insights to drive sustainable and thoughtful development.
Additional noteworthy initiatives include the comprehensive study on the Role of the University in City Planning, spotlighting Cleveland's Lakefront Redevelopment Plan, as well as hosting informative Cleveland Lakefront Forums to foster community understanding of intricate planning issues. Projects like the Dugway Greenway, East Side Parks enhancement, and the Lakefront Revitalization Plan further exemplify the College's dedication to connectivity, environmental stewardship, and innovative placemaking.
By examining redevelopment scenarios for landmarks like Burke Lakefront Airport and offering visionary strategies for Canalway, Ohio, the Levin College has proven its enduring commitment to shaping a vibrant and resilient waterfront for Northeast Ohio.

Articles
Coastal Training Strategy for the Ohio Lake Erie Basin
Claudette Robey, Kevin O'Brien, and Kirstin Toth (2004)
The Current Coastal Resource Management Training Market in Ohio's Lake Erie Basin
Dr. Wendy Kellogg, Kevin O'Brien, Claudette Robey, Dr. Micheal Tevesz, Dan Baracskay, Linda Feix, Christine Kasselmann, Jeffrey Reutter, and Gene Wright (2004)
The Role of the University in City Planning: Cleveland's Lakefront Redevelopment Plan
Dr. Wendy Kellogg and Kathy Hexter (2004) 
Book Chapters
Back to the Beginning: The Resurgence of the Cuyahoga River and Cleveland
Dr. Aritree Samanta and Dr. Wendy Kellogg (2019)
Presentations
Northeast Ohio Citizens Speak: Individual Citizen Interviews Data Analysis Final Report
Dr. Mark Chupp (2006)
Connecting Cleveland to Its Natural Edge: Civic Engagement and the Cleveland Lakefront Plan The Natural City Symposium
By Dr. Wendy Kellogg and Kathy Hexter (2004)
Reports
Cleveland's Lakefront: Its Development and Planning 
Dr. Dennis Keating, Norman Krumholz, and Anne Marie Wieland (2005)
The Ohio Lake Erie Commission, Linking Land Use and Lake Erie: Best Local Land Use Practices
Kirby Date (2004)
Housing Analysis for Cleveland Lakefront Development 
Dr. Thomas Bier, Charles Post, Rick Seifritz (2003)

Smoke on the Water: Five Decades of Progress Restoring Great Lakes Rivers 
Event Video
Held on May 23, 2019
Levin College Hosts "What's Happening? Cleveland's Waterfronts" on April 10, 2014 
Held on April 10, 2014
Climate and Shoreline Educational Issues Forum, prepared for the Cleveland Lakefront Partners
Held on November 7, 2002
Lakefront Utilities and Railroads Educational Issues Forum 
Held on October 2, 2002
Burke Lakefront Airport Educational Issues Forum
Held on September 18, 2002
Northeast Ohio's Waterways: Lakefront Planning Issue Forums Summary Report, Burke Lakefront Airport 
Held on September 18, 2002


Envisioning the Dugway Greenway (2023)
A plan to engage Cleveland's Glenville community and the Village of Bratenahl to establish the feasibility of daylighting the Dugway Brook, improve connectivity throughout the natural and built environments and provide linkages to the lakefront.
Balancing Broadway (2022)
Although this project did not involve the Cleveland Lakefront, it did focus on redevelopment of the City of Lorain's Black River waterfront, which has many of the physical and socio-economic characteristics of Cleveland's Flats.
East Side Parks (2020)
A plan to develop a practical and implementable strategy to connect eastside neighborhoods to an enhanced Rockefeller Park and Lakefront by improving the access, activation, environmental aspects, management, residential use and stewardship of greenspace, while also advancing area developmental and placemaking opportunities.
Carter Road Redevelopment Plan (2015)
An analysis of two different scenarios for redevelopment of the 80 acre Scranton Road peninsula in the heart of Cleveland's Flats.
The Irishtown Greenway: A Strategic Plan for the Flats West Bank (2014)
An analysis of how the development of the Cleveland Foundation Centennial Lake Link Trail could spur redevelopment of the Cuyahoga River West Bank and provide access to Wendy and Edgewater Parks for nearby residents of CMHA's Lakeview Terrace and Riverview apartments.
Canalway, Ohio (2011)
A plan to determine the impacts of the National Heritage Area designation on Northeast Ohio and to develop strategies and recommendations for the future of the corridor, which links the Ohio and Erie Canal corridor from New Philadelphia to Lake Erie.
Lakefront Revitalization Plan (2009)
A plan to reconnect the people of Greater Cleveland and the region to the lakefront by developing creative and comprehensive strategies to enhance green space and re-imagine its recreational, ecological, and economic uses.
Burke Lakefront Airport (2003)
An analysis of three possible scenarios for potential re-utilization of Burke Lakefront Airport.