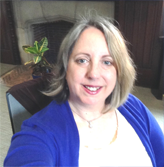 Dr. Michele S. Bowman, Ph.D.
Michele Bowman, the ESL Program Director, has her M.A. in Applied Linguistics from the University of South Florida and her Ph.D. in Foreign and Second Language Education from The Ohio State University.
She has been teaching English as a second language since 1990 and has been in program administration since 1998. Dr. Bowman also taught at intensive programs in Florida, New York and Ohio.
She taught English as a foreign language to first year college students for a year in Madrid, Spain. In addition to administering the entire ESL program, including workplace ESL, she sometimes teaches IELP and graduate credit courses (writing and speaking). She came to Cleveland State University in January of 2004.
Alevtyna Kolomiyets
Alevtyna Kolomiyets, the ESL Program Coordinator, obtained an M. Ed in TESOL from Cleveland State University in 2000. She also taught English abroad for one year. Alevtyna has been with the IELP program since the fall of 2008 where she has taught Reading, Writing, Grammar, Listening/Speaking, and Vocabulary. She became the ESL Program Coordinator in fall 2010.
Angela Bailey
Angela Bailey earned an MA in English with a concentration in writing from Simmons College in Boston Massachusetts. She also has the CELTA certification and has completed coursework for the DELTA certification.  Additionally, Angela has over a decade's worth of teaching experience. She taught writing and a Shakespeare tutorial in The People's Republic of China in the School of Foreign Studies at Nanjing University. Angela has been an instructor with the IELP since the Spring of 2014. At the IELP, Angela has taught multiple levels and multiple subjects. Her approach to teaching is a communicative approach where critical thinking is emphasized. Angela's approach to teaching writing is one of process. She has a particular interest in grammar and how it impacts student writing.
Ilya Elnatanov
Ilya Elnatanov earned an M.Ed. in TESOL from Cleveland State University. He has been with the IELP program since the summer of 2005. He has taught Reading/Writing, Grammar, and Communication Skills. He also teaches a graduate level listening/speaking course for future teaching assistants
For more information, contact:
Michele Bowman, Ph.D.
Director, ESL Program/Intensive English Language Program
2121 Euclid Avenue, MM 205
Cleveland State University
Cleveland, OH 44115-2214
Campus Address:
ESL Program - Teacher Education Department
2605 Euclid Avenue, Mather Mansion 205
Cleveland, OH 44115
Email: esl@csuohio.edu