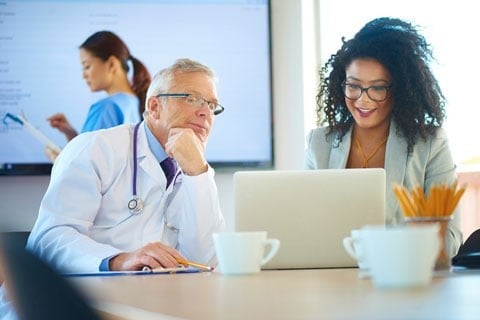 Healthcare continues to grow in size and importance in our economy, and so does the demand for well-trained and effective health and medical professionals who can teach. The master's degree in Health Professions Education (MEHPE) program offers an organized, rigorous, and comprehensive approach to developing skills necessary for the medical and health professions education leader.
Curriculum blends online learning with virtual and synchronous classes.
Designed for health professionals who have current roles and responsibilities in health professions education.
Two-year cohort-based program.
The cohort model is a group of students who progress through the MEHPE program together (i.e., starting/ending at the same time; following a pre-determined schedule of courses).  The benefits to the cohort model are that it provides opportunities for cohort members to learn with and from each other while building professional networks and connections.
MEHPE is a two-year, 30-hour program that includes the following courses:
Fall Semester
EDB 601 Educational Research in HPE
ALD 605 Adult Learning & Development Theories and Practice
Spring Semester
ALD 664 Teaching Methods for Adult Learners
ALD 511 Educational Technology in Health Professions
Summer Semester
ALD 588 HPE Capstone Seminar 1
Fall Semester
ALD 510 Learner Assessment in HPE
ALD 663 Planning Programs for Adult Learners
Spring Semester
ALD 545 Program Evaluation
HPE Elective
Summer Semester
ALD 589 HPE Capstone Portfolio Seminar 2