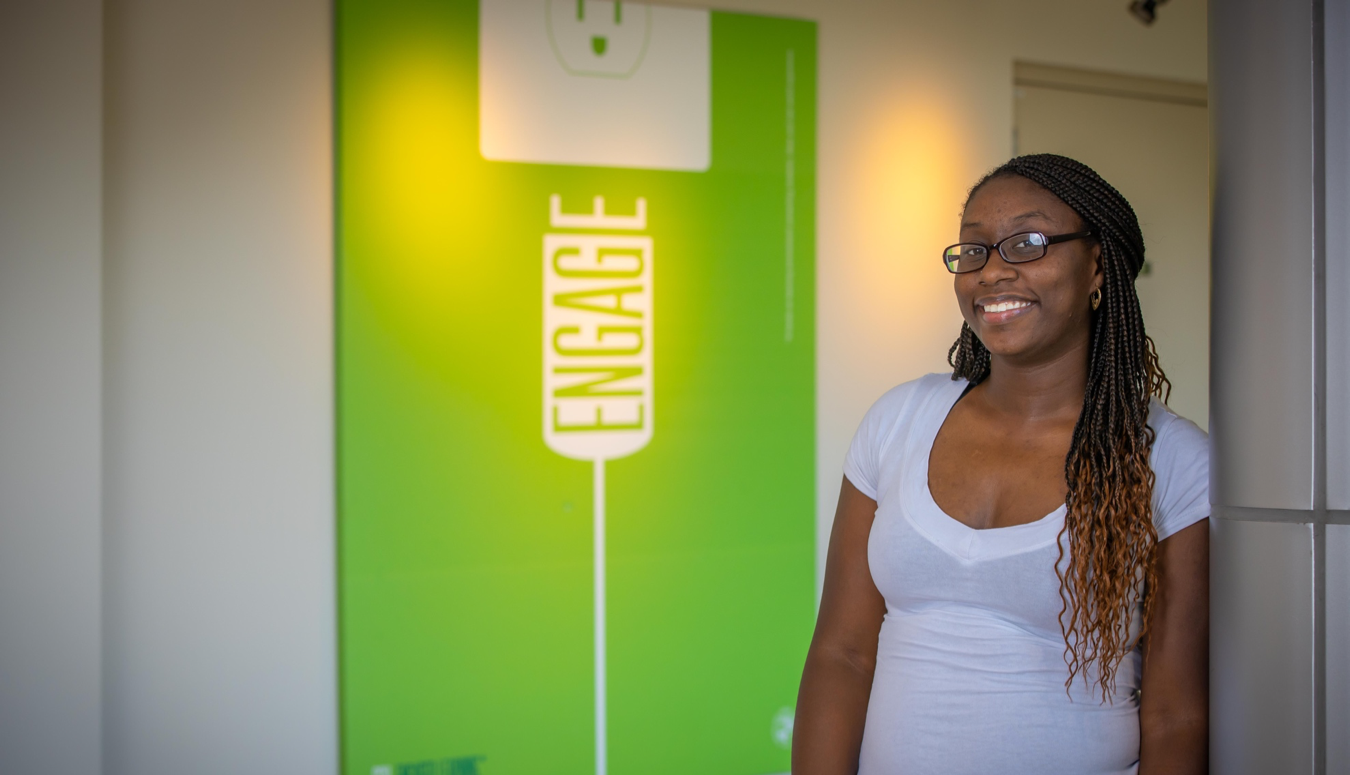 PROGRAM OVERVIEW
Cleveland State University's online program in Gifted and Talented Learners is designed for previously certified/licensed teachers who are seeking any of the following:
An endorsement as an intervention specialist to teach gifted and talented learners
A master's degree in curriculum and instruction with a specialization in gifted education
Professional development to improve their skills working with high-ability students
The multi-dimensional program is aligned with the teacher preparation standards from the National Association for Gifted Children and The Council for Exceptional Children, The Association for the Gifted and includes:
Training to better understand and meet the academic and social-emotional needs of diverse gifted learners (e.g., racially, culturally, linguistically, academically, and socially)
Developing the knowledge, skills, and strategies necessary to create high-quality curriculum and lesson plans based on best practices in the field
Collaborating with children's families and other professionals
Understanding the continuum of services from which teachers and schools can choose to meet the needs of gifted, talented, high achieving and high performing students in a variety of settings
Ohio rules, regulations, and policies for gifted education are built into the courses; however, we have designed the assignments to be flexible so that anyone working in a different state can successfully complete all their work using information from their state.
Coursework
ENDORSEMENT SERIES
(15 credits)
EGT 512: Introduction to Gifted Education
EGT 513: Developing Curriculum for Learners with Gifts and Talents
EGT 514: Differentiating Instruction for Diverse Learners
EGT 518: Programming and Services for Learners with Gifts and Talents
You will need to interact with an identified gifted student, their family, and other staff from your school district in order to complete this course. We will provide assistance if you are having challenges finding a student to work with.
EGT 580: Practicum in Gifted and Talented Education
You will need to work with a group of identified students (aligned with ODE standards if you are seeking an Ohio endorsement). Students may be identified in any of the approved areas. We will provide assistance if you are having challenges finding a group to work with.
To add the endorsement to an Ohio license, you must pass an OAE test (Gifted Education 053). You must provide evidence that you have passed this test before CSU can approve your endorsement. You can take this exam at any point during the program. The coursework is designed to align with the standards/competencies required on the exam.
MASTER'S DEGREE IN CURRICULUM AND INSTRUCTION
(30 CREDITS MINIMUM)
Required Courses (24 Credits)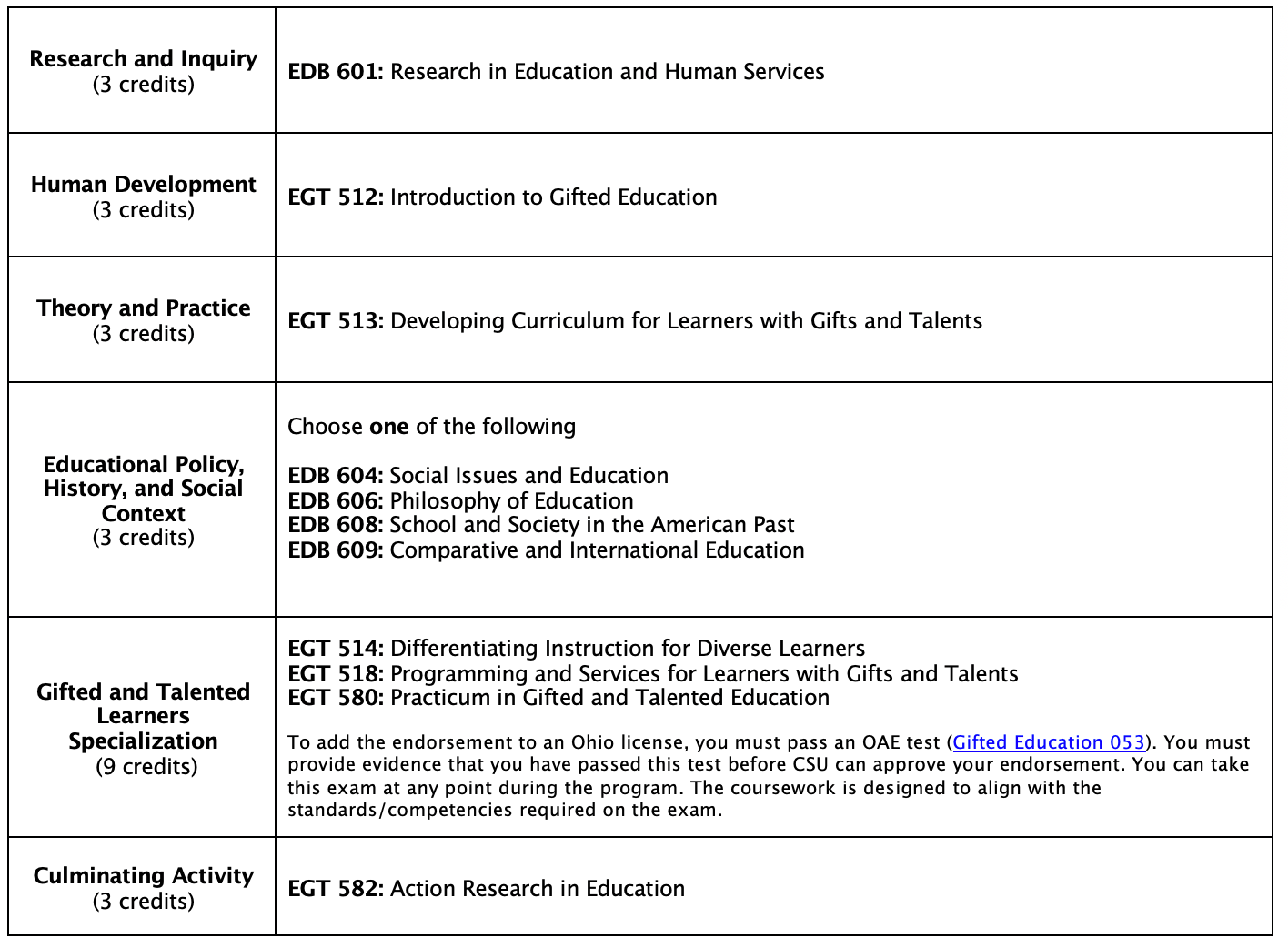 Electives (6 credits minimum)
You may take more than 6 credits to earn an extra certificate/endorsement. You will be eligible to graduate once you have completed 30 credits of coursework.
Selected options are available below. Please contact Dr. Claire Hughes-Lynch if you are interested in courses/topics not listed here to work out your options.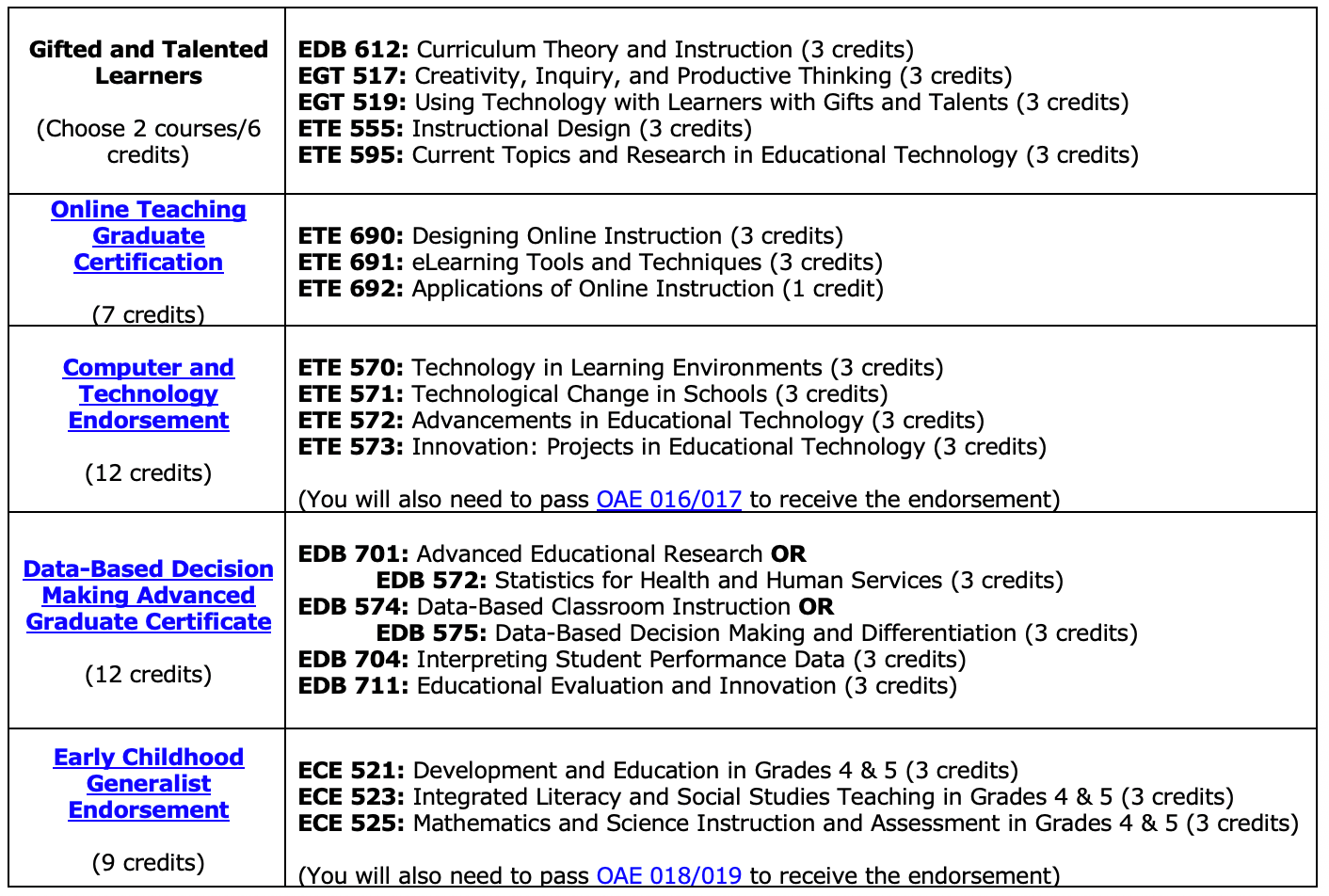 Program Cost
According to the Graduate/Master's Fee Schedule for Ohio residents, a credit hour costs $578.85 (+$25 eLearning fee), which means the 15-credit-hour endorsement costs roughly $9,060 and the 30-credit-hour master's degree costs roughly $18,115 (based on my calculations—please click the link for detailed information). For out-of-state students, the credit hour cost is 653.85 (+$25 eLearning fee).  
PLEASE NOTE: ALL RATES ARE SUBJECT TO CHANGE. THE TUITION AND FEE INFORMATION PROVIDED HERE IS NOT INTENDED TO BE COMPREHENSIVE AND IS SUBJECT TO CHANGE PENDING AN ACTION BY THE BOARD OR THE OHIO LEGISLATURE. CHANGES BECOME EFFECTIVE ON THE DATE OF ENACTMENT. THIS INFORMATION SHOULD BE USED ONLY AS A GUIDE FOR ESTIMATING TUITION AND FEES. YOUR ACTUAL COSTS MAY DIFFER BASED ON RESIDENCY, PROGRAM, CREDIT HOUR ENROLLMENT, ETC.
Career Outcomes
Those who complete the endorsement or master's degree will be eligible to work as gifted intervention specialists, gifted consultants, and/or gifted coordinators in many school districts.
Participation in the program enhances skills in classroom teaching, administrative decision-making, individualized intervention, and collaboration and leadership skills within the broader educational community.
Some of the local institutions that hire graduates include Cleveland Heights School District, Cleveland School District, Educational Service Center of Cuyahoga County, and Parma City Schools.
Admissions Requirements
Students seeking the endorsement or master's degree may apply using CSU's graduate application to be admitted to the programs. 
Students with a grade point average of 2.75 or higher will be admitted to the programs. Those with less than 2.75 and higher than 2.25 are admitted provisionally. Provisionally admitted students will be required earn a grade point average if 3.0 (or higher) in their initial 6 credit hours of classes to be fully admitted.  
The application process requires students to fill out the application form and submit official transcripts from institutions where they earned a four-year degree or higher. There are no additional admission materials required and the application fee is currently waived.  
If you are interested in professional development only, or do not meet the application criteria please contact the program coordinator (Dr. Claire Hughes, gifted@csuohio.edu) to guide you through the next steps. Our program has rolling admissions, so you can apply at any time.
Interested?
Interested and prospective students can contact Dr. Claire Hughes (c.e.lynch@csuohio.edu / 216/687-4577) with any questions!