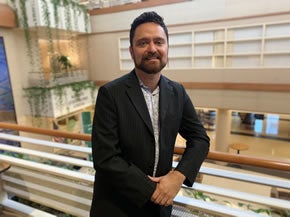 Name: Adam Allen
Major: Master of Urban Planning & Development
Placement Site: Levin Group, Inc.
Tell us a little bit about the organization you are placed at and the work they do.
Levin Group, Inc. is a local affordable housing developer and property management firm. Mort Levin is the president and founded the company in the 70s. He is a longtime supporter of CSU and the Urban school (and is actually Maxine Levin's nephew!). Their portfolio includes some commercial warehouse and shopping center space, but the majority consists of affordable housing units. "Affordable" means the properties receive housing vouchers from HUD and/or are financed with Low-Income Housing Tax Credits, Tax-Exempt Bonds, and other federal and state programs. They employ management and accounting staff at their central office as well as property managers and maintenance staff at their various properties throughout Northeast and Northwest Ohio.
What does a typical work day look like?
Every day is a little different. I may coordinate meeting schedules with the project team, perform project-related research, obtain and submit required application materials and documents, and reach out to project partners when they have specific information I need. I've also prepared marketing materials and helped prep for meetings. I try to check in with my supervisor often to see if there are any quick hit projects or tasks I can help with as well.
Tell us about the project you're working on.
It's called the Northern Ohio Blanket Mills in the Clark-Fulton neighborhood of Cleveland. It is the first historic preservation/adaptive re-use project in their portfolio that will convert a former industrial building to (really beautiful!) affordable apartments along with some commercial space on the first floor that is meant to house a non-profit tenant and a few market-rate live/work units. We were recently approved for historic tax credits from the State of Ohio as well as housing vouchers from CMHA (the Cuyahoga Metropolitan Housing Authority). In addition, the project was selected by the City of Cleveland to receive special housing tax credits from the Ohio Housing Finance Agency. Called the Fair Housing Act 50 Building Opportunity Fund, they were created in honor of the 50th anniversary of the Fair Housing Act and were targeting for projects that foster diverse, mixed-income communities in areas primed for investment. The project is really gaining momentum and should start construction later this year.
What skills have you learned and/or improved upon?
Project management, professional writing, and real estate finance are the top 3 that come to mind.
What has surprised or challenged you?
I was surprised at just how complicated the financing for projects like this is. Many areas of Cleveland suffer from a lack of market demand, so any type of development requires some form of subsidy. This project uses a variety of tax credits, loans, grants, and other finance structures in order to "pencil out" (be financially feasible). I know a lot of people look at vacant and abandoned buildings and lots and "wish someone would do something", which is what Levin Group is doing, but it's tough to make it happen. It's a lot of work and takes quite a long time before it comes together. It takes a certain type of passion for the city and the people that should really shatter the "greedy developer" stereotype that so many people have.
What has been your favorite part of the Dively Fellowship?
It's been really neat to work on a project that aligns my passions for city planning, neighborhood revitalization, and equitable access to good quality housing. I've also been able to meet a lot of people in the field working to make Cleveland better. I hope to be one of those people after I graduate.
What valuable experience has this program provided for you?
It's been a big part of me becoming more connected and invested in Cleveland. I moved here from Atlanta to attend grad school for urban planning at CSU and just assumed this would be a "stopover" before I went somewhere else. The longer I'm here the more I have fallen in love with this city and Northeast Ohio as a whole. I love how dedicated and proud people are of Cleveland and how much heart there is here. I really hope to stay and be a part of that spirit.
What is your favorite hobby?
Not sure it's a favorite quite yet, but since moving to Ohio I have taken up skiing and can now make it down a hill without seriously injuring myself! I love that it's a way to get outside and really enjoy the winter, and now I find myself disappointed when it doesn't snow.
Best place to visit in downtown Cleveland?
Being into architecture, historic preservation, and adaptive reuse, it doesn't get much better than the downtown Heinen's. It has got to be the most beautiful grocery store in the world. It's also a great place for a happy hour drink at the bar on the second story overlooking the gorgeous rotunda with great views of the city out the windows. They have a nice selection of craft brews on draft, and you can even pour your own wine by the glass! For non-drinkers, they have kombucha on tap too. The immaculate rehabilitation of this space was a beautiful gift to the city and is such a huge part of making downtown Cleveland a complete, liveable neighborhood. It's certainly the first thing I like to show off when I bring people downtown.
What's Northeast Ohio's best-kept secret?
When I'm out of town, I still get puzzled looks from people when I tell them I moved from Atlanta to Cleveland. So, the best kept secret is that it's an amazing place to live! The quality of life, especially given how relatively affordable it is, is incredible. We have every urban amenity you could ever want-world-class parks and museums, great dining, drinking, arts, and music scenes, beautiful and interesting historic and modern architecture- all without the traffic and expense of places like Chicago, New York, and LA. And I promise you, people don't get any nicer than they are here (at least in the U.S.). "Southern Hospitality" has nothing on all the Northeast Ohioans that manage to keep it real and genuinely kind.