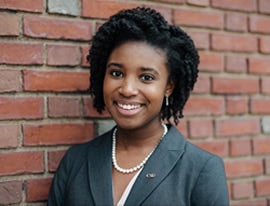 Name: Beauxerykah Betterson
Major: Urban Planning/Environmental Studies
Placement Site: Levin Group, Inc.
Tell us a little bit about the organization you are placed at and the work they do.
I am placed with the Levin Group Inc, a real estate development company (and owned by the namesake of our very own Maxine Goodman Levin School of Urban Affairs!). This organization consists of about 50 employees who manage the expansive portfolio of over 1,200 apartments and 900,000 sq. ft of commercial property throughout Ohio.
What does a typical work-day look like?
Not sure I can define typical, but every day brings something new! Anything from writing up reports to meeting tenants, to attending meetings in the office and around Cleveland, there is so much to learn about real estate development.
Tell us about the project you're working on.
I am working on an affordable housing project called Kenmore Commons located in Cleveland's Hough neighborhood. It is a scattered site property consisting of 102 units in over 18 buildings. Right now, Levin group is refinancing a mortgage to renovate all 102 units this summer and add a community center and park for the residents.
What skills have you learned and/or improved upon?
I have had the opportunity to learn about the Low-Income Housing Tax Credit process, HUD regulations for upkeep of properties and the loan/financing side of property development. I have also learned skills to help vulnerable tenant populations and assist management in affordable housing units such as outreach, tenant relations and logistics.
What has surprised or challenged you?
I think my view of affordable housing was somewhat naïve, but this experience has helped me to understand how layered and nuanced affordable housing is, and what role business leaders and investors play in alleviating our housing crisis
What has been your favorite part of the Dively Fellowship?
Eating lunch on Fridays with my supervisor has been one of the best parts of the fellowship. Being able to go over meetings and assignments during the week really gives me the time to process all the new things I'm learning an also get to know my supervisor more! We have tried almost ever restaurant downtown – a definite plus!
What valuable experience has this program provided for you?
The whole experience has been great! The entities involved in affordable housing that I have been exposed to through this opportunity have broadened my knowledge and network alike.
What is your favorite hobby?
My favorite hobby is listening and dancing to music. If you are in the mood for something new I will most likely have a suggestion for you!
Best place to visit in downtown Cleveland?
The best place to visit is either the Cleveland Public Library or Lake Erie. Better yet, check out a book and read by the lake!