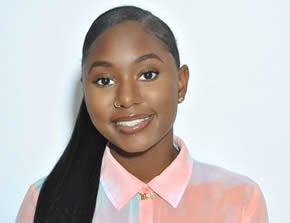 Name: Kaliya Smith
Major: Organizational Leadership
Placement Site: Cleveland Neighborhood Progress
Tell us a little bit about the organization you are placed at and the work they do.
I'm placed at Cleveland Neighborhood Progress, the only local intermediary for community development in the region. CNP provide financial support, training and capacity building efforts to community development corporations, support and perform placemaking activities to improve residential, commercial and greenspace properties, and deliver economic opportunity programming to ensure city residents can thrive where they live.
What does a typical work day look like?
A typical work day for me at CNP is not so "typical," as everyday looks different. However, that is what I enjoy the most! The focus of my internship is to create an effective Public Safety initiative for the Buckeye-Woodhill neighborhood and eventually for the city of Cleveland. Most of my days include lots of community outreach, such as building relationships with residents, networking and brainstorming with not only my placemaking team but also with other stakeholders, champions and activists involved in community development and public safety. I often attend a lot of events, council meetings, and luncheons where I continue the conversation of the importance of public safety.
Tell us about the project you're working on.
I'm currently working on a public safety initiative with relevant partners to identify, assess, develop, facilitate, and/or implement programming that positively affects neighborhood safety issues in the Buckeye-Woodhill community and other surrounding areas.
What skills have you learned and/or improved upon?
I would have to say that throughout the journey of my internship I've gained an immense amount of confidence not only in myself but in my work and intelligence. I've become more comfortable with having uncomfortable conversations about the trauma and disinvestment of our communities. I've also strengthened my leadership skills, I've always been a leader but only when chosen, throughout my internship I've learned to take on the leadership when necessary and not only when it is assigned to me. Lastly, I had the opportunity to complete the 'LeanOhio Boot Camp' through my fellowship where I learned effective decision-making skills for the public and government sector.
What has surprised or challenged you?
As a full-time student, intern, secretary, pet parent, and family member my hardest challenge has always been time management. I never feel like I have enough time to really soak in all the information that is thrown my way, but that's where google docs has become helpful. I'm constantly moving and always on the go, but I honestly wouldn't know how to function any other way!

Although this may seem very general, I am extremely surprised at how fulfilling my position at CNP has been for me. I'm honored to have had this opportunity and experience under my belt.
What has been your favorite part of the Dively Fellowship?
My favorite part of the Dively Fellowship has been networking with so many different organizations and leaders to connect with and learn from, as well as gaining skill sets that I can use in my field post-graduation.
What valuable experience has this program provided for you?
This experience has helped shape my pathway to finding a career that fits my interest and passions. Although this may seem very general, I am extremely happy at how fulfilling my position at CNP has been for me. I'm honored to have had this opportunity and experience under my belt!
What is your favorite hobby?
My favorite hobby includes making hair extension units at affordable prices. I've always been interested in the beauty field, in fact I attended cosmetology school prior to my enrollment here at Cleveland State and I currently have my nail license. I began making the units my first year in college as a way to still feel beautiful but on a college students' budget. People began to like them so much that I created an at home business that I genuinely enjoy doing.
What's Northeast Ohio's best-kept secret?
Northeast Ohio has a lot of best-kept secrets but one that is relatively new to me is the Scofield Mansion. The Scofield Mansion is a mansion that was built (1898) and previously occupied by Mr. Levi Scofield himself. The mansion is located at 2438 Mapleside Rd and sits at the top of the hill overlooking the city. The mansion has sat vacant for over two decades and was on the cities list for demolition, but thanks to the Cleveland Restoration Society, CNP, and other organizations, will now be repurposed and possibly even used for a Netflix film.
Best place to visit in downtown Cleveland?
The best place to visit in Downtown Cleveland is the self-proclaimed "Million Dollar View". This view is a beautiful site of the downtown Cleveland skyline that you can find not far from the west side market past Abbey Avenue you can walk down west 10th, 11th or 12th which are all dead-end streets and when you reach the end of the street, there's a short-edged field that has an amazing, clear view of the beautiful skyline.