MEET AARON KAHN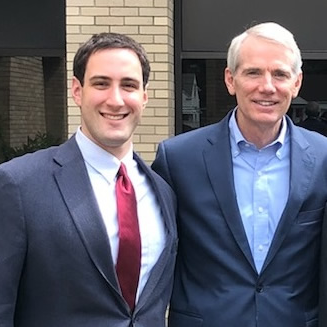 Aaron Kahn and Senator Rob Portman
Program: Master of Public Administration (MPA), Concentration in Public Management
International City/County Management Association (ICMA) Student Chapter President
Anticipated Graduation: May 2019
This past summer, Aaron applied his public administration coursework to an internship at the Office for U.S. Senator Rob Portman. Here's what he had to say about his experience:
How did you discover the internship opportunity?
I was searching for a summer internship, so I emailed Rob Ziol (the Director of the Center for Public & Nonprofit Management) and told him I was interested in politics and the political process. This was the first idea he had, and I thought it sounded great. I decided to run with it. A few days later, I met Caryn Candisky (District Director for the Office of U.S. Senator Rob Portman) at the Mentoring Program's panel discussion at Cleveland City Hall. The Center expedited the process by making the connection, and made this opportunity possible.
What projects did you work on?
It was a mix - I worked on projects both in the office and out in the community. In the office, I dealt with constituent issues. Some constituents would come into the office as walk-ins or with scheduled appointments. We would meet with them concerning everything from judicial nominees to Social Security or veterans' issues.
Every other Friday we went to the U.S. District Courthouse and assisted with naturalization ceremonies. That was particularly meaningful and by far one of my favorite experiences.
Additionally, I met Senator Portman (on three separate occasions), his chief of staff, various mayors, and influential community leaders at a variety of events.
What skills were you able to learn, utilize, or sharpen?
I think my soft skills vastly improved – especially in terms of verbal and written communication. It became easier to talk with people who held prominent positions in the community. I was able to speak more conversationally about local and national political issues that the Senator dealt with all of the time.
Were you able to apply your MPA coursework to the experience?
Yes, I was able to relate the internship to many of my classes – especially a policy analysis course. Over the summer, I saw the policy lifecycle in action. After the Senator received feedback from constituents, he would travel to Washington and advocate for or implement a policy. Then, he would follow up with the same constituents to assess the impact.
I was also able to apply a great deal of what I learned in Intro to Public Administration with Dr. Hatch. (It was an awesome class; she's a great professor.) The class is essentially a broad survey of public administration. I was able to apply lessons I learned about organizational theory, budgeting, and other topics. It was cool to go into the Senate office and see all of these lessons come to life.
Dr. Keller's Human Resources class was also extremely applicable. He talks a lot about the Founding Fathers and the Constitution. Listening to his lectures and reading about the Constitution provided a helpful framework.
What was your favorite project?
We conducted a great deal of research on local events and policy issues to either help the Senator or his staffers prepare for meetings. The most rewarding days were the ones were I went out into the community and met with constituents.
What was the most valuable lesson you learned?
There's a lot more to politics than meets the eye. My initial impression of the political atmosphere was what I'd seen on television. However, it was completely different. When you work in the office of an elected official, you deal with concrete problems and people who devote their lives to solving these problems. We worked on tangible items such as ballot initiatives and school board issues and the sorts of things that don't really make the news.
What challenged you, why did it challenge you, and what did you learn from that experience?
A group of constituents came in and advocated a position different than the Senator's. I sort of agreed with the constituents more than the Senator on that specific issue. I didn't say anything at the time, but I spoke to my supervisor about it after the fact. She was extremely understanding. In the political sphere, no two people are going to agree on every issue. Even if you really like the Senator, you may have slightly different views on some issues. That's something you have to reconcile.
What advice do you have for people who are interning right now, or those who are searching for an internship?
I didn't know what working at a district office for a Senator would entail. With that said, I'd recommend that students should always keep an open mind. You'll never know what the experience will be like until you try it. Some people think as themselves as more politically-savvy, whereas others don't. But even if you don't, give the politicians a chance. Based on my initial surface-level impressions, working in politics wasn't what I thought it would be. It's extremely meaningful work – they use their office to solve public problems.
What's next, and how will you apply this internship to your future experiences?
This internship gave me an idea of what I hope to pursue for the foreseeable future. I'm going to stay in the political world in Ohio. The Senator's office actually recommended me for a second internship with Anthony Gonzalez, a Congressional candidate in Ohio's 16 Congressional District, and I intend to pursue the opportunity.