MEET CHRISTINE MENCINI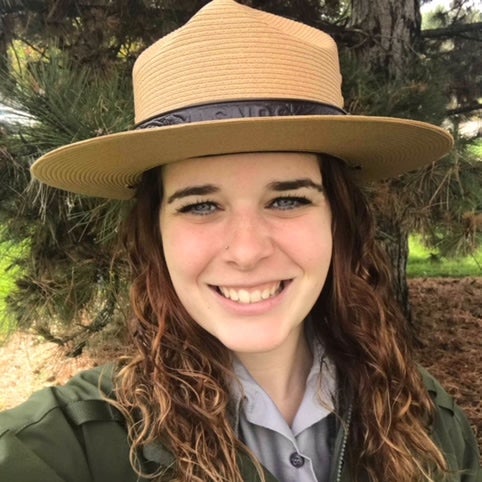 Anticipated Graduation: May 2019
Program: Master of Public Administration (MPA)
The Center for Public and Nonprofit Management's new Graduate Assistant, Christine Mencini, interned at Cuyahoga Valley National Park as a Community Engagement Park Guide this past May through September. Here's what Christine had to say about her experience:
Tell us a little bit about the Cuyahoga Valley National Park.
Cuyahoga Valley National Park (CVNP) is the only national park in Ohio, and is situated between Cleveland and Akron. The Cuyahoga River is at the center of the park, creating learning and nature exploration opportunities.
What was your internship like?
I was involved with CVNP's Community Engagement division. The division drew groups of school-aged children from Akron and Cleveland to experience the park. I developed relationships with schools, community centers, and students who came to explore the park. I also attended community events to engage the public with the park's offerings. 

What was your favorite project?
My favorite project was creating my own hour-long public programs. My supervisor focused on the importance of providing audience-centered programing for every group that came out to the park. Creating a program specifically designed to capture an audience's attention was a great learning experience. One of my programs was even recorded and sent to a National Park Service committee for review on the effectiveness of audience-centered techniques.
What skills did you learn, sharpen, or improve?
During my time at CVNP, I improved my communication, public speaking, presentation, confidence, conflict resolution, and leadership skills.
What did you learn about yourself?
I learned I can be an effective leader and make the most out of any experience.
What surprised or challenged you?
I was challenged by my uncertainty of speaking in front of large groups. However, I had a great group of supportive coworkers who helped along the way. I was surprised by how easy it was to present once I did my first public program. After that, presenting to a group became second nature.
How did you bridge your coursework with your internship?
It was my first experience working with and leading groups of volunteers and park visitors. I ensured that everyone remained safe and completed their assigned tasks. Learning how to become an effective and responsible leader proved critical to success. 

Why was the experience valuable? Why is an internship valuable?
I hoped to work at a government agency to gain a sense of how they functioned. I was able to gain this experience at an organization I've always loved and hoped to work at.
What advice do you have for current interns or students who are searching for an internship?
Internships are essential! You need to actively search for and find an internship you're passionate about. You can gain valuable hands-on experience, and expand your professional network tremendously.
What are your career aspirations?
I love working in a position where I have a sense of purpose. Every internship or job I've had has fulfilled that need. And, I hope to achieve that in my next professional endeavor.  I have not pursued a "typical" career path. I served at a restaurant, worked in development at a local nonprofit, interned at CVNP, and then landed my current role as a Graduate Assistant.
The transition from interning to working as a GA was flawless. At the Center for Public & Nonprofit Management, I'm able to interact with current students in the internship program and share what I have learned. I would have never imagined the route my career path has taken, but I could not imagine my life any different. Every opportunity seems to lead me to bigger and better things!
Any final thoughts?
Visit Cuyahoga Valley National Park!