MEET COREY RYBKA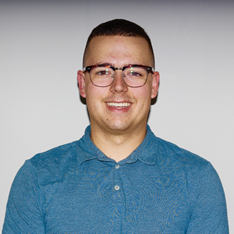 Anticipated Graduation: May 2019
Major: Organizational Leadership
Rising senior Corey Rybka recently wrapped up a Human Resources internship with Destination Cleveland this past summer, and transitioned to a part-time position as the HR coordinator. Here's what Corey had to say about his learning experience at one of Cleveland's thriving organizations:
Tell us a little bit about Destination Cleveland.
Destination Cleveland is the visitor's bureau for Cleveland. The organization's more than 50 employees strive to change perceptions of Cleveland both regionally and nationally, as well as positively impact the economy through travel and tourism.
What was your internship like?
I had my hand in every aspect of HR, but my main focus was the evaluation of Destination Cleveland's current HR software. The system manages all human capital at the organization. Based on that evaluation, I collaborated with the IT intern to improve certain HR processes. We made improvements to the software and completed the project four weeks before our deadline.
I also conducted extensive research on HR software. We're still working on that, obtaining prices, and gathering various details.
Additionally, I worked on payroll, benefits, administration, internal communications and event planning. 
What skills are you learning?
I had to learn how to professionally communicate with high-ranking staff such as senior VPs. I also learned quite a lot in terms of legal procedures and policies.
Why was your internship experience valuable?
I learned so much about various aspects of HR and organizational leadership.
What challenged you as an intern, and how were you able to overcome that?
I can be impatient at times. When I'm assigned a project, I want to complete it immediately. However, I've realized there are external factors that impact that process. For example, if someone I need to work with is on vacation, the process is slowed down. I've learned to take a step back and be realistic – while prioritizing what tasks need to be completed first.
What was your favorite project you've worked on?
I led the process of hiring a new employee. I never fully realized the full scope of the hiring process. I gained organizational skills, as well as the ability to remain unbiased throughout the hiring process.
Were you able to connect what you learned in the classroom to your internship?
Definitely. I've been able to apply the research skills I learned in my Research Methods class to the research I'm conducting at Destination Cleveland. 
Why are internships beneficial?
I come from a family of HR professionals. With that said, I've learned that experience is everything. You need to get experience from anywhere and everywhere. If you're presented with an opportunity, take it.
What advice do you have for current interns?
Maintain a level of professionalism, treat it like a full-time job and go the extra mile.
What do you like about Destination Cleveland?
I love the work environment. It's casual – employees even bring their dogs into the office. But primarily, it's impressive how dedicated Destination Cleveland employees are to making Cleveland a true destination city.