MEET COURTNEY WHITMAN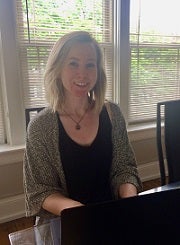 Program: Master of Urban Planning and Development (MUPD)
Anticipated Graduation: May 2021
Where are you interning?
I'm interning at the Greater Cleveland Regional Transit Authority as the seasonal planning intern.
How long have you interned there?
I was hired in July 2019 as a 7-week seasonal employee. However, my position has since been extended through December of 2020.
Tell us a little bit about Greater Cleveland RTA.
The GCRTA transports residents to and from home, work, and provides other key retail and social services. They do so while upholding their mission of providing safe, reliable, clean, and courteous public transportation to their riders.
What do you do at your internship?
The thing I've come to appreciate the most about my internship has been the variety of tasks I get to do. Rather than focusing on one task for weeks at a time, my day-to-day routine changes as deadlines shift, and new projects come up. While most of my work centers around creating maps for a variety of projects, I also participate in meetings with consultants and local stakeholders and help set up/run local community meetings.
What was your favorite project?
While there isn't necessarily one project that stands out as a favorite, I really enjoy the projects that give me the opportunity to be more creative with design software. This usually comes in the form of making eye-catching maps for presentations or designing templates for handouts and brochures.
How did you bridge your coursework with your internship?
Much of my coursework has been useful throughout my time at the RTA. I would go so far to say that completing the GIS certificate is what gave me the edge to get the position! I have also learned data analysis and data visualization skills through the MUPD program that have helped me produce results that are appropriate in a professional setting.
What advice do you have for current interns or students who are searching for an internship?
​​​​​​​There were so many days leading up to and throughout the beginning of my internship where I was overcome with self-doubt. I questioned my ability to succeed and spent too much time comparing myself to my very capable peers. Don't let imposter syndrome win! That feeling shows that you're aware of your skills and are open to improving, and it will fade as you gain experience.
Also, if you're feeling discouraged by the internship hunting process, keep going! I didn't hear back from many of the positions I applied to, and didn't get contacted by the RTA until nearly a month after I applied.