MEET KARAN'JA WILLIAMS

​​​​​​​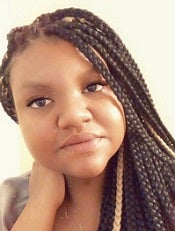 Major: Nonprofit Administration
Graduation Date: December 2021
Karan'ja worked remotely as the data analyst intern at the Presidents' Council from May to September 2020. Here's what she had to say about her experience:
How did you learn about the internship opportunity?
I have volunteered with this organization in the past. I reached out to the Executive Director to inquire about an internship position, and she agreed. 
Tell us a little bit about The Presidents' Council.
As an Engine for Black Business Growth, The Presidents' Council supports, develops, and advocates for our region's current and future generations of African American entrepreneurs and leaders for sustainable wealth creation through "Business Development + Entrepreneurial Support, Ecosystem Building (organizing and mobilizing), Advocacy + Thought Leadership, and Capital Formation + Investments"; affecting influence and accountability at all levels that directly impact African American businesses and the communities we serve.
What did you do at your internship?
I translated complex ideas into digestible data presentations, as well as assisted with program assessments and a data management and analysis project.
What was your favorite project? Why?
I enjoyed developing and presenting reports that demonstrated the organization's impact.
What skills did you learn, sharpen, or improve?
Professional Social Media Usage (including content calendaring)
PowerPoint
Project and Time Management
Team Building
What did you learn about yourself?
I have strong communication skills and the ability to juggle multiple projects, while meeting demanding timeline expectations.
What surprised or challenged you?
It was enlightening to learn the about the budget of the organization compared to the volume and quality of production the organization provides in supporting small business and rising leaders that are vital to our local economy.
Why was the experience valuable? Why is an internship valuable?
This internship provided valuable real-world experience, as well as opportunities to engage directly with clients. Internships expose students to the practicalities of the theories learned in class, which are very different.
What advice do you have for current interns or students who are searching for an internship?
Seek out organizations that align with your passion and interest. Be vulnerable and embrace the learning experience. Challenges are part of the process and create opportunities for you to learn and grow.
What are your career aspirations?
I would like to start my own non-profit to provide resources and support for people experiencing homelessness – positioning them for successful reentry into society as productive citizens while providing a safe place to live and keep families together.