Meet Lili Roosa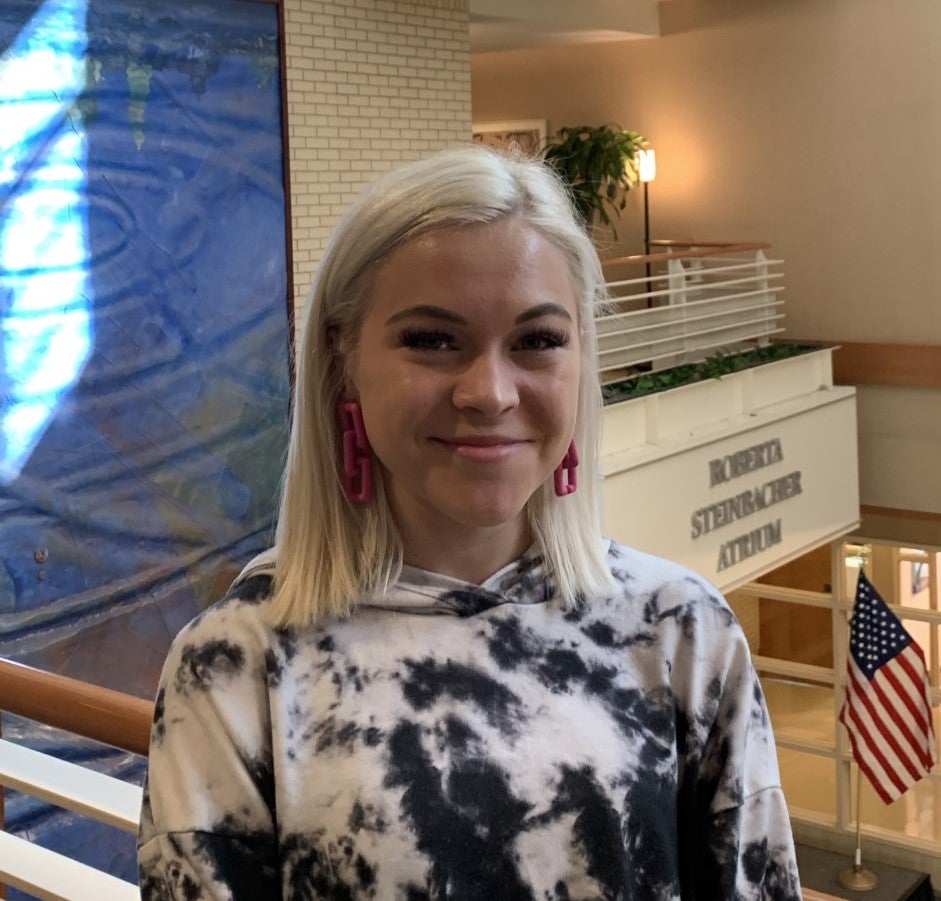 Major: Urban/Regional Studies and Environmental Science
Graduation Date: Spring 2023
Internship Placement: Maximum Accessible Housing of Ohio (MAHO)
Lili Roosa worked as a general experience intern with Maximum Accessible Housing of Ohio. While working here, she educated others about accessibility and ageing in place. Here's what she had to say about her experience:
How did you learn about the internship opportunity?
I learned about this internship after researching local nonprofits that fit my interests. I also work as a manager for an animal rescue in South Euclid, but I was interested in finding something better suited to understanding human relations and experiences in an urban environment.
How long did you intern there for?
I interned with MAHO June through August of this summer (2022).
Tell us a little bit about the organization you interned at and specifically what you did there.
MAHO is an Americans with Disabilities Act (ADA) Cleveland affiliated nonprofit focused on providing accessible and affordable housing for people who may benefit from an accessible living space. There are a wide range of disabilities that would present the benefit of living in accessible housing, not simply mobility limitations. Here at this organization, I helped with introducing potential residents to the space with our demo unit. I also traveled with MAHO to provide mobility experiences to outside groups who have an interest in understanding what living with a mobility disability may be like. I also helped with the Wade Oval Wednesday community gathering which celebrated people with disabilities in the Cleveland area. Additionally, I worked with voter engagement to help encourage people with disabilities to register to vote or to request an absentee ballot, along with educating people about their rights as voters with disabilities.
What's one thing you learned about your internship site that you didn't know prior to working there?
Prior to working with MAHO, I did not realize how broadly a disability may be classified. Many people simply imagine a person in a wheelchair, but this does not encompass all people living with disabilities. It is important to remember that a disability may not be visible to other people and this does not invalidate it, nor the individuals' needs for accommodation.
Something else that I learned, which I found frustrating yet interesting, is that many buildings that are "ADA Compliant" are still inaccessible or difficult to access for individuals with disabilities. Oftentimes an automatic door does not stay open long enough, accessible parking spaces do not provide ramps to the sidewalks, or a ramp will be incredibly steep and difficult to use a wheelchair on. It is important to consider a wide range of disabilities and go "above and beyond compliance" when it comes to building accessibility.
What was your favorite project? Why?
My favorite project that I worked on was in preparation for a large public event called "The March for Access". This event is an information fair, communal gathering, and celebration of Clevelanders with disabilities. I was tasked with creating flyers regarding the rights and responsibilities of voters with disabilities. I learned a lot from this project. For example, did you know that you don't need a traditional signature to register to vote? And that you have a right as a person with a disability to request accommodation from precinct election officials? Distributing information like this is not only important for the polls, but it helps validate people who may not feel like they have an opportunity to vote.
Why was the experience valuable?
Working with MAHO for my summer internship was valuable because it allowed me to learn more about accessibility in everyday life. Prior to this internship, I admittedly knew very little about disability rights. I have learned an incredible amount of information and now find myself identifying accessibility and the lack thereof in everyday life. When it comes to understanding disability rights and accessibility, many people have no interest until it imminently affects their lives. However, 1 in 4 adults in the U.S. are currently living with a disability in a highly inaccessible world. Understanding the 1990 Americans with Disabilities Act and consequential regulations for accessibility is a valuable source of information. People with disabilities don't stop existing because others choose to not recognize them. We need to do better and recognize what needs to change.
What advice do you have for current interns or students who are searching for an internship?
If you are currently looking for an internship, I would definitely say find something that really interests you. This is your opportunity to combine your education with the real world and you should do your best to find a way to do that in the most relevant and interesting way possible!
What's next for you?
After I graduate in Spring 2023, I hope to find a career working in nonprofits or nonprofit management, possibly environmental or conservation related. I currently work as a manager for the Herps Alive Foundation Reptile Rescue and I would love to expand my interest with this either within or beyond this organization.