MEET TARIQ MOHAMMED
​​​​​​​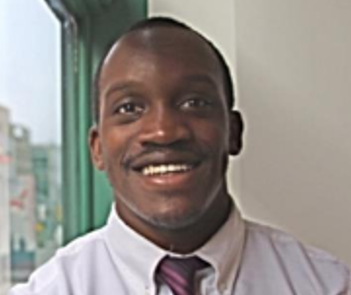 Tariq Mohammed assisted Angelia Green and Elena Grigore (Cleveland State University staff) with a process improvement project redesigning the GoBabyGo website and fundraising tactics. This project was part of Public Management Academy 5 - a component of the Ohio Certified Public Manager® Program.
​​​​​​​Tariq Mohammed graduated with his Master of Public Administration (MPA) in May 2021. An aspiring public official, Tariq finds fulfillment in volunteering. Currently, Tariq works full time with AmeriCorps in Cleveland schools.
Tariq finds motivation in building relationships with others and learning about their experiences, while creating sustainable change. In his free time, Tariq enjoys exercising, listening to podcasts, and watching sports.
Tell us about the project you worked on. 
The project I worked on was called PLAAY on the Move! – GoBabyGo, a program that promotes independent mobility in young children through assisted technologies. The organization engages children of all abilities within the community. Primarily, I updated the existing website. 
What skills have you learned and/or improved upon?
I learned about website development, fundraising, and nonprofit research. Additionally, I applied best practices to this project from one of my classes, UST 651: Fundraising & Revenue Generation. I learned how to serve as a consultant and be confident in my recommendations to improve a set process, and I learned how to adapt and incorporate ideas with an existing team that received a new assignment due to virtual learning. 
Further, I took 12 credit hours this semester and worked full time while completing this project. This took my time management skills to a new level and required a lot of endurance. However, I'm grateful for the experience and learned more about myself.
What has surprised or challenged you?
I was able to draw upon experiences from work and classes. At work, we operated virtually. This improved my Zoom and Microsoft team skills. I was also able to take what I learned in several of my classes and apply them to the project. I challenged myself to find opportunities each week, set objectives, and work to achieve a finished product.
What has been your favorite part of the Local Government Fellowship?
My favorite part of the Local Government Fellowship has been meeting with the project team each week to brainstorm and implement ideas. The project was also hands-on. You could see the progress, which made it exciting.
What valuable experience has this program provided for you?
As someone passionate about diversity, equity, and inclusion, this opportunity opened up my eyes. I reflected on the policies that need to be implemented or advocated for on behalf of children and adults with physical and developmental disabilities.
What's Northeast Ohio's best-kept secret?
I think Northeast Ohio's best-kept secret is our Metroparks system. As a lifelong resident of Bedford, I visited during quarantine for a run and was impressed with the calming scenery.
What's your dream job?
Speaking of running, I've always thought of owning a gym. I enjoy fitness and think it would be cool to own one and still merge my interest in public administration.