MEET ADAM ROYKO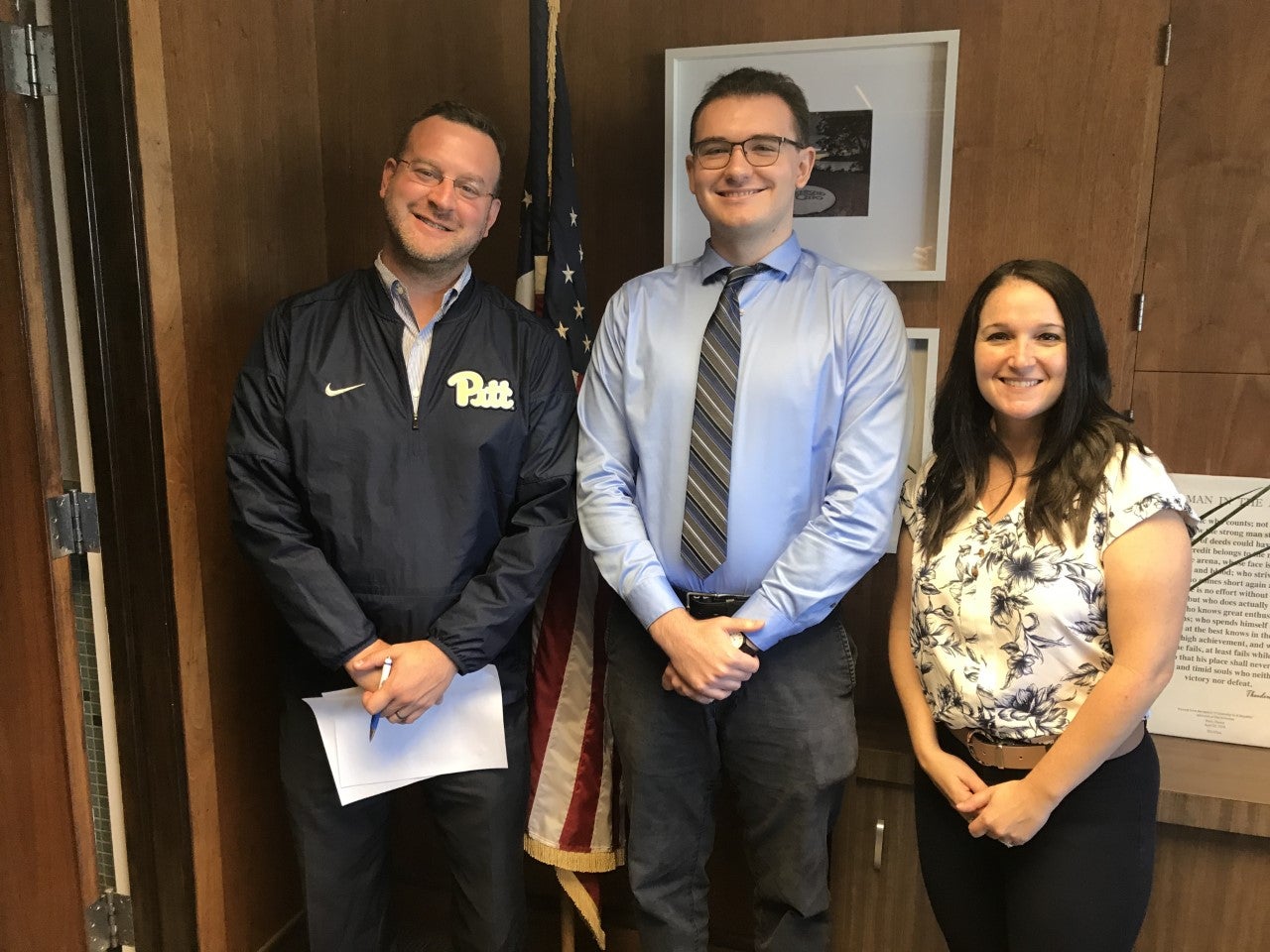 Pictued left to right is Chief of Staff John Storey (JD, MUPDD '05), Adam Royko, and Mayor Meghan F. George.
Major: Political Science and Urban/Regional Studies-Public Management track
Graduation Date: Spring 2023
Internship Placement: The City of Lakewood
Adam Royko worked as a summer Administrative Intern to the Mayor of Lakewood. After working here, he was able to better understand local government. Here's what he had to say about his experience:
How did you learn about the internship opportunity?
I learned about this internship from Alexandra Higl-Timms, the Program Manager at the Center for Public & Nonprofit Management.
How long did you intern there for?
I interned for 3 months during the Summer of 2022.
Tell us a little bit about the City of Lakewood and specifically what you did there.
The City of Lakewood is the third largest city in Cuyahoga County, behind Cleveland and Parma. It is the most densely populated city in Ohio and is comparable to Los Angeles in that respect. My main tasks consisted of researching legislation on a variety of topics and creating spreadsheets and documents to brief the Mayor on. I also attended directors' meetings, meetings with constituents, nonprofits, and councilmembers.
What's one thing you learned about

 the City of Lakewood 

that you didn't know prior to your internship?
One thing that I learned about (and was quite happy to find out) was how involved the citizens of Lakewood are. Every City Council meeting I attended was packed full and there was always a line for public comment.
What did you do at your internship?
My main tasks consisted of doing research, which ranged from past legislation, American Rescue Plan Act (ARPA) funding, and other current topics, I also helped answer questions from Lakewood residents.
What was your favorite project? Why?
My favorite project would have to be my research on ARPA as I feel like I have become an expert on all things relating to ARPA. It was one of the tasks that followed me my entire internship.
What skills did you learn, sharpen, or improve?
I enjoyed learning about how local government operates and how it functions on a day-to-day basis. I was able to sharpen my research, writing, and professional skills. Most importantly, I was able to improve my verbal and written communication, I found myself being in constant communication with people who held prominent positions in Lakewood and that of the surrounding areas.
What did you learn about yourself?
This internship helped me to learn that I do in fact love the career that I have chosen to pursue in higher education, and I cannot wait to begin working in politics/government once I graduate.
What surprised or challenged you?
What surprised me the most was the atmosphere of the Mayor's Office.  From what I gathered from shows and the media is that the government is a very hectic and all over the place experience, but that couldn't be further from the truth.
Why was the experience valuable? 
I believe my experience to be valuable because I got to work directly with the Mayor and the directors of Lakewood. I was surrounded by experts at the top of their field.
Why is an internship valuable?
An internship is valuable because it acts as a steppingstone into your preferred career path, it lets you see if that career is something you want to do for the foreseeable future.
What advice do you have for current interns or students who are searching for an internship?
Begin the application process as early as you can, two semesters in advance is preferable so you're not rushing and getting stressed out. I would also add that even if you don't get into your number 1 choice, still look for an internship because an internship somewhere is better than not having one.
For my senior year, I will be working on campus as both a Success Coach with TRIO/SSS and as a Peer Mentor with The Office of First Year Experience. After my undergraduate studies, I plan on attending graduate school at CSU to earn my MPA and/or my J.D.