MEET AJE'NA AMARO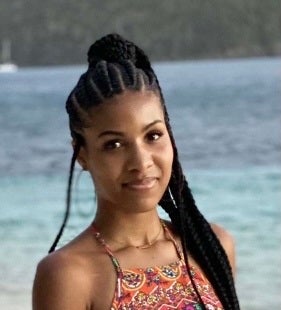 Major: Organizational Leadership
Graduation Date: Fall 2021
Internship Placement: Playhouse Square
Aje'Na Amaro worked as a summer Human Resources Intern in the Administrative Offices of Playhouse Square. Here's what she had to say about her experience:
How long did you intern at Playhouse Square?
I started my internship in July of 2021. The internship was originally slated to end in December of 2021, but I ended up getting "promoted" into a new position called "Human Resources Representative." They created this new title for me so that I could stay for two more months until the end of January 2022! I was so happy I did well enough to be able to stay longer and have even been asked to stay until the end of February. While I should be leaving by the end of February, I am hopeful I will stay longer. Stay tuned!
Tell us a little bit about Playhouse Square as well as the HR Department.
Playhouse Square is a nonprofit organization designed to aid in creating a vibrant Downtown Cleveland experience and serve as an eclectic venue for the performing arts. It specializes in many projects ranging from real estate to entertainment, thus creating a vibrant district full of restaurants, life, living, and fun! And the human resources department was exceptionally busy this year. Due to COVID, we had a lot of hiring, rehiring, COVID polices, vaccination requirements, job postings, and other such tasks to deal with. However, it was all very exciting, and I am just happy I got to join in and be in the mix. It truly made for an eventful experience!
What's one thing you learned about the organization that you didn't know prior to your internship?
I had no idea what it would be like working in this field before coming to Playhouse Square. It left a very good impression on me. It's been great to see all these different theories, concepts, and research from online play out right before my eyes. I was so nervous, but have learned how to manage my tasks better and take good notes. My goals going into this were to advance my knowledge in the HR field and prepare myself for my professional career, and I have been able to achieve this goal by listening to my supervisors, working diligently, completing tasks immediately, turning in my most effective work, and humbly accepting criticism and praise.
What did you do at your internship?
The most useful tasks were learning how to check references, prescreen, send position-filled letters, upload and remove job postings, and other inexorable specialist duties because every company will forever need this skillset. Therefore, I have become more confident in believing that I can find and secure a full-time entry level HR Specialist role in my forth coming endeavors after graduation all due to this experience!
As a result of this internship, I carry myself in a more professional conduct through speaking, writing, listening, and completing tasks in a manner respectable to HR. I'm confident that my new knowledge will be vital as I continue my journey in HR. I have always heard that HR representatives often must be a jack of all trades, so I am glad I had a group of tasks not solely belonging to what is most saliently thought of as HR intricacies.
What was your favorite project? Why?
My favorite project was creating email flyers to tell the employees about perks, holidays, and so on. I have a love for designing fun ways to present information for digest.
What skills did you learn, sharpen, or improve?
Learning essential recruiting skills. The tasks I did, such as creating orientation packets, sitting in during interviews, reference checking, and prescreening would open doors to any future entry level HR positions. I did not expect my formal written communication skills to be used for more than writing a simple email. So, I was especially elated at the amount of visual and conceptual creative freedom I was allowed in creating public material for digest. That was perhaps the biggest surprise to me and gave me comfort as I knew that I would not lose my personally prized creative faculties in my chosen career choice. I also expected to greatly improve on managing my time in a professional setting and in taking direction well so that my supervisors wouldn't have to repeat themselves. I did not expect to gain customer service skills. According to my colleagues, I did quite well. I did have a few run-ins with negative customers, but I handled it with grace.
What did you learn about yourself?
I learned that having an easy-going, soft-spoken nature is not as bad as I grew up hearing it to be. A lot of times being willing to take direction is the perfect addition to an organization.
What surprised or challenged you? 
Among my various responsibilities as an intern, I've acquired a guilty pleasure of being in the file room and completing orientation packets. I anticipated that administrative tasks such as filing paperwork would be dreadfully boring, but actually found it quite relaxing. It was a nice way to decompress after a day of hard work.
How did you bridge your coursework with your internship?
Due to my department being so small, the type of HR I have learned through this internship I found does not directly correlate with the type of big-business management HR I learned in my course of study. However, I got to apply many of the leadership, communication, conflict, diversity, and even principles I had picked up from my other courses of study among other lessons. I was delighted with how my coworkers appealed to the writerly sensibilities gained from my English minor in the amount of written and revision work they gave me to do.
Why was the experience valuable? Why is an internship valuable?
I think that I really learned how to be a good employee from my internship experience. ​An internship allows you a taste of what the real world has to offer. You don't have to be afraid of making mistakes. You are there to learn and listen, so please do it, you will not regret it! And if you do really good, you are only opening up more doors for yourself.
What advice do you have for current interns or students who are searching for an internship?
Be enthusiastic in your interviews and do your research. The goal is to sell yourself. You don't have to act like you know it all, just be honest about your skillset and work those transferable skills in there. Be confident. Trust me, I am in HR now and have sat in quite a few interviews! Show you are happy to be there and know what you have to offer. Do not give up on the internship search! The position I accepted was the last one I applied for.
What are your career aspirations and/or next steps?
I am working towards becoming a Training and Development Manager as well as returning to school to become an Industrial-Organizational Psychologist.