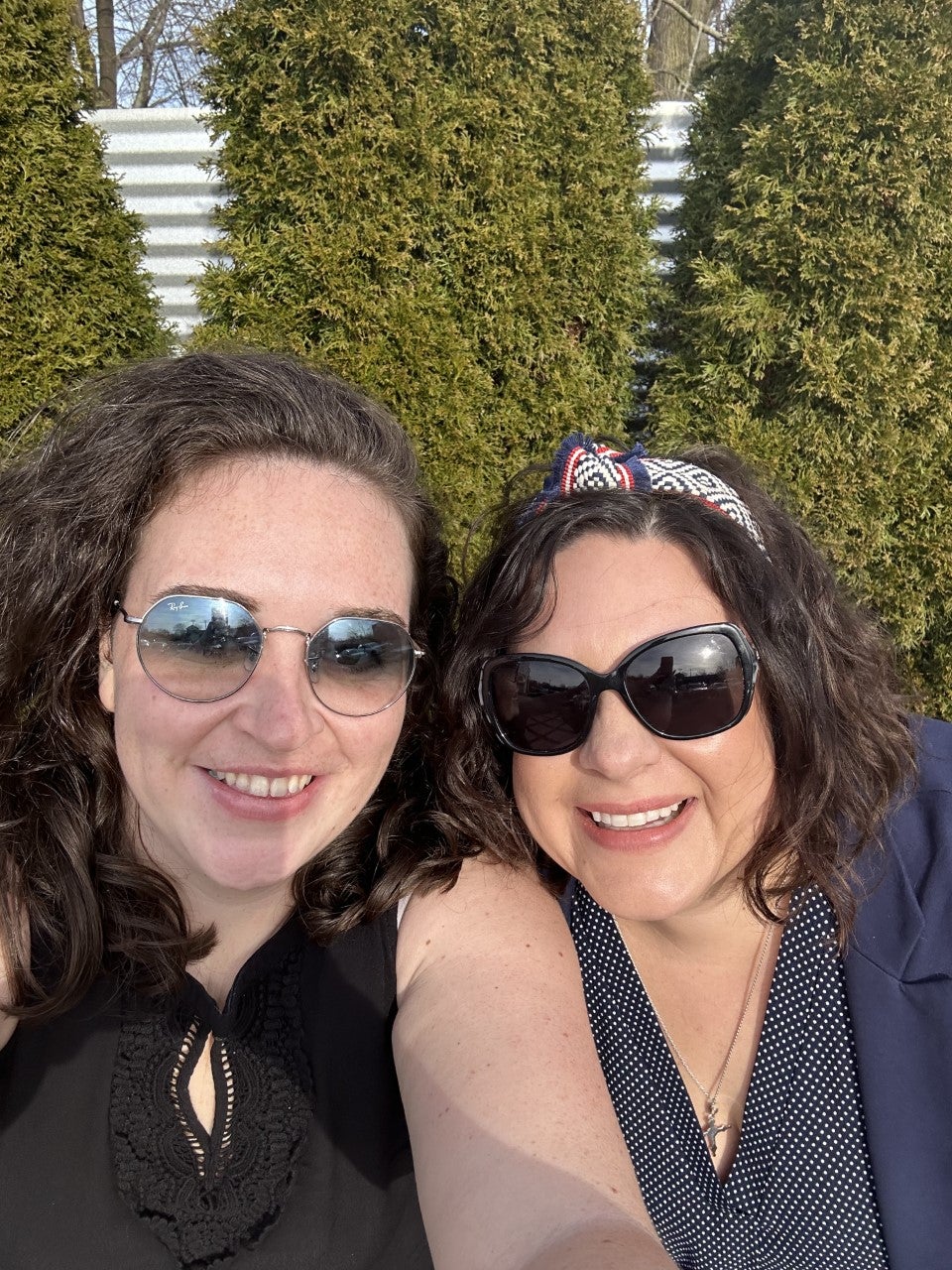 Mentoring Stories: Alexandria (Zan) Halmbacher & Micaela Miozzi
Mentor, Alexandria (Zan) Halmbacher - Senior Strategy Specialist, Federal Reserve Bank of Cleveland
Mentee, Micaela Miozzi - B.A. Walsh University, Current Master of Public Administration (MPA) Student, Cleveland State University
Here is what Zan had to say about her experience as Micaela's mentor…
What adjectives would you use to describe Micaela?
Micaela is curious, as she's always trying to learn and grow from those around her. She is also driven, a quality that shines through in her willingness to take on new projects, seek opportunities to grow professionally, and push herself outside of her comfort zone. Finally, she is authentic, I always enjoy engaging with Micaela, whether it was grabbing a coffee, chatting on Zoom, texting, or getting a bite to eat.
How have you seen your mentee grow as a result of the program?
When we first started working together Micaela had just taken a new position that came with a great deal of responsibility and opportunity. At our first few meetings I could tell she was a bit overwhelmed and as we continued to work together it was clear she had a few challenges to overcome. However, over the course of our meetings, I've seen her become more confident in herself and her abilities. One of the things I admire most about Micaela is her ability to jump in and figure things out. She's extremely agile, an admirable skill that will continue to serve her as she progresses in her career. One of the greatest areas of growth I've seen from Micaela is her willingness to seek advice. She truly understands the value of partnership and has taken steps to expand her circle of mentors, sponsors, and industry colleagues, cultivating a professional support network that will ensure she's successfully on whatever professional path she decides to pursue.
What event are you looking forward to the most and why?
I am looking forward to celebrating the mentees at our Final Cohort Celebration. They've worked so hard to get here, it's wonderful that we'll be able to celebrate their achievements.
What have you learned about yourself after being a mentor?
I think my greatest takeaway from this experience is that sometimes it's okay to just go for coffee and chat about what's on going on in each other's personal lives. It's impossible to separate your work and home life, an event in one will most definitely impact how you approach the other. I can't overstate the importance of listening, asking questions, and just checking in. This experience also reinforced the importance of celebrating the wins, even if they're small. We all need words of encouragement from time to time and to be reminded of how we're succeeding.
Why is a mentor/mentee relationship valuable to you?
No matter what age you are, how long you've been in your career, or who you know, you can always learn something. Throughout this partnership I found myself seeking advice from Micaela or sharing the challenges or frustrations I was feeling and asking her opinion. It was a great way to get a different perspective, but also to gain a friend. It's important to surround yourself with people who are different than you because they might see a way forward that you hadn't conceived or considered. It was also a great way for me to learn more about Cleveland, as I've only lived here for about three years now and I'm still discovering the area.
What advice do you have for current mentees/mentors or folks who will be a part of the program in the future?
Initially when I was asked about my interest in participating in this program, I was apprehensive. My professional background is not in urban planning, and I was concerned that I wouldn't be able to advise a student appropriately. However, I'm very glad that I overcame those feelings and joined the program. In the end, much of what my mentee hoped to receive advice on, had nothing to do with content. Many of their questions were about how to handle situations that arose in the workplace or more broadly about forming professional networks and getting engaged in the community. Despite my initial feelings, I was able to bring a considerable amount of value to our partnership and I really enjoyed getting to work with Micaela.
Anything else you want to include?
Overall, I really enjoyed participating in this program. The time commitment was not overwhelming, the students were fantastic, and the communication was wonderful. Alexandra was quick to respond to my questions and she set things up in a way that was easy to follow and provided flexibility. In the future, I will be sharing this opportunity with colleagues.
Here is what Micaela had to say about her experience as Zan's mentee…
What adjectives would you use to describe Zan?
Zan is an outstanding mentor who possesses an exceptional combination of traits that make her an absolute joy to chat with. Her manner is one that is both fun and supportive, making the experience of interacting with her positive and uplifting. From the very start of my mentoring journey, Zan has gone above and beyond in providing insightful and comprehensive responses to all of my questions, and her vast knowledge and expertise have been a vital resource that has helped me greatly.
What's one thing you learned about your mentor's role that you didn't know prior to the program?
It's a little embarrassing to say this, especially as I'm pursuing my MPA, but I was completely unaware that the Federal Reserve Bank wasn't actually a government entity or a bank. However, thanks to my conversations with Zan, I've been able to learn a lot about the many different things that the Federal Reserve Bank has to offer. Zan is a great person to talk to if you want to hear about the Federal Reserve, or if you are interested in Human Resources.
What event are you looking forward to the most and why?
I am looking forward to the celebration of the end of this academic year. This will be a great time to reflect on the wealth of knowledge I was able to collect my second year as a mentee. Although I am sad that I won't be able to continue, I know that my relationship with Zan will continue past the formal program.
What skills have you learned, sharpened, or improved upon while in the program?
The skills that I have sharpened during the program are soft skills such as networking, making contacts, learning how to be a leader, and learning how to have difficult conversations.
What did you learn about yourself?
I learned that it is okay to not be on a straight career path, and it's okay to just talk to folks that are in jobs you are potentially interested in to see if it is something that fits for you. Informal conversations happen all the time, and people are way more receptive to grabbing coffee than you may think.
How did you bridge your coursework with your experience in the mentoring program?
Coursework can be bridged with the mentoring program by applying theoretical knowledge in classes into practice. Sharing insights and challenges with the mentor about work and classes and then receiving feedback and guidance is a great way to connect everything together.
What advice do you have for current mentees or students who will be a part of the program in the future?
First, no question is a stupid question. Do not be afraid to ask anything. Second, you are going to get what you put into the mentoring program. Engage with your mentor, they are there to help support you. Lastly, think of goals you want to develop with your mentor. It helps create a framework for you throughout the academic year.
Anything else you want to include?
This program is totally worth it. I appreciate all of the work that every mentor and CSU staff member has done to make this program as amazing as it is.