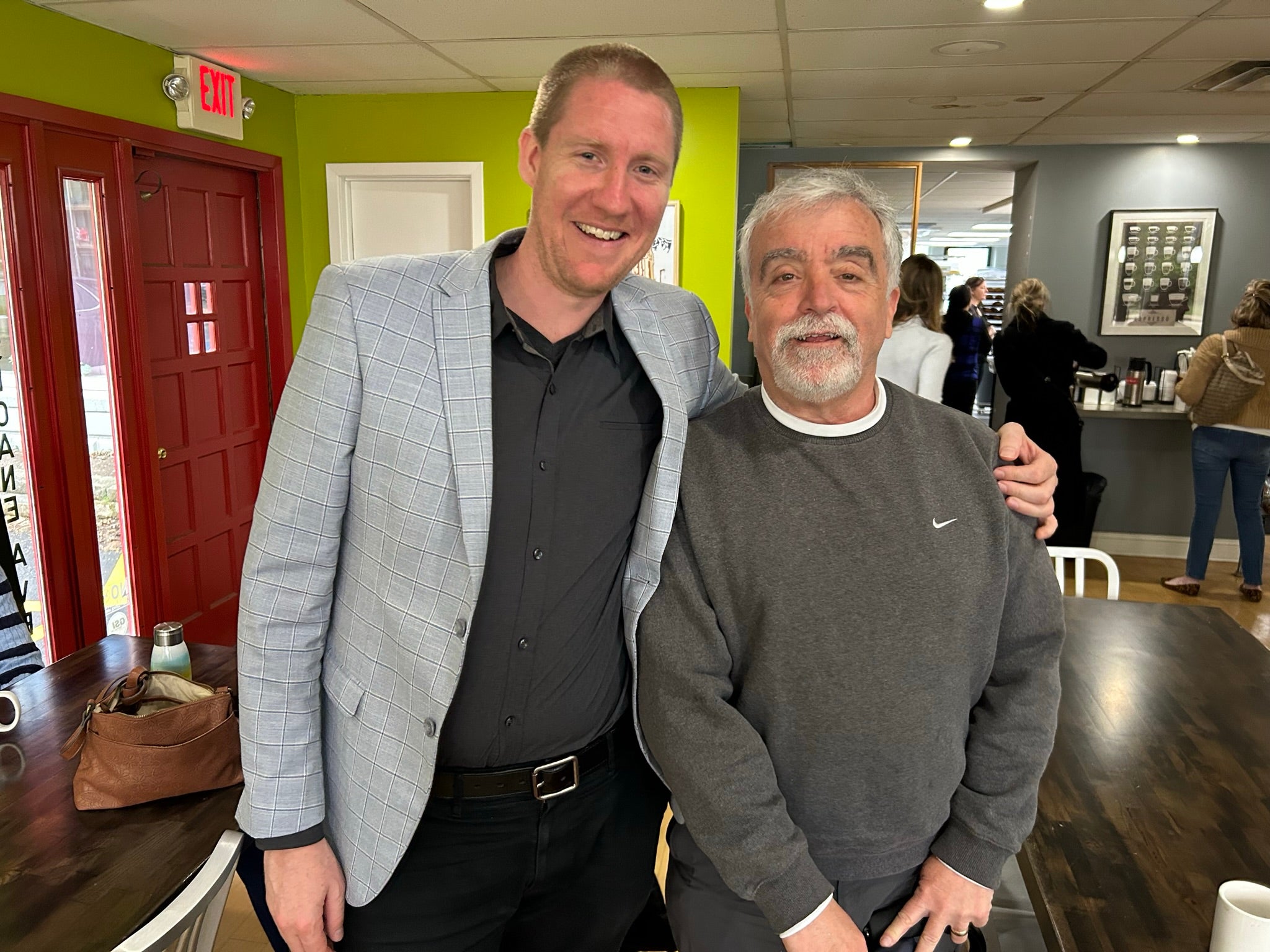 Mentoring Stories: Jim Rokakis & Roger Sikes
Mentor, Jim Rokakis - Senior Advisor, Ohio Landbank Association
 
Mentee, Roger Sikes - B.S. Ohio University, Master of Public Health (MPH), Emory University & Current Master of Public Administration (MPA) Student, Cleveland State University
Here is what Jim had to say about his experience as Roger's mentor…
What adjectives would you use to describe Roger?
Dedicated. Hard-working. Smart. Progressive.
How have you seen your mentee grow as a result of the program?
That would be giving me too much credit. Roger is very capable. This program gave me an opportunity to meet him, work with him and advise him, to the extent that he needs advice.
What has been your favorite event so far? Why?
I like all events that enable me to meet the students, talk to them, answer their questions, and most importantly, listen to them. I learn a lot too.
What have you learned about yourself after being a mentor?
I have learned that I have a little bit of gas left in my tank and that I should use it! Ha ha. Even though I've been out of public office for so many years, I believe I have a lot to offer, and I appreciate sharing my experiences with students.
What advice do you have for current mentees/mentors or folks who will be a part of the program in the future?
My advice would be to make the most of the opportunity provided by the program, if given the chance. It gives you a chance to meet new people, learn from their experiences, share your own experiences, and hopefully provide them with guidance that is worthwhile.
Anything else you want to include?
I have learned a lot from this program and really enjoyed myself. Thanks for the opportunity.
Here is what Roger had to say about his experience as Jim's mentee…
What adjectives would you use to describe Mr. Rokakis?
Passionate, solutions oriented, thoughtful, driven, effective, and "has a backbone"
What's one thing you learned about your mentor's role that you didn't know prior to the program?
I was not aware of the strategic efforts by Jim and colleagues to leverage statewide and federal support to implement the Cuyahoga County Land Bank and eventually expand to counties across Ohio. This took tactful approaches bi-partisan support to directly address the foreclosure crisis.
What has been your favorite event so far? Why?
So far, my favorite event was the "speed dating" event where we met with various mentors individually and practiced our elevator pitches. It was a great way to quickly and meaningfully engage with mentors who were ALL relevant to work I'm interested in. In one hour, I met with five or six local leaders who could speak specifically to my interests.
What skills have you learned, sharpened, or improved upon while in the program?
Jim has helped me align my values and interests with career decisions, including in framing a potential new job description at my employer and de-mystifying county government offices and leaders.
Jim helped sharpen my policy analysis skills in relation to the proposed "Community Health Equity Fund" as well as understanding momentum in relation to policy feasibility.
The program has been wonderful for strengthening my resume writing and relationship building skills. I have met incredible students and mentors who are interested in fighting for a more equitable Cleveland and Cuyahoga County. I look forward to working with them in the future!
What did you learn about yourself?
I learned that I will always need mentors in my life. I learned that you have to make the ask. I've admired Jim's work for years prior to this program. He didn't know me from Adam. Yet, he made the commitment to mentor me and kept it. I am forever grateful.
I also learned more about how to be a mentor myself!
How did you bridge your coursework with your experience in the mentoring program?
Through Jim's ongoing engagement, the Mentoring Program helped me to improve my policy analysis skills and understanding of County, municipal, and statewide governance structures. This has been relevant to my coursework including the Columbus Seminar (policy analysis, relationships building) and the Urban Colloquium (localized policy issues and active local leaders). I have been able to more clearly identify the people who I need to focus on building relationships with and learning from in order to put my values in motion.
What advice do you have for current mentees or students who will be a part of the program in the future?
I recommend trying to choose your own mentor. Send a list of local leaders you respect or would like to learn from. If you're not sure of who that might be, perform a local media search on Google regarding your interests to see if local leaders are featured in news stories related to your interests.
Consider both the students and the mentors as a cohort to build with moving forward. Get other students and mentors' contact info and sit down for coffee them. This is a key group of folks to build a career foundation with. We're all trying to do this!
Anything else you want to include?
I want to express my appreciation to Alexandra Higl-Timms, Rob Ziol, and the Center for Public and Nonprofit Management for their focus, thoughtfulness, and leadership in organizing this program. During my first engagement with Alexandra, she took the time to listen to my interests and values and followed through by connecting me to a mentor of my choice. This first meeting set the tone for the rest of the program. Each event has been thoughtful, pragmatic, and well-organized: from the simple relevance of taking headshots for students seeking to take the next step in their career, to organizing spaces where students can have 1-on-1's with eight to ten Cleveland leaders with direct insight on our career paths. Thank you so much for taking the time, energy, and resources to invest in us.
I also want to thank ALL of the mentors who give their time to this program. This real-life engagement cannot be replicated in a classroom, and I hope the mentors know they are appreciated!
And to my mentor Jim: thank you for sharing your time, wisdom, and energy with me. I was overjoyed when you took me on. I look forward to working with you to make Cuyahoga County and Ohio better for working families.