Maxine Goodman Levin School of Urban Affairs General Use Computer Lab UR39 (Quiet Lab)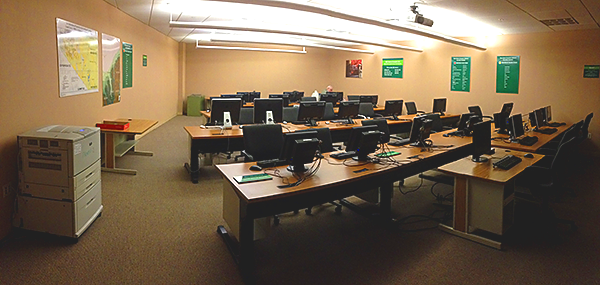 Lab Computer Availability
This computer lab is primarily but not exclusively used to support Maxine Goodman Levin School of Urban Affairs students. Because the computer labs are specifically for completing assignments, noise is discouraged. This lab is designated as a "quiet" lab meaning no talking or collaborative work is permitted. Currently this lab is only open when UR40 is scheduled for instruction.
Please note that the UR39 lab is usually closed unless there is a classed scheduled in UR40.
Contact Information
Students with limited computer and/or internet access should utilize the CSU Mobile Campus program. Mobile Campus offers HP laptop or MacBook Air computers for rent for up to four days for on and off campus use. 
Students requiring access to GIS software should direct inquiries to Bob Martel at urbansystems@csuohio.edu. ESRI GISPro desktop software and ArcGIS OnLine are available to all CSU students.
For additional up to date information about student computing and lab resources, including the Help Desk, Mobile Campus, and information about other computer labs on campus, please refer to https://www.csuohio.edu/services-for-students/services-for-students. 
The lab's open hours for this semster are listed here. »
Questions
For issues with machines or software contact at urbansystems@csuohio.edu. To contact the lab monitor / lab office call 216.523.7566.
Lab Policy and Procedues
View Maxine Goodman Levin School of Urban Affairs' Lab Policy and Procedures (draft updated 9/23/19). 
Software:
| Personal Computers | Assistive Technology | iMacs |
| --- | --- | --- |
| 7zip | Jaws | GarageBand |
| Adobe Creative Cloud Suite | Read & Write |   |
| Adobe Reader | Zoom Text |   |
| Anaconda |   |   |
| ArcGIS Desktop (ArcMap) |   | iTunes |
| ArcGIS Pro |   |   |
| GeoDa |   | Keynote |
| GeoGerbra Classic |   | Microsoft Office 2011 |
| GIMP - (Gnu Image Manipulation Program) |   |   |
| Google Chrome |   |   |
| Google Earth Pro |   |   |
| LibreOffice |   |   |
| MathType 6 |   | Numbers |
| Matlab |   | Pages |
| Microsoft Edge |   | Safari |
| Microsoft Office Professional Plus |   | VLC Player |
| Microsoft Office Project |   |   |
| Microsoft Visio |   |   |
| Minitab stats |   |   |
| Mozilla Firefox |   |   |
| QGIS |   |   |
| R (statistics) |   |   |
| RStudio |   |   |
| SAS |   |   |
| SPSS |   |   |
| SketchUp Pro 2022 |   |   |
| Stata |   |   |
| Tableau |   |   |
| VLC Media Player |   |   |
Lab Monitor Services Provided
Printing and Print Refunds