View Our Latest News, Announcements, and Activities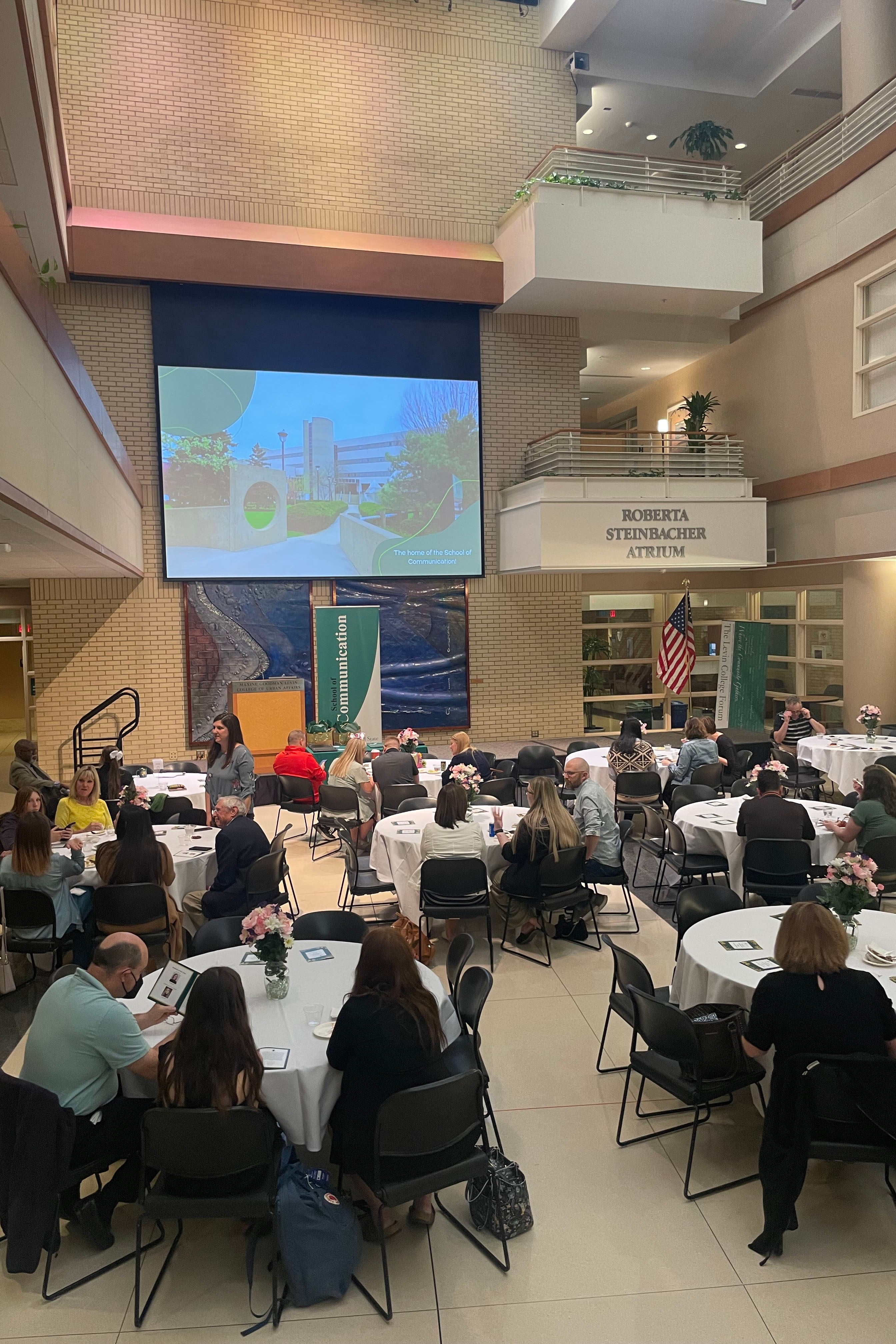 On Thursday, April 20 the School of Communication held an award ceremony honoring high-performing students for the 2022-2023 academic year. The ceremony recognized student scholarships, students of the year for each of the School's major program areas, and student leaders. Learn more. »

 
---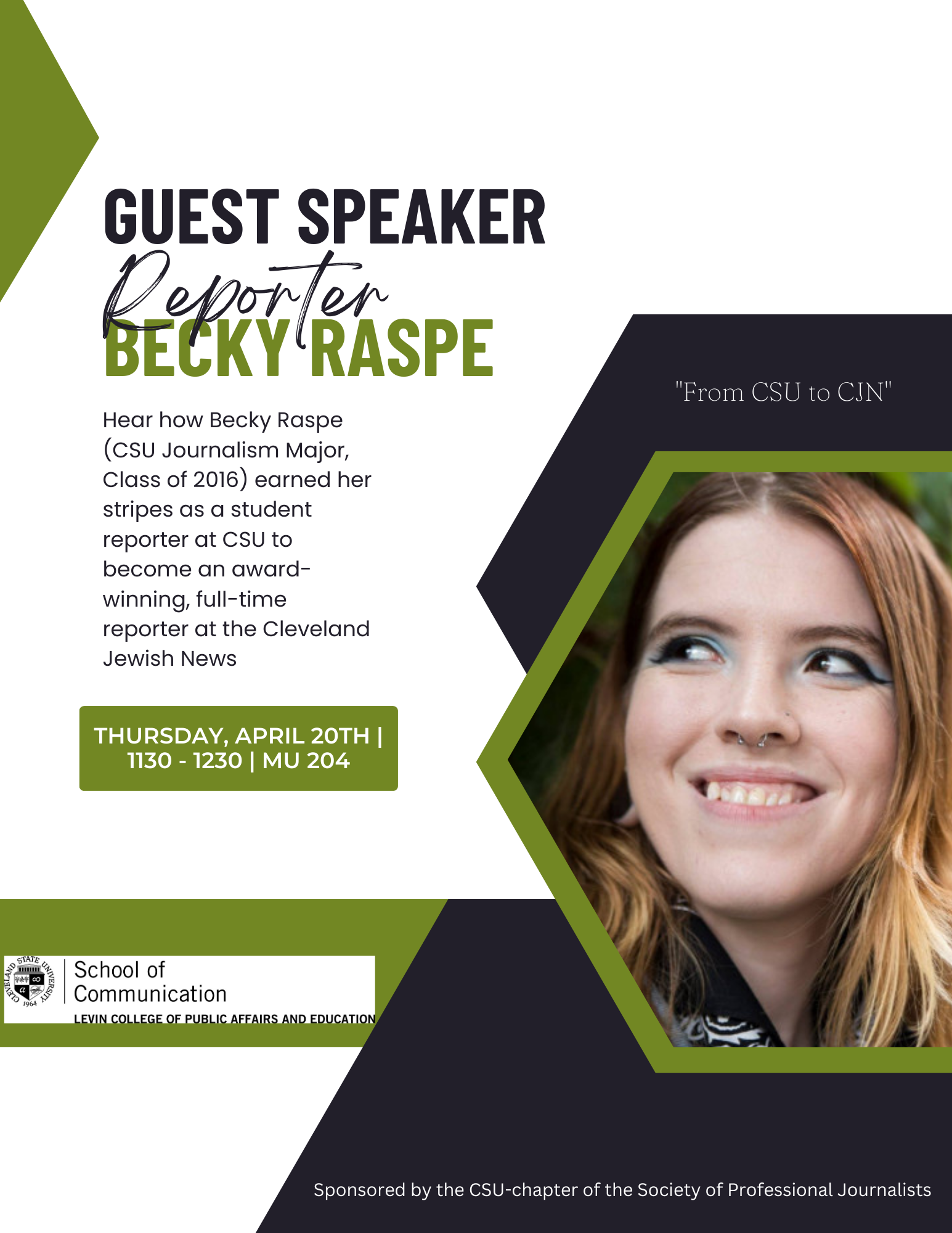 Join us on Thursday, April 20, 2023 from 11:30am-12:30pm at the School of Communication in MU 204 for a talk with Becky Raspe, Reporter for the Cleveland Jewish News.
Hear how Becky Raspe (CSU Journalism Major, Class of 2016) earned her stripes as a student reporter at CSU to become an award ­winning, full-time reporter at the Cleveland Jewish News. Learn more. »
 
---
Dr. RICHARD M.PERLOFF RECEIVES OHIO SOCIETY OF PROFESSIONAL JOURNALISTS AWARDS
Richard M. Perloff, PhD, Professor of Communication, Psychology, and Political Science, recently received two awards from the Ohio Society of Professional Journalists 2022 Ohio's Best Journalism Contest. Dr. Perloff was honored with First Place Best Arts Award for his piece "The enduring magic of Stephen Sondheim", honoring the legacy of the musical theater giant. He also received Second Place Best Criticism/Editorial for his piece "Deserving of his lofty perch" written in support of the preservation of statues of historical figures. 
---
Dr. Anup Kumar, Professor at Levin's School of Communication, recently gave a presentation as part of the India Studies Webinar Series entitled: Alternative Ontologies and Epistemologies: Is There an Indian Way of Knowing and Theorizing in Social Sciences? Watch the video below.
India Studies Webinar Series | Alternative ontologies and epistemologies
---
CSU School of Communication Students are Working with Cleveland City Dogs in fall '22 on a PR Campaign to Help More Dogs Find Forever Homes. By Abigail Preiszig
Some of Cleveland's abandoned dogs have a new ally, a Cleveland State University class that is helping one of the city's dog shelters find forever homes for its forlorn pups. 
Students from COM 430, the digital content production class at Cleveland State University, visited City Dogs, an animal control and care facility, on Friday, Sept. 2 to tour its space and discuss their partnership for the fall semester.  
The class plans to create promotional content for City Dogs to increase awareness, attract volunteers and boost adoption rates.  
---
LONG-TIME JOURNALISM PROFESSOR, BETTY CLAPP, HONORED BY THE CLEVELAND CHAPTER OF THE SOCIETY OF PROFESSIONAL JOURNALISTS
Betty Clapp, a long-time journalism professor for CSU's Levin College of Public Affairs and Education received a Distinguished Alumni Award from the Cleveland chapter of the Society of Professional Journalists (SPJ) at its August 4 annual meeting and Donald Sabath Awards Event.
Professor Clapp, who has taught journalism at the School of Communication for 20 years helped to found The Cleveland Stater student laboratory newspaper in 1999 and served as its faculty advisor for nearly 10 years. She has also served as a faculty advisor to the student chapter of SPJ multiple times. Professor Clapp has mentored hundreds of CSU students who have pursued successful media careers.
---
DR. RICHARD M. PERLOFF EARNS PRESS CLUB AWARD FOR SOCIAL JUSTICE ACTIVIST EULOGY
School of Communication professor Richard M. Perloff, Ph.D. has earned a first-place honor from the Press Club of Cleveland for his journalistic article memorializing Alan Canfora—a victim of the May 4, 1970 shooting at Kent State University. 
On that fateful day 50 years ago, the National Guard killed four students and injured nine others including Canfora, "who defiantly waved a black flag before a bullet pierced his wrist," Dr. Perloff wrote. Thrust into national prominence by Pulitzer Prize–winning photographer John Filo, Canfora famously called the shooting an "intentional massacre" and was largely responsible for the designation of the May 4 site as a national historic landmark.
Canfora became the very public face of a social justice crusade at KSU, a movement now entering its sixth decade.