The Sociology and Criminology Student Club
The Sociology and Criminology Student Club at Cleveland State University was founded in 2013 based on student interests in exploring sociological and criminological topics in ways that extend classroom-based learning. Club members are very active and host multiple events throughout the academic year, including seminars on special topics such as the stigma of felony convictions and community outings to places like the Cleveland Police Museum. The Club also decides on one external speaker each year who they feel is particularly impactful to the disciplines of sociology and criminology and invites that individual to give a formal public talk on campus in the spring semester. Former speakers have included Tom Goldtooth, Lieutenant Mark Wynn, and Dr. Lee Hoffer. Most recently, the Club has started to take on a more active role in research engagement, participating annually in the Northeast Ohio Undergraduate Sociology Symposium (NEOUSS).
Interested members can join on Orgsync or talk to Dr. Novisky or Dr. Skladany, co-faculty advisors, to get more information about Club membership.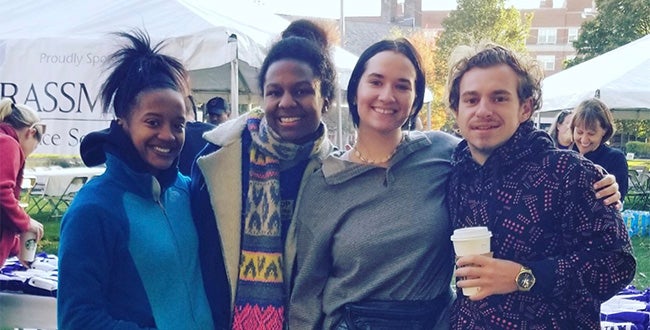 Photo above: Criminology majors volunteering at the 2019 Edwin's Annual 5K Run for Reentry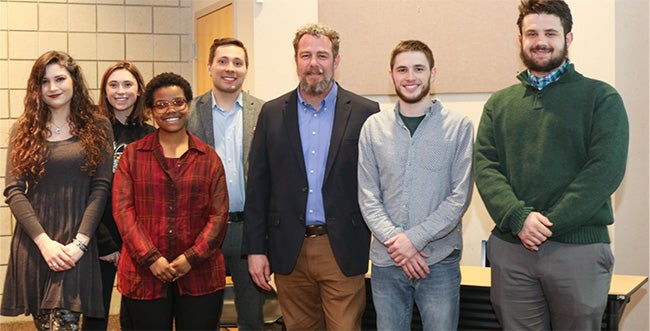 Photo above: Several club members pictured with Dr. Lee Hoffer (CWRU),
the 2018 elected external speaker
---
Alpha Kappa Delta
Alpha Kappa Delta (AKD) is the International Sociology Honor Society.  AKD was founded in 1920 at the University of Southern California by Dr. Emory S. Bogardus and became affiliated with the Association of College Honor Societies (ACHS) in 1967. AKD is also affiliated with the American Sociological Society (ASA). The purpose of Alpha Kappa Delta is to seek to acknowledge and promote excellence in the scholarship in the study of sociology, the research of social problems, and such other social and intellectual activities as will lead to improvement in the human condition. Alpha Kappa Delta is a non-secret, democratic, international society of scholars dedicated to the ideal of Athropon Katamannthanein Diakonesin or "to investigate humanity for the purpose of service." Membership is open to undergraduate students, graduate students, and faculty members from active chapters who meet our minimum standards. Currently, there are more than 115,000 members in Alpha Kappa Delta and over 650 chapters.
Students are selected based on their academic achievements. Should you qualify, a letter will be sent to you from the Department of Criminology, Anthropology, and Sociology during the Spring Semester. To be considered, you must meet or exceed the following:
Overall GPA of 3.25 and above.
Junior status.
Four courses in Major completed.
Major GPA of 3.0 and above.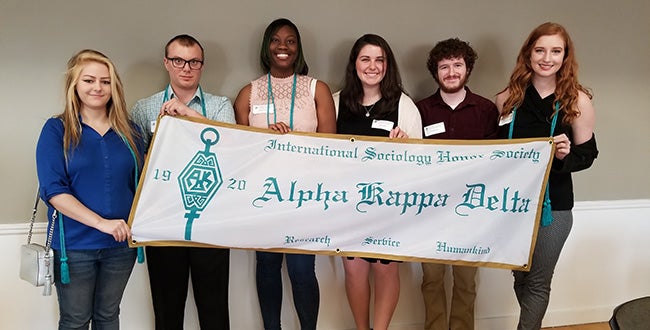 AKD Honors Banquet, April 2018.
For more information, please contact the CSU AKD Omicron of Ohio,
Advisor: Dr. Rob Kleidman, r.kleidman@csuohio.edu.