The CSU campus is full of hidden gems. 
Shining especially bright are the grade school and two high schools right on campus, the result of an innovative partnership between the Cleveland Metropolitan School District and Cleveland State University. And the education students are getting within those schools is as interesting and diverse as the campus and city around them. 
The sounds of violins, violas, and cellos float together as students practice for their upcoming concert. Down the hall, a group of older girls is helping younger students with their dance routine. 
Two floors up, an eighth-grade girl is working on her community project to provide clothes and toiletries for homeless women, while a few doors down an English class enthusiastically discusses a science fiction novel they're reading.
In the very heart of the school, three third-graders are rehearsing their play, The Lion King, while Head of School Julie Beers sits on the colorful furniture below the stage, watching with a huge smile on her face. 
The school is called Campus International. It's bright and safe. The students are engaged and in some respects in charge of their own education. It's a new way of learning for a new world. "We are teaching our kids to be thinkers," says Kate Grzelak, principal of kindergarten through sixth grade at the school. "We're training them for jobs that have not yet been created."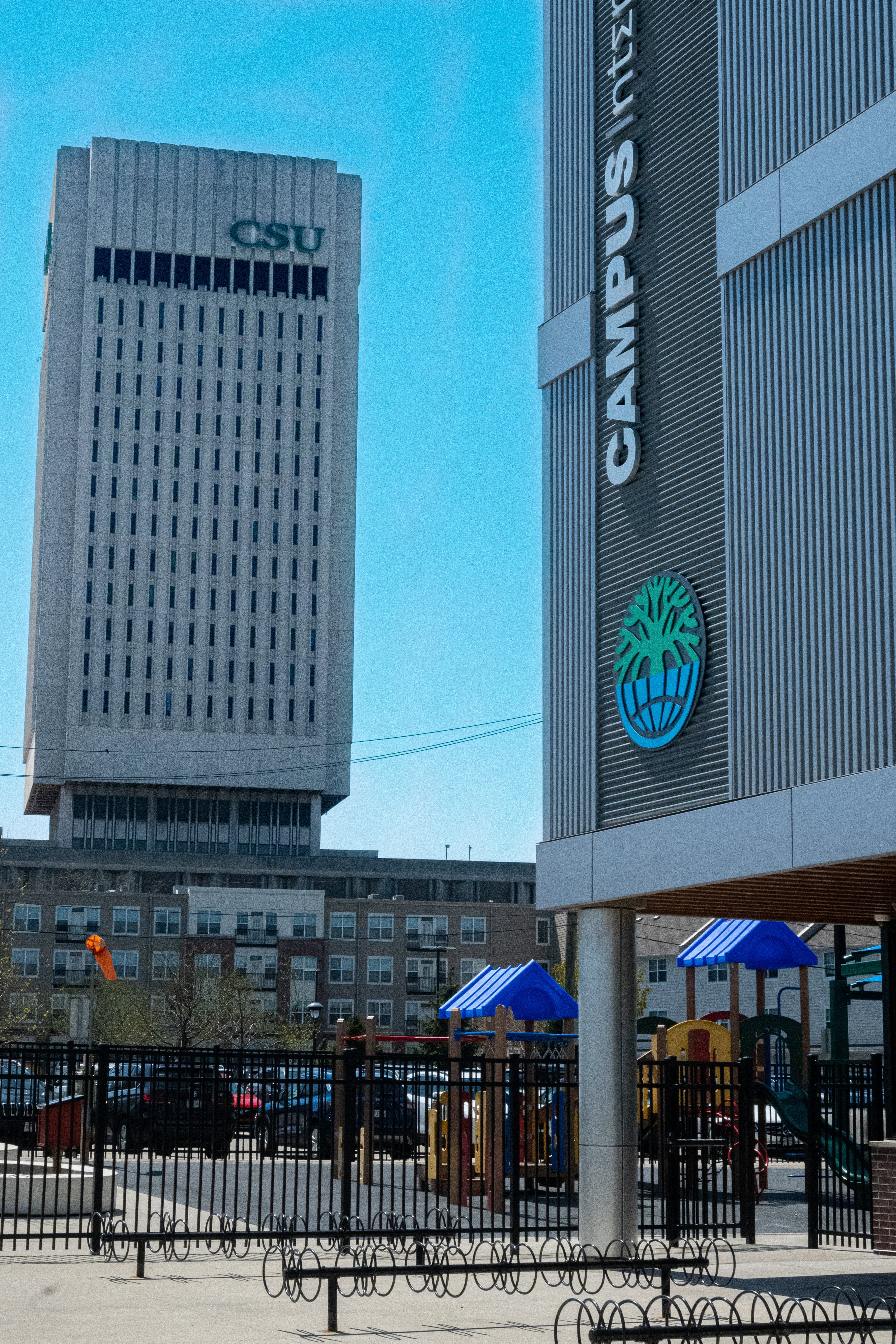 Now for the truly astonishing part: The school is one of three right in the heart of Cleveland State University, the result of a groundbreaking partnership between the university and the Cleveland Metropolitan School District that began more than a decade ago. In addition to Campus International, there is the Campus International High School and MC2STEM 
High School. According to CSU President Dr. Laura Bloomberg:
"The depth of the partnership and the mutual commitment are fairly unique here. I think it's a real strength of the educational ecosystem in Cleveland."
Eric Gordon, the former CEO of Cleveland Metropolitan School District, sees it the same way. "The partnership with CSU is unique and rare," he says. "In fact, I'm not aware of any other school district/university partnership as robust and thriving as ours."
Dr. Ronald Berkman, president of CSU from 2009 to 2018, was there at the very beginning. He describes the partnership as the answer to a problem.
"We really felt that higher education and K–12 education were badly disconnected in Cleveland," he says. "Rather than continue to curse the darkness about how students were not prepared, we could enter into a robust holistic partnership with CMSD. The best way to launch that was to have CMSD sited on campus."
"There are so many young people in Cleveland who don't even know what a college is," he continues. "If we could bring more kids, let them see more kids who look like them walking around the campus, it could open up a new vista for young people."
It's been a win for both sides, stresses Dr. Debbie Jackson, Cleveland State's vice provost for instructional excellence. "I think that having these schools on campus can be really energizing for the kids," she says, "and it can be really energizing for the campus community."
It also helps children, who may be the first generation in their family to aspire to college, imagine a clear path to make that dream happen. "They can see themselves on a university campus," she says. "From kindergarten, you're used to a university setting, which increases the chances that you will attend one."
All of that was the hope. And while there have been challenges along the way—like the pandemic and the bureaucracy of two large institutions—all three schools are thriving. They have graduated thousands of kids who grew up viewing school as a place to pursue their passions and learn about the world around them.
But the only way to truly understand these schools is to see them in action.

CAMPUS INTERNATIONAL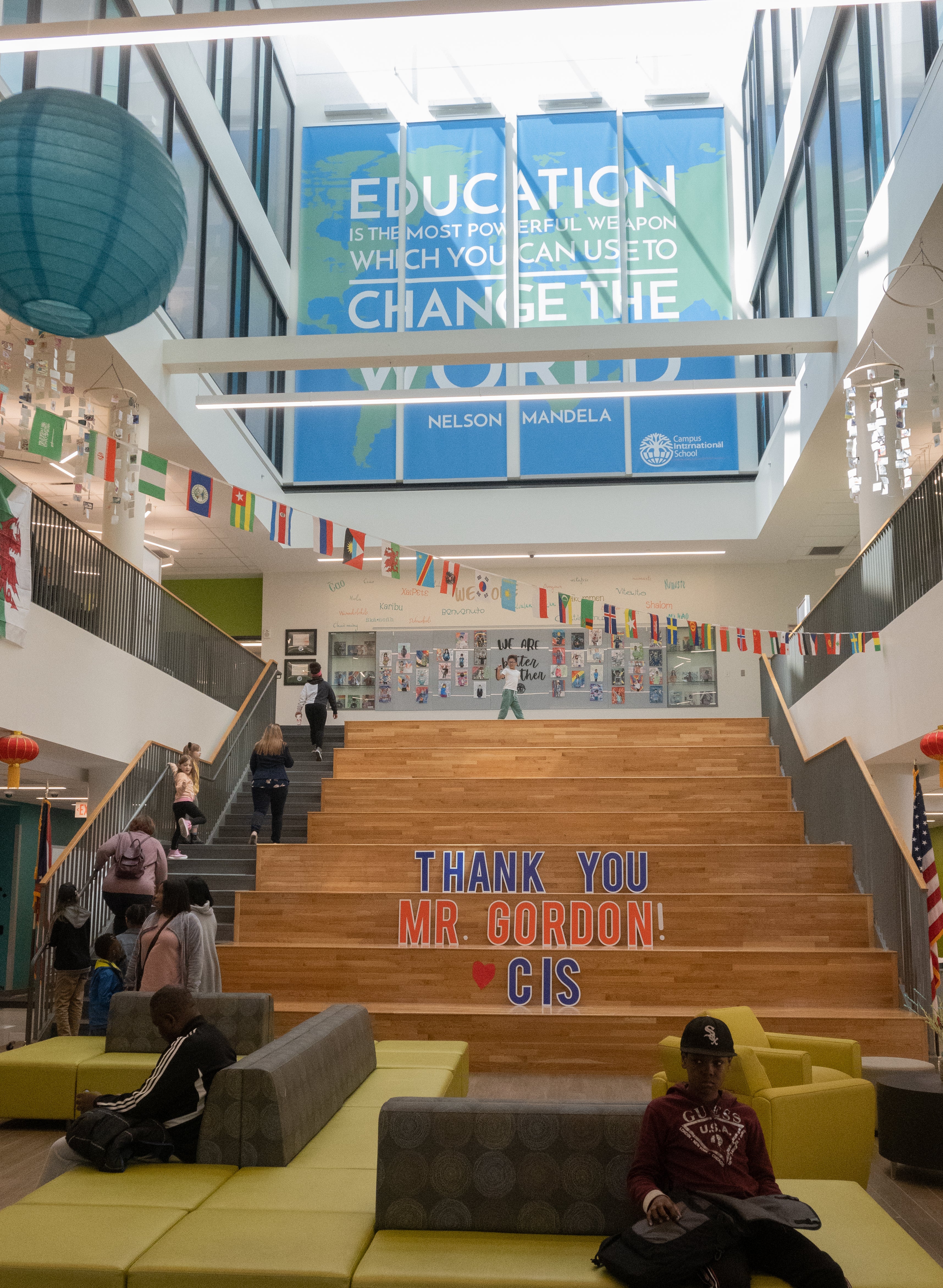 Walk into Campus International, and you're met with a terraced gathering area with what looks like eight oversized steps, each about twenty-five feet wide, and a landing in the middle that doubles as a stage. The flooring is golden maple. Light floods in through the four-story atrium.
But perhaps the most striking feature of the room is a Nelson Mandela quote that hangs above the entrance: "Education is the most powerful weapon which you can use to change the world."
That quote serves both as decor and inspiration. It's also fitting for a school built around the International Baccalaureate curriculum (IB). Founded in 1968 in Switzerland, the IB program is a way of teaching that empowers students to take ownership of their own learning and develop skills to make a difference in a world that is constantly changing.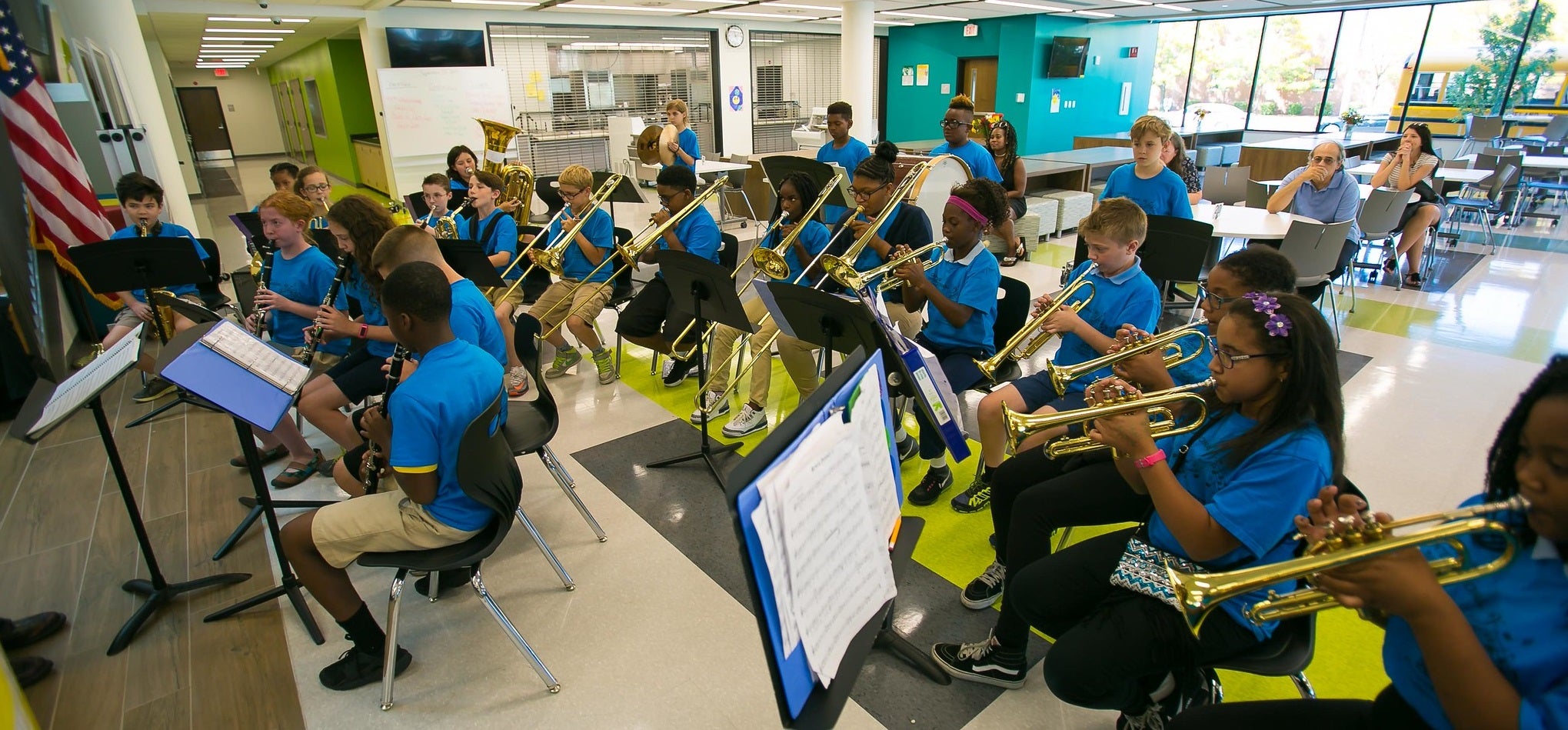 Global accreditation assures that the IB curriculum at Campus International reflects the best of educational research and thought leadership and meets rigorous professional development and language requirements. Each student at the school studies Mandarin daily, becoming a scholar of the Chinese language, culture, and traditions. 
When pressed as to exactly what the IB curriculum means to her students, Grzelak lights up with enthusiasm, showing just a hint of frustration that the concept is not more widely understood—and embraced.
"It's just what good teaching and learning looks like. 
We are teaching international mindedness, teaching kids to be balanced, caring, knowledgeable, curious. 
You can do that in any school," she says.
Campus International opened in 2010 in an old church with a ton of spirit but little in the way of amenities. "We literally had to get on our hands and knees and scrub," Beers recalls, crediting Ron Abate, then the professor-in-residence, as a big part of the school's successful launch. "We had some really cool parents who wanted something different, too. They trusted us because they trusted Cleveland State. Together, we made Campus International work."
The school has enjoyed a new home perched on the southern edge of the CSU campus on Payne Avenue since 2017. On clear days, you can even see the lake. The building itself is spectacular—a 93,000-square-foot, $42 million, four-story building designed by Chicago's Perkins&Will, the architecture firm behind Case Western Reserve University's Tinkham Veale University Center and a host of prominent buildings throughout the world.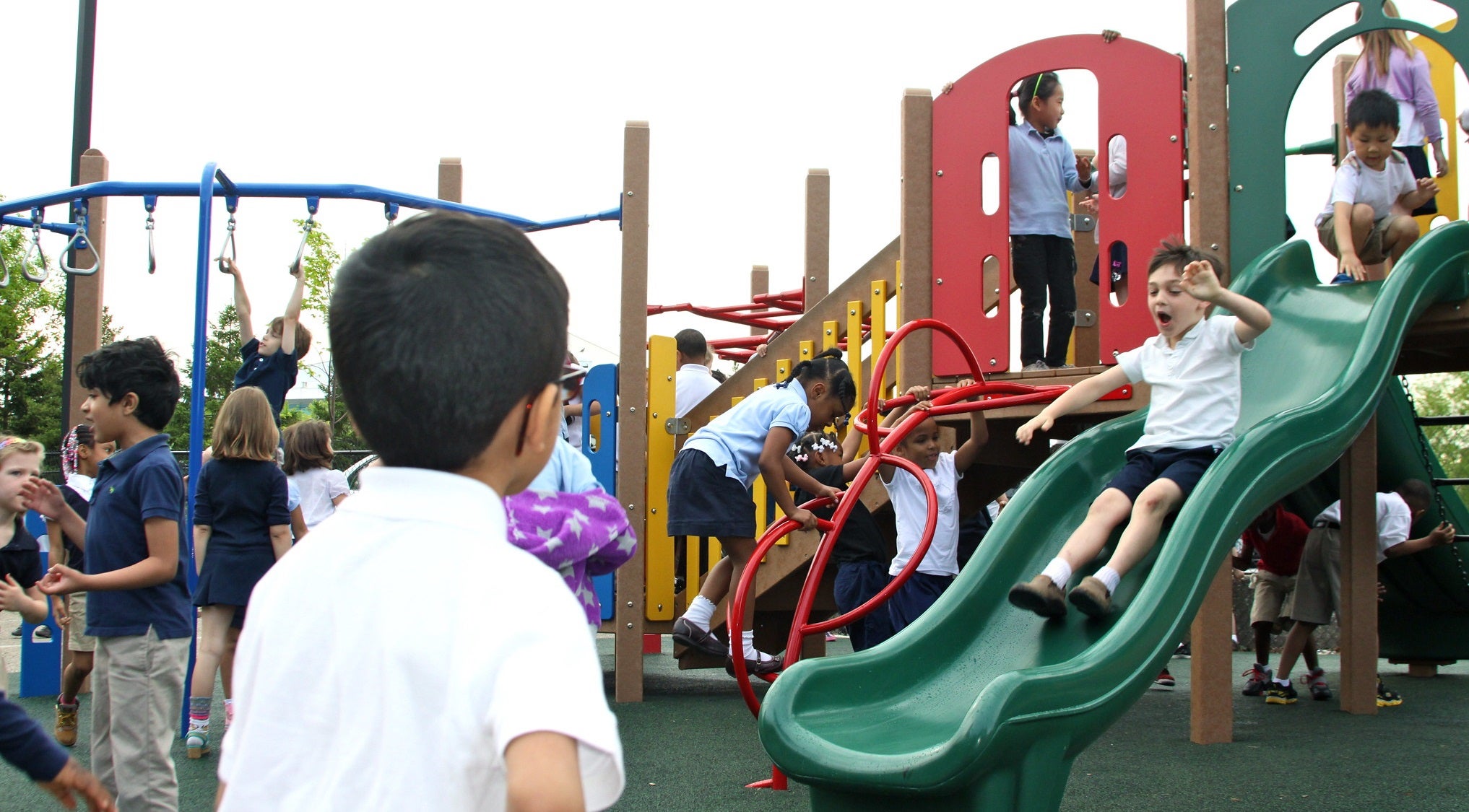 The firm was assisted by ThenDesign Architecture of Willoughby, Ohio. Natural wood, bright colors, and plenty of light make the space feel cheery, even inspirational. A popular misconception is that this was a school designed for high-achieving kids and that students must test into the school. A beautiful school for especially bright kids. It only seems natural a school like that would thrive.
But the reality is that CMSD conducts a lottery system for placements at Campus International as the number of requests exceeds the number of students applying for an assignment. Reflective of the partnership between CSU and CMSD, twenty percent of the new student assignments each academic year are reserved for children of CSU faculty, staff, and students. 
Dr. Nigamanth Sridhar is provost and senior vice president of academic affairs at CSU. He was involved in the creation of MC2STEM and is a passionate advocate for STEM education.
When it came time to decide where to send his daughter to grade school, Campus International was a clear choice. "The decision was an easy one for my wife and me," he says. 
"The academic offerings at the school and the proximity to—and involvement from—Cleveland State is incredible. It's just a slam dunk."
Beers says the school takes full advantage of its ties to CSU. She describes field days spent on the soccer field, using the science lab and floating cardboard boats in the pool at Busbey Natatorium. Then there is the human connection. Members of the CSU volleyball team tutor kids at the school, and there are six full-time student teachers from CSU.
Right now, there's also a push to have students work on special art projects to be displayed in CSU buildings, says faculty-in-residence Sharon Swan, who is also a visiting professor of practice in the Department of Teacher Education. "We want the kids to go to Cleveland State to see their own artwork," she says. "It encourages them that, eventually, you'll go to school here and be successful."
At the end of the day, it's not just the setting that drives learning. Beers and Grzelak know every child by name, communicate regularly with bus drivers—because a lot can happen on the bus—and they have an individualized plan for every child identified as struggling in any way. "If a child shows up at the door and knows they're loved and respected," Beers says, "that is the most important thing for learning to happen."

Campus International High School
When students graduate from Campus International, they have the option to head a few blocks east to the Campus International High School on Chester Road. Any remaining spots are filled using a lottery system.
While not quite as colorful as the school for the lower grades, the building, formerly the CSU Cole Center, was recently renovated. The hallways have traditional laminate flooring and are lined with lockers. It would be easy to forget you're on a college campus—until you look out the expansive windows and see the downtown skyline.
"I think it's a wonderful fit for Cleveland State to be affiliated with Cleveland schools," says Principal James Reed. 
"I think it's a perfect fit and something that every urban university ought to be doing. It gives urban kids opportunity."
Neela Narine is one such student. In fact, when she graduates this spring, she'll be in the first class to have attended Campus International schools since kindergarten. "I've been here thirteen years," she notes with a smile before helping lead a tour of the school.
Narine has very big—and very specific—plans. She will attend Walsh University in North Canton next year, majoring in communications with the goal of becoming an editor for a publishing house. When asked what she liked most about her experience, she rattles off a long list of favorites, including the library she assembled at the school, field trips all over Cleveland, writing, music and design projects, seminars she attended and teachers who made things like the concept of logos, ethos and pathos come to life. 
It's harder, she admits, than a regular school. But that's not a problem when you love what you're doing and are supported in your work. Indeed, this kind of project-based learning requires a lot more from everyone than memorizing material or cramming for tests. 
"It's a heavy lift for teachers," says Dr. Molly Buckley, an associate professor of adolescent/young adult English education at CSU, who also serves as the faculty-in-residence at Campus International High School. "And it's a heavy lift for students."
One example she cites is a class all students take in grade eleven called "The Theory of Knowledge." In this class, she adds, there are no "right" answers. "Everything is an inquiry," she explains. "It's not a debate to find the right answer. We recognize that everybody could do that differently."
Being on the CSU campus is a huge advantage in this style of learning. "We use the expression 'the city is our campus' a lot," says Buckley. "Let's get around to all these places."

MC2STEM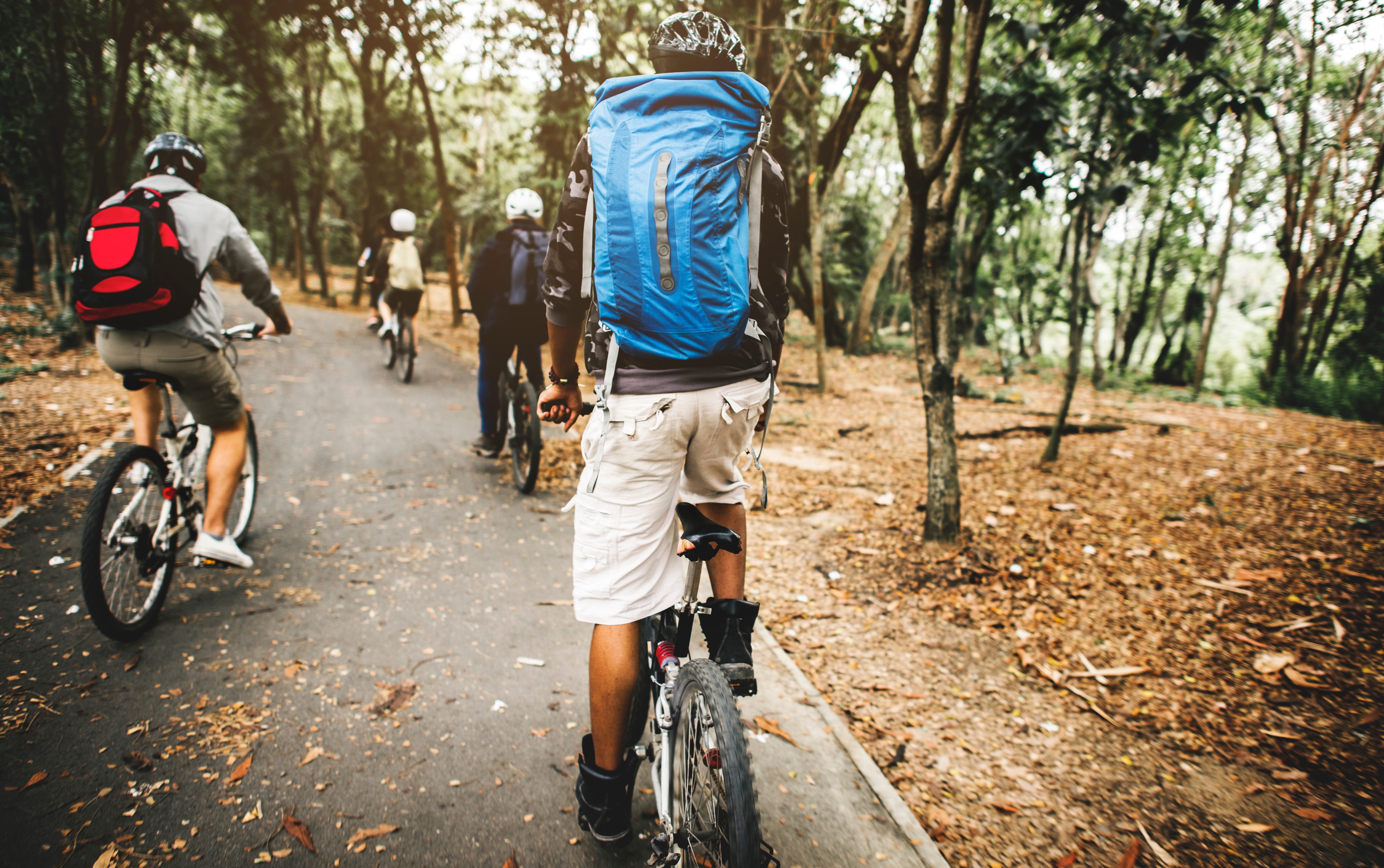 When you see students riding bikes down the hallway, you know you're not in a traditional school. The catch is that, at MC2STEM, the students made the bikes. "In that bike capstone, we hit computer science, chemistry, math, and data science," says Marketa Fuller-President, the faculty-in-residence at MC2STEM and a master teacher of the humanities for the Teacher Education Department at CSU. "That's the idea. You're doing a project, and it doesn't feel like school but you're learning those concepts."
"We can do some things that not a lot of people are doing," explains Assistant Principal Clifford Powell. "That's what I love about this place." Other capstone projects include making, performing and marketing a song; building a robot for a competition, and planning, planting, and harvesting a community garden.
Like the Campus International schools, students are admitted to MC2STEM using a lottery system. Unlike Campus International, MC2STEM is set in three locations: ninth grade is based at the Great Lakes Science Center, tenth grade is at Tri-C Metropolitan Campus, and eleventh and twelfth grades are on the CSU campus. Each location offers distinct advantages.
"Look at the location," says social studies teacher Damien Johnson.
"It's the dynamic of the school that sets us apart. We're one high school at three different locations. And those locations work."
Fuller-President says she would like to see an even tighter bond with CSU for the eleventh and twelfth grades, especially since MC2STEM does not have its own gym. She imagines her students doing yoga or playing basketball in Woodling Gymnasium, just a short walk away. "Even more collaboration is needed to make the partnership thrive even more," she says. 
Students who take advantage of MC2STEM develop a learning style, says Johnson, that will serve them well in college—and in life. "They never want to settle for what is just in the classroom. They make their communities their classroom. They go to different sources. They want to go in depth with things," he says. "They're just really strong, independent thinkers."

The Broader Vision
Last November, a new college was approved at CSU—the Levin College of Public Affairs and Education. For those not paying close attention, it might have seemed like a rearrangement of words without any real consequence. Just a bit of bureaucracy at a large institution. 
But the reality is that the new college, named to reflect the transformational philanthropic gift of Mort and Judy Levin, brought together scholars from the fields of teacher education, curriculum, counseling, urban affairs, sociology, communication, and criminology. The thinking was that the issues of our day—issues like education, crime, and poverty—do not exist in a vacuum and can be best addressed and solved using a multi-pronged approach. 
"Folding the expertise of our education and human services faculty and staff into the new Levin College of Public Affairs and Education provides valuable capacity as we work to address key challenges facing American democracy," says Roland Anglin, dean and professor of the new college.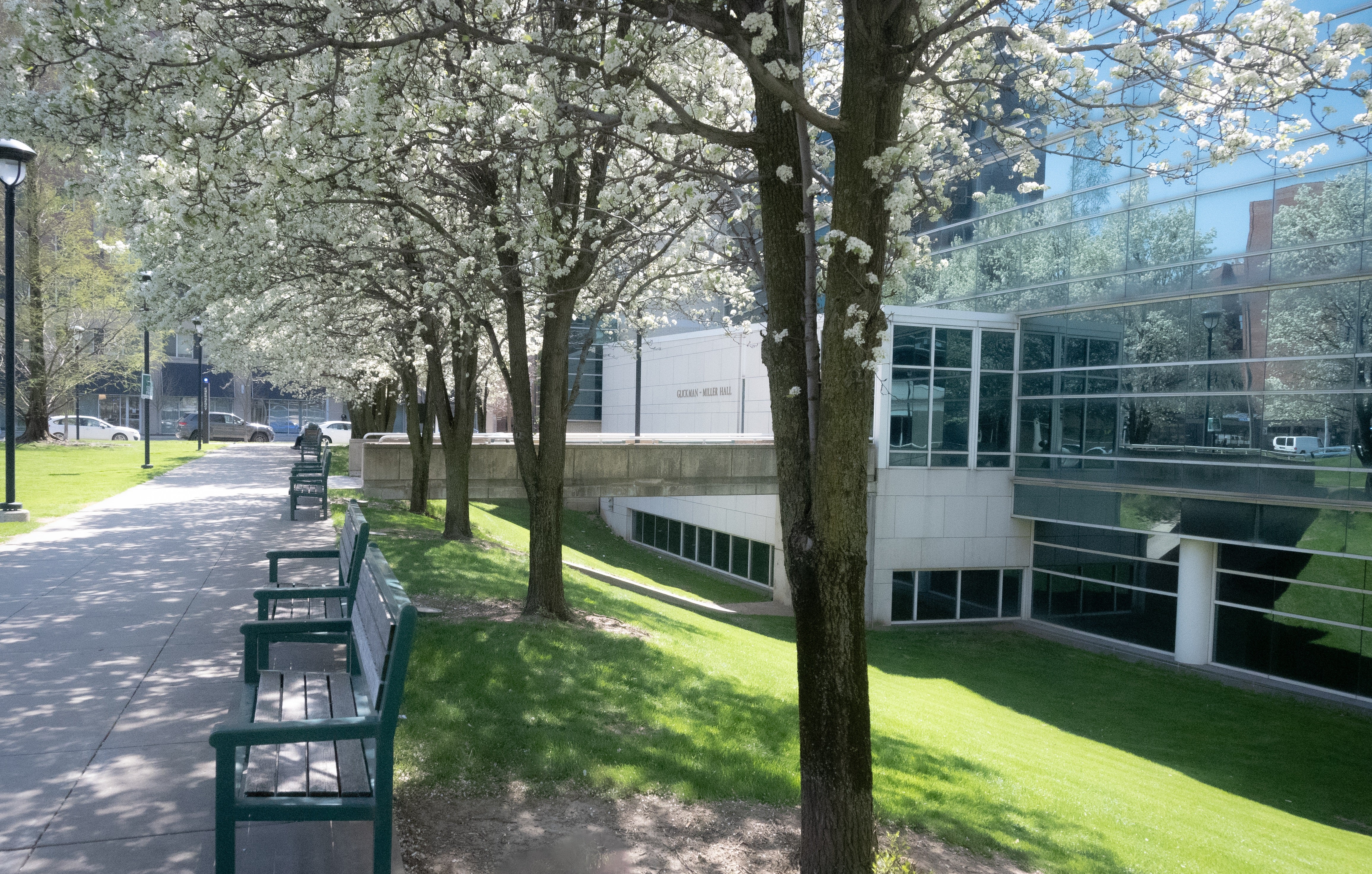 "One of the most pressing matters in public affairs is the ability of our public schools, especially urban schools, to prepare students for post-secondary attainment. The new Levin College offers tremendous opportunity in addressing the key challenges faced within Cleveland and beyond."  
That's why the Levin College is perfectly positioned to support the partnership with Cleveland public schools and help the schools become even successful in their mission to graduate good learners who care about the world around them.
"In the near term, our students and faculty will be the real winners," Bloomberg said when the new college was formed.
"The innovative work that will come from this alignment, coupled with the incredibly generous gift from the Levin family, has the potential to benefit all of society."

The Way Forward
After the Covid pandemic that began in 2020, leaders at the three schools on the CSU campus are happy to be back to in-person school—and optimistic that they will be able to create lifelong learners who care about the world around them.
But no school will work without teachers and administrators who are as invested in 
the children as they are their curriculum. This is how Johnson explains it: "A lot of teachers in the beginning are so excited about their content. You have to establish a relationship with the young people first."
One child, for example, came to school in the dead of winter with holes in his shoes. While having warm, dry feet isn't in any curriculum, it's just as essential as having a pen and paper. Once they noticed it, teachers and administrators all pitched in, and the boy had shoes by the end of the day, without anyone calling him out or making it a big deal. "We're going to take care of that confidence piece," says Powell, "and then we're going to push you in the work."
While the partnership has resulted in new opportunities for both sides, there is still a great deal of untapped potential—a realization shared by teachers and administrators at all three CMSD schools on campus. "We need to continue to develop the connections with all three schools across various departments at CSU," says Sajit Zachariah, Vice President and Dean of CSU Online, who is now leading the design and launch of an expansive model of distance and online learning at the university. 
"Currently, many of these relationships are very narrow and limited. We need them to be broad-based. We also need to continue to do a better job of improving relationships at a student level, so that the students will consider CSU a home. This will help further integrate the schools into the fabric of CSU."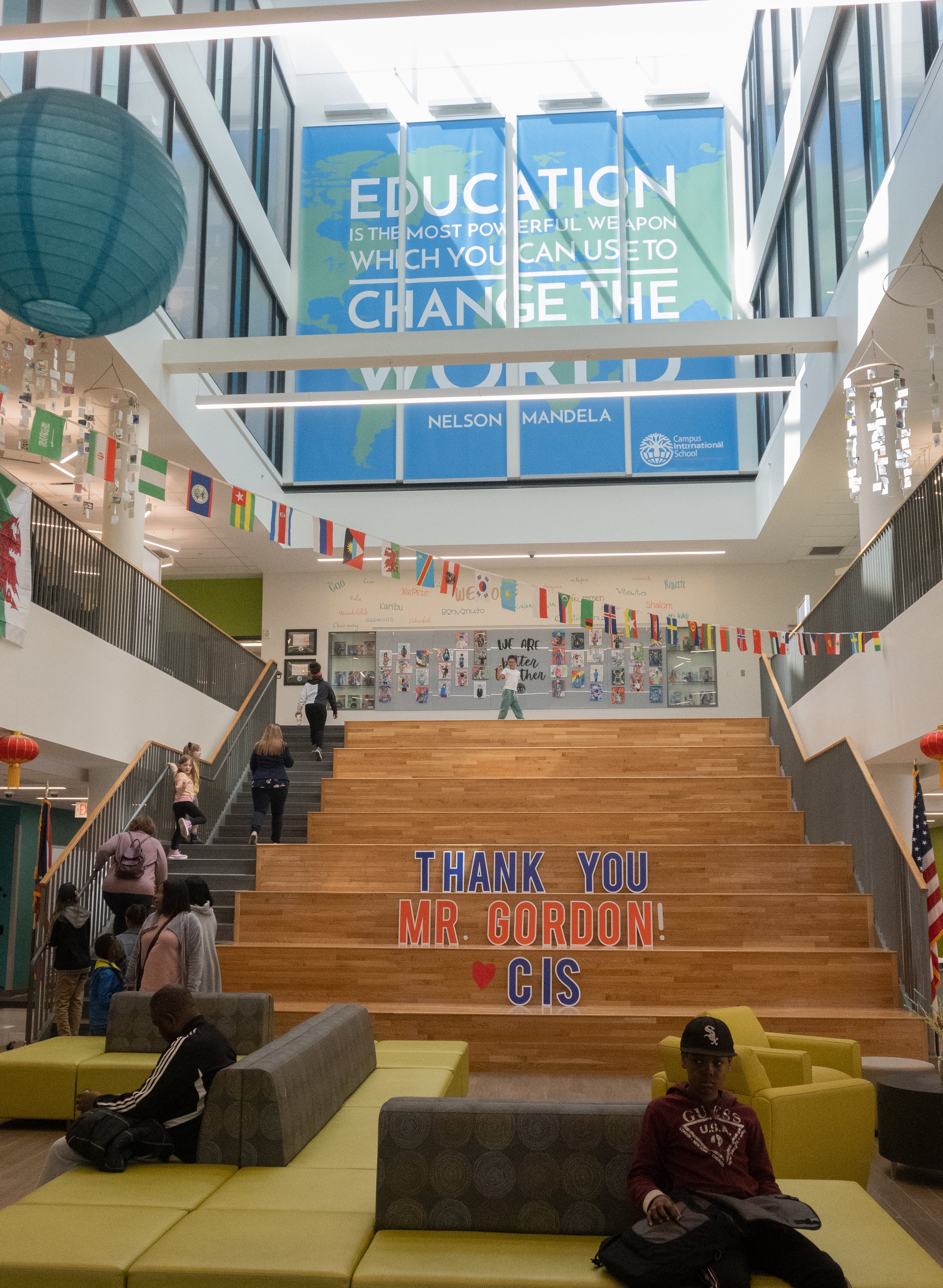 Another challenge on everyone's mind is the leadership transition as CMSD CEO Eric Gordon left his post in June 2023 after more than a decade of leadership that has been viewed citywide as a success. He remains committed to the academic success of students in the region, serving next as senior vice president of student development and education pipeline for Cuyahoga 
Community College.
Gordon, for his part, is optimistic. "A lot of people were worried about what was going to happen when I decided to step down," he says. "If we've done what we think we have done, we are going to see continued progress, not only in the achievement but in the culture of this organization. I'm looking forward to watching CMSD and this partnership thrive."
Although Dr. Warren Morgan, former chief academic officer of the Indianapolis Public Schools was recently named the incoming CEO of CMSD, Bloomberg already had a plan in place, centered around the same values that have helped the CSU-CMSD partnership grow and flourish. "It is a top priority for me, now that Dr. Morgan has been named, to be as supportive as I possibly can and as invested in their success as I possibly can be," Bloomberg says. 
"That's a really important part of this partnership thriving. And when our institutions are both successful, I think Cleveland is successful."
--
Campus International (Grades: K–8)
2160 Payne Ave. on CSU campus
www.clevelandmetroschools.org/cis
Campus International High School (Grades: 9–12)
3100 Chester Ave. on CSU campus
www.clevelandmetroschools.org/cihs
MC2STEM (Grades: 9–12)
Grade 9: Great Lakes Science Center | Grade 10: Tri-C Metropolitan Campus
Grades 11-12: 2124 Chester Ave. on CSU campus
www.clevelandmetroschools.org/mc2stem