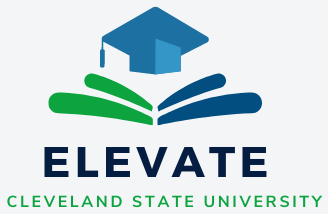 Cleveland State University (CSU) and partner Cleveland Metropolitan School District (CMSD) have been awarded a National Professional Development (NPD) grant from the US Department of Education. 
Project ELEVATE will improve classroom instruction for English learners (ELs) and assist educational personnel working with such children to meet high professional standards.
Goals of Project ELEVATE:
Train 2.5 master's cohorts of 15 preservice teachers each to obtain dual Primary and ECIS initial licensure and Ohio TESOL Endorsement (total = 45) (DREAM master's program) Cohorts are comprised of enrolled preservice teachers, and bilingual aides, para- professionals, and non-certified teaching personnel from CMSD
45 individuals from DREAM master's Cohorts 1 and 2 create educational training materials and share with parents
Train 85 in-service CMSD K- 12 teachers to obtain Ohio TESOL Endorsement. Cohorts 1, 3, & 5: 15 teachers & Cohorts 2 & 4: 20 teachers
Train 85 in-service CMSD K- 12 teachers in the TESOL Endorsement program to teach vocabulary to ELs; administer a pre and post-test for students in their classrooms to show vocabulary knowledge growth
60 parents/families at CMSD's Thomas Jefferson International Newcomers Academy are trained in evidence- based strategies for promoting literacy at home. (3 groups of 20 families)
Application Information
Scholarships are available apply now:
Contact
Please contact Elena Andrei (216-687-2148 | e.andrei@csuohio.edu) for more information about Project ELEVATE.