WHAT IS LAMBDA PI ETA?
Lambda Pi Eta (LPH) is the official National Communication Association's (NCA) official honor society at four-year colleges and universities nationwide. Lambda Pi Eta has more than 400 chapters in 47 states! The CSU School of Communication maintains the Iota Lambda Chapter of Lambda Pi Eta and encourages its majors who meet the qualifications to join.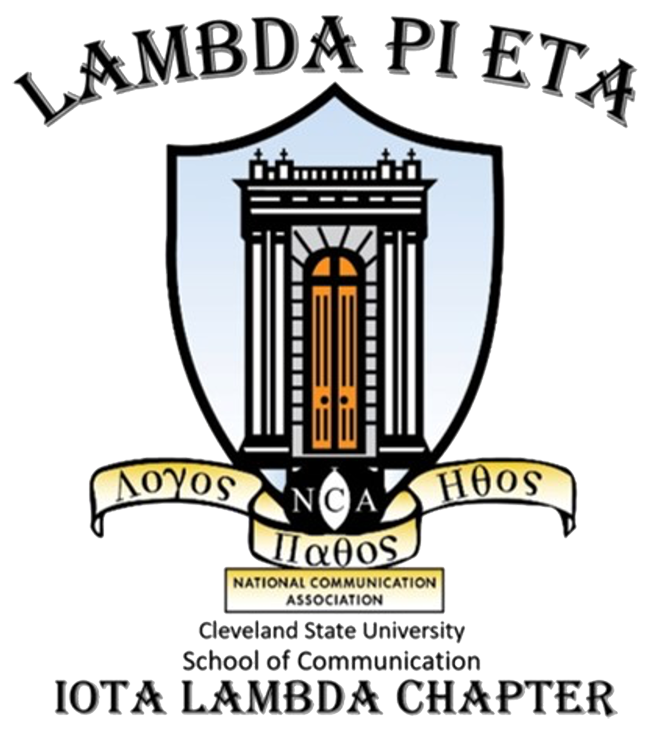 LPH is a member of the Association of College Honor Societies (ACHS) whose mission is to build a visibly cohesive community of national and international honor societies, individually and collaboratively exhibiting excellence in scholarship, service, programs, and governance.
LPH represents what Aristotle described in The Rhetoric as three ingredients of persuasion: logos (Lambda), meaning logic; pathos (Pi), relating to emotion; and ethos (Eta), defined as character, credibility, and ethics. Lambda Pi Eta recognizes, fosters, and rewards outstanding scholastic achievement while stimulating interest in the communication discipline.
Membership in Lambda Pi Eta signifies distinguished achievement in the discipline of Communication.
As NCA's official honor society, LPH members are encouraged to attend the association's Annual Convention each November and to participate in the several LPH-sponsored sessions. The NCA Annual Convention offers tremendous opportunities for networking and presentation of original and exceptional student research.
Purpose
Recognize, foster, and reward outstanding scholastic achievement in Communication Studies
Stimulate interest in the field of Communication
Promote and encourage professional development among Communication majors
Provide an opportunity to discuss and exchange ideas in the field of Communication
Establish and maintain closer relationships between faculty and students
Explore options for graduate education
Requirements
To become a member of the School of Communication Lambda Pi Eta – Iota Lambda Chapter, School of Communication majors must:
Complete at least 60 semester credit hours
Complete 12 semester credit hours at CSU in the School of Communication
Have a minimum overall cumulative GPA of 3.0
Have a major GPA of at least 3.25
Be in good standing at CSU
Display commitment to the field of communication
Pay a one-time national initiation fee ($30). This covers chapter dues, a lifetime membership, pin, and certification. (Honor Cords are additional)
Transfer Students who are members of Lambda Pi Eta and transfer to another school which has a Chapter will automatically be a member of that school's chapter. In order to ensure academic achievement, local chapters have the option of increasing the national requirements listed above for transfer students who wish to be new members of Lambda Pi Eta.
School of Communication Minors may be inducted into Lambda Pi Eta if they fulfill all of the academic requirements above. Of course, the student must have completed at least 12 semester hours in communication courses, and the faculty advisor must be convinced that the student "displays commitment to the field of communication." Graduate Students:
Graduate Students may continue as members of Lambda Pi Eta if they were previously inducted by a chapter as an undergraduate, or they may be inducted as new members if they would have met the membership qualifications as an undergraduate at an institution which did not have an active chapter of Lambda Pi Eta.
Discover
Membership
Students wishing to graduate with honor cords in their Graduation Ceremony must complete their application by the following deadlines:
Spring Semester Deadline - March 1st  
Fall Semester Deadline - October 1st
New members are inducted at the Annual School of Communication Award Ceremony that takes place every Spring semester
LAMBDA PI ETA Application
To apply complete and submit the following application.  Once your application is reviewed, you will receive an email notifying you of your acceptance and instructions to pay your membership fee.