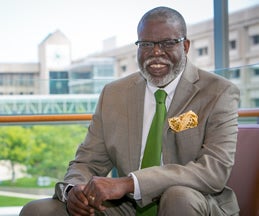 Dean Roland V. Anglin, PhD
Welcome to the Levin College of Public Affairs and Education. I am thrilled you found us. 
Through this site you will have the opportunity to preview the many nationally recognized undergraduate and graduate programs we offer. You will find information about our faculty and staff, who are all committed to working with our students and community partners as we collectively address societal challenges while building and sustaining complex urban systems.
The Levin College of Public Affairs and Education (Levin) has the ability to serve real communities and real people, while enjoying both continuity and variety across sectors. I am proud that the degrees, certificates, and programs offered by Levin are preparing new generations of leaders and managers for careers with meaning throughout Northeast Ohio and around the globe. 
Our Department of Counseling, Administration, Supervision and Adult Learning provides programs that engage students in real-world learning experiences. This Department offers graduate degrees, certificates, and licensure programs in Counseling, Administration, Supervision, and Adult Learning. Our students obtain employment in a variety of world-class healthcare organizations, school districts, and higher education institutions.
Our Department of Criminology and Sociology addresses a wide variety of related topics, including social inequality, gender, race, and ethnicity, as well as criminology and the impacts of criminal justice system intervention on individuals and society. Our faculty train students on how to analyze modern social problems scientifically, while providing them with an ability to understand and connect individual lives with wider social forces, challenging conventional wisdom, dissolving myths about social reality, and illuminating how the world is socially constructed. Graduates of these programs are employed in a variety of positions in social service settings and in the criminal justice system. 
Our Department of Curriculum and Foundations offers Master's Degree and endorsement programs such as the Master of Urban Secondary Teaching, Educational Research & Assessment, Gifted & Talented Education, Educational Technology, and Chinese Language Licensure programs. 
Our Department of Teacher Education offers undergraduate programs, graduate licensure and degree programs, and certificate and endorsement programs. Our preparation programs are well designed for both prospective and experienced educators. Teacher Education faculty are fully engaged in teaching, research, and service that ensures quality preparation of our candidates across programs.
Our Maxine Goodman Levin School of Urban Affairs has been engaged with the challenges and the opportunities brought by an increasingly urbanizing world. Projections estimate that six out of ten people will reside in an urban area by 2030. The United Nations programme for human settlements states well the ramifications: "In many places around the world, the effects can already be felt: lack of proper housing and growth of slums, inadequate and outdated infrastructure – be it roads, public transport, water, sanitation, or electricity – escalating poverty and unemployment, safety and crime problems, pollution and health issues, as well as poorly managed natural or man-made disasters and other catastrophes due to the effects of climate change. Mindsets, policies, and approaches towards urbanization need to change in order for the growth of cities and urban areas to be turned into opportunities that will leave nobody behind." There is much to do and a career in urban affairs is, for the most part, a quest to address the pressing issues of our time. 
Our School of Communication is a dynamic community of students, faculty, and administrative support staff that understand the powerful, transformative role that communication plays in contemporary society. Students receive a multidisciplinary education in the art, science, and digital technology of contemporary communication so they are prepared for today's employment landscape in fields such as organizational communication, health communication, mediation and relational communication, journalism, and public relations. 
At Levin, we also have a long tradition of training and challenging students not just in the classroom, but through active engagement in creating a just and equitable world. Here, you will have the opportunity to perform applied research and practice in childhood education, neighborhood and economic development, city management, environmental policy, organizational leadership and communication, criminology, and social justice. 
Explore our site. Learn more about our research and practice. Contact us to let us know your thoughts on our work.
Thank you,
Roland V. Anglin
Dean and Professor