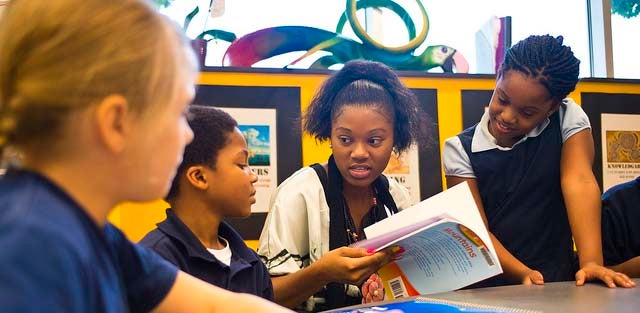 Program Overview
The Reading Endorsement program at Cleveland State University helps educators prepare students for state reading tests, making them more successful readers in accordance with the Ohio Department of Education's 3rd Grade Reading Guarantee ensuring that all students receive the support they need to read by 3rd grade. The program can be completed in as little as 3 semesters and includes summer courses for early completion.  With a focus on up-to-date technology, Common Core Standards, and a tailored curriculum to meet the newest testing standards, the Reading Endorsement Program at CSU broadens teaching horizons and offers a highly competitive edge in the educational job market with opportunity for increased salary. Face-to-face and online course options are offered to fit any schedule.
Admission Requirements
Endorsement courses are open to current teachers who already have an early childhood teaching license. 
OR
With required permissions, undergraduate and graduate students who are currently seeking teacher licensure in early childhood education may also take endorsement courses.  Undergraduates in good academic standing can begin the program when they are within 30 hours of graduation.
To begin taking courses as an undergraduate you must have a minimum 2.75 overall GPA and a minimum 3.00 GPA in your major. You must also get permission from the Teacher Education Department Chair (Dr. Tachelle Banks), the course instructor, and your advisor. The process for undergraduates is explained more fully below.
Current CSU graduate students must meet with an Educational Student Service Center (ESSC) advisor and get advisor approval to add the endorsement program to their graduate program of study (see ESSC contact information below).
To enter as a new student at the graduate level you must have a minimum 2.75 overall undergraduate GPA or have passed the MAT at the 50th percentile or above or have a combined raw score of 1000 on the Verbal and Quantitative sections of the GRE and complete an online application.
Program Requirements
Program Courses: (Total: 15 credit hours)
EDL 502: Foundations of Literacy: Theory and Practice *  (3 credits)
EDL 503: Assessment and Evaluation of Diverse Literacy Learners * (3 credits)
EDL 504: Literacy Development: Meeting the Needs of Diverse Learners * (3 credits)
EDL 695: Seminar in Literacy Research (3 credits)
PLUS: Choose one course below from Undergraduate Coursework if applicable. Otherwise candidate would complete one of the following courses at Graduate Level:
EDL 311/511: Emergent Literature (3 credits)
EDL 312/512: Literature-Based Reading Methods for Children (3 credits)
EDL 313/513: Literature-Based Reading Methods for Adolescents (3 credits)
EDL 305/505: Content Area Literacy * (3 credits)*Course is offered online
Compile Exit Portfolio, which is based on the six International Reading Association (IRA) standards.
Pass OAE Reading Endorsement Test 059902 (subtests 038 and 039) with qualifying score of 220
Contact
For additional interest in program information, please contact  Dr. Terri Purcell at t.l.purcell@csuohio.edu; 216.875.9705
For further questions about eligibility, admissions, or application instructions, please contact the Educational Student Services Center (ESSC) at: 216-687-4600 essc@csuohio.edu.